Government use of surveillance drones is 'probably illegal'
Exclusive: The spies-in-the-skies are coming under scrutiny themselves, as a leading barrister warns that new privacy laws are needed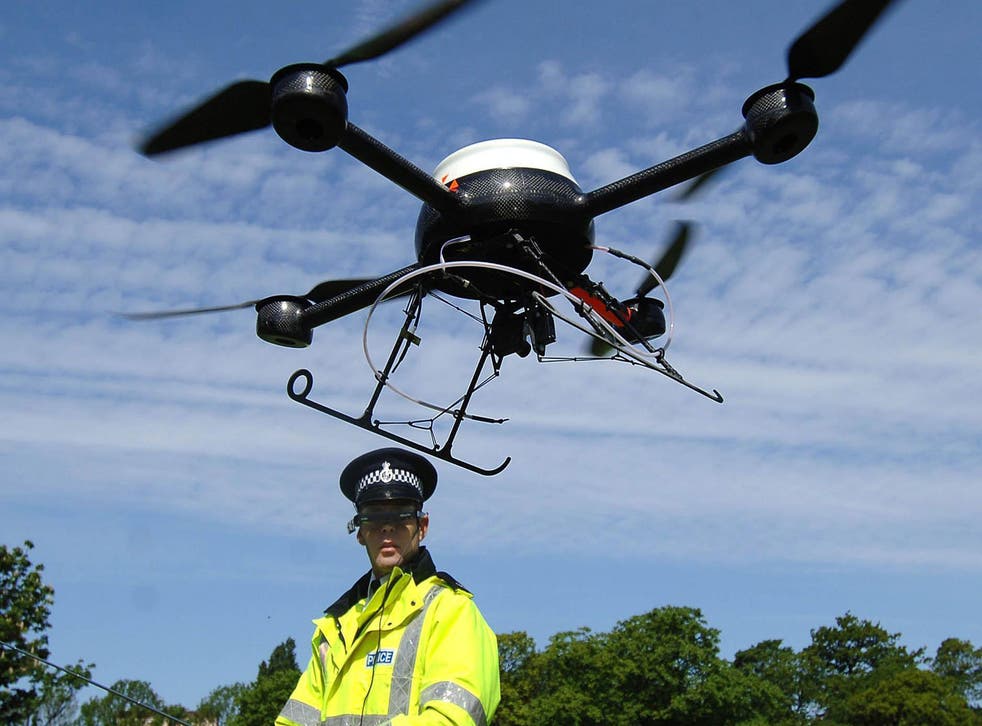 The use of surveillance drones by the British government is probably illegal, according to a highly critical legal opinion submitted to the Home Office.
Several government departments and police forces have increasingly used remotely piloted aircraft systems (RPAS), however the legal guidance warns it is "probably unlawful" for security services to "retain or use surveillance data" captured by drones under current laws.
The release of the legal guidance comes as an influential House of Lords prepares to quiz government officials on drone use on Monday. The House of Lords EU Sub-Committee will question officials from the Department of Transport and the Department for Business, Innovation and Skills over drone policy, including national security concerns.
However civil liberties and opposition MPs are demanding a fuller enquiry into drone use. Rachel Robinson, a policy officer for Liberty, said "As the use of spy drones by the state and private sector grows, so too do the concerns about the lawfulness of this intrusive technology. We need to know who is spying on us and why and where our right to privacy comes into the equation. The industry grew up in the shadows but can no longer be kept in the dark."
The guidance, from leading public law barrister Jemima Stratford QC, was commission by the All Party Parliamentary Group on Drones. It warns the use of drones for surveillance is unlawful and constitutes a "disproportionate interference" with the right to privacy under the European Convention on Human Rights.
Last night Tom Watson MP, the chair of the APPG on Drones, repeated the call for a comprehensive review of drone use. "There are notable holes in the regulation of civil drones at both EU and national level as Jemima Stratford QC's advice shows. The public needs reassurance that new hard laws to protect privacy and safety are in the pipeline."
The legal guidance states that while drone use is covered by the Regulation of Investigatory Powers Act (RIPA)this act was not designed for this purpose. It warns, "We consider, on balance, that is a disproportionate interference with an individual's right to privacy for the security services (or any other government department) to retain and use surveillance data, without any safeguards concerning its use, storage or destruction."
In September, The Independent revealed that more than 300 operators, including several police forces are now licensed to operate drones in UK airspace.
The Independent on Sunday also understands that the Home Office and Department for Environment, Food and Rural Affairs have admitted to using drones, though the Home Office refused to confirm whether drones have been used by MI5 or any other secret security agency in British airspace.
Currently data gathered by surveillance drones in the UK is governed by RIPA and the CCTV code within the Data Protection Act. However the APPG claims these have been "left behind" by advances in drone technology, which now include biometric and infrared cameras able of capturing unprecedented amounts of personal information.
There is no central register of which government departments use drones and the government may exempt data gathered by security services. Campaigners also fear the security services could "outsource" surveillance to third-party operators.
A Home Office spokesperson said, "We believe existing legislation provides an adequate framework for regulating surveillance by remotely piloted aircraft systems."
The European Commission in Brussels is also concerned at the spiralling use of drone technology and is considering a tough new privacy and data protection standard for civil drones. Under a new, stricter policy on drones the European Commission is expected to recommend legal restrictions on civil drone operators across the EU, including "mandatory privacy assessments" and a database to enable citizens to identity whether their personal database is being collected.
Mr Watson said, "The European Commission is taking the lead here. It's considering new legislation making civil drone operators complete privacy impact assessments and data collection statements for each type of mission. These important developments would go some way to protect fundamental rights to privacy and data protection, whilst promoting the industry. The public needs reassurance this is in the pipeline.'
These proposals, which could become law across the European Union, could force a change in British law, but MPs are also calling for the British government to consider practical measures, including a system of "number plates" for drones and a database so members of the public could find out details of the operator, the drone's mission and the data it was collecting.
Join our new commenting forum
Join thought-provoking conversations, follow other Independent readers and see their replies