All initial GP consultations should now happen on phone or online, Matt Hancock announces
'All consultations should be teleconsulations unless there's a compelling clinical reason not to,' says health secretary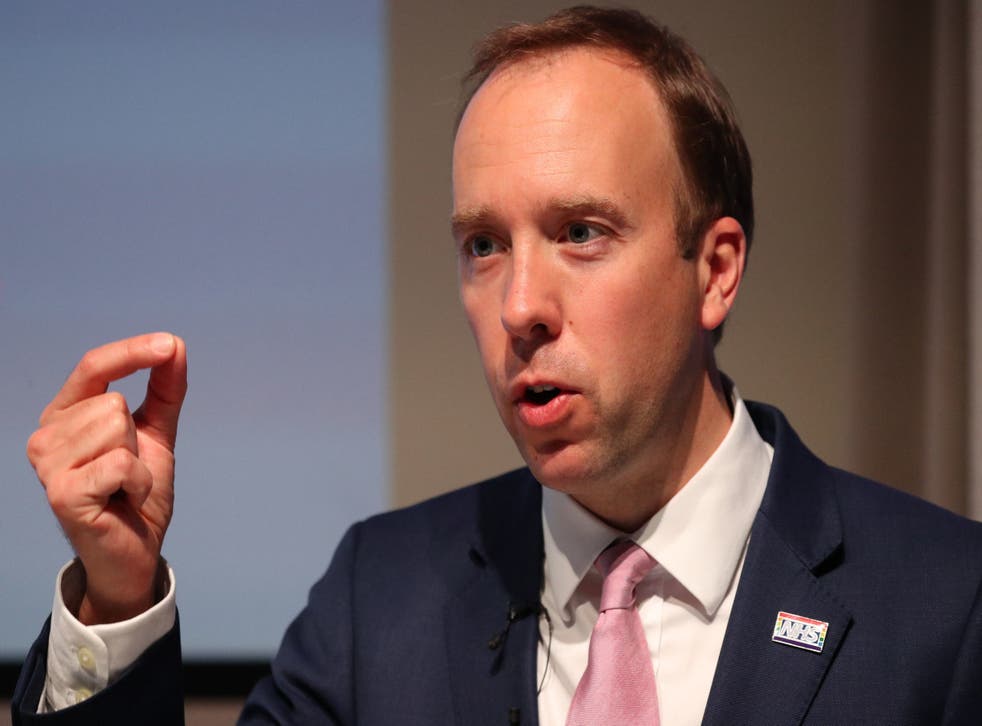 Matt Hancock has announced all future GP consultations in England should be done remotely over the phone or video unless there is a "compelling" clinical reason for in-person appointments.
The health secretary said in the four weeks leading up to 12 April – the initial days of the coronavirus lockdown – over 70 per cent of routine GP consultations were delivered remotely, and just 26 per cent face-to-face.
"In the same period a year ago, this was reversed, with 71 per cent face-to-face and 25 per cent remotely," the cabinet minister said.
Speaking at the Royal College of Physicians on the future of health care, Mr Hancock said health care staff should also be able to use secure messaging service such as WhatsApp to speak with both colleagues and patients "where the benefits outweigh the risks".
"Of course there always has to be a system for people who can't log on. But we shouldn't patronise older people by saying they don't do tech," he added.
UK news in pictures

Show all 50
"The feedback from this transformation has been hugely positive. And especially valued by doctors in rural areas, who saw how it could save long travel times for doctors and patients."
Confirming the considerable switch to remote appointments would not be a temporary measure for the Covid-19 crisis, Mr Hancock continued: "So from now on, all consultations should be teleconsulations unless there's a compelling clinical reason not to. Of course, if there's an emergency, the NHS will be ready and waiting to see you in person – just as it always has been.
"But if they are able to, patients should get in contact first – via the web or by calling in advance. That way, care is easier to manage and the NHS can deliver a much better service."
Speaking on Thursday, the health secretary also vowed to "bust bureaucracy" in the NHS, adding: "Barnacle-like encrustation of rules and regulations as been disempowering to many brilliant, highly-motivated frontline staff who just want to get on with caring for patients.
"For example, we made clear that it's fine to use secure messaging services like WhatsApp to share information with colleagues or patients where the benefits outweigh the risks."
Edel Harris, chief executive of the learning disability charity Mencap, said: "Technology is wonderful, but not everyone can access it."
However, she added: "The secretary of state's announcement that all consultations should be teleconsultations, unless there is a compelling reason not to, could seriously exacerbate the health inequalities that already exist for people with a learning disability.
"The UK's 1.5 million people with a learning disability should be offered face-to-face consultations automatically – without needing to ask for them. This is a reasonable adjustment and we will be asking NHS England to ensure this happens – starting with annual health checks."
Dr Rinesh Parmar, chair of the Doctor's Association UK, said the health secretary's announcement "is certainly not the wonder drug to cure the ills of general practice", adding: "Whilst it may be convenient way for some patients to fit in appointments around busy schedules, remote appointments will almost certainly be a barrier for vulnerable groups such as the elderly and impoverished in society".
He warned: "There are concerns that our GPs may have less of an opportunity to pick up diagnoses usually detected in face to face consultations and that the rapport between doctors and their patients may suffer.
"The ability for both GPs and patients to put a face to a name is at the very heart of primary care. Remote consultations is undeniably a riskier way to practice medicine and whilst accepted during the Covid-19 pandemic it is vital that there are checks and balances in place."
Join our new commenting forum
Join thought-provoking conversations, follow other Independent readers and see their replies