Grammar schools: Theresa May wants to bring 'element of selection' back to education system
But Government's social mobility tsar says expanding grammars would be 'social mobility disaster'
Rob Merrick
Thursday 08 September 2016 06:12 Comments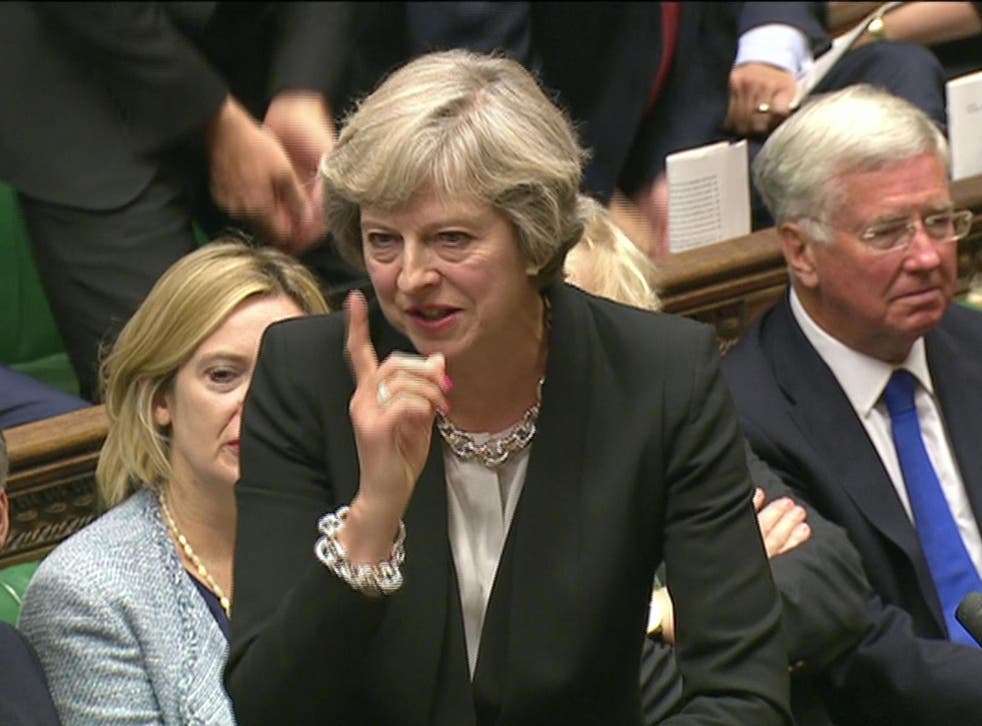 Theresa May has explained her backing for a controversial new generation of grammar schools, insisting England already has "selection by house price".
Quizzed by the 1922 Committee of backbench Tories, the prime minister broke her silence on the policy – confirming her plans for expansion in areas where there is a demand for them.
The idea is opposed by some Conservative MPs but, according to sources at the meeting, she answered them by saying: "We have already got selection haven't we - it's called 'selection by house price."
However, the prime minister was also said to have reassured doubting Tories that she was not advocating new grammar schools everywhere, or imposing them where they were not wanted.
But, today, her own social mobility adviser branded the plans a "social mobility disaster" in the making".
Alan Milburn, the former Labour Cabinet minister appointed to the position by David Cameron, said ending the ban on building new selective schools risked creating an "us and them" divide within the education system.
He said pupils at England's remaining 163 selective state schools were four or five times more likely to have come from independent prep schools, rather than from the most disadvantaged backgrounds.
"This is not selection educationally, it is selection socially. If that is what is being talked about, it will not provide a social mobility dividend, it will be a social mobility disaster." Mr Milburn told The Guardian.
Kent, the county with the highest proportion of pupils in selective education, epitomised the problems it created.
"Only 27% of kids in Kent schools on free school meals get five good GCSEs. The national average is 33%, and in London, where most areas are purely comprehensive, it is 45%," Mr Milburn said.
Instead he called on Mrs May to implement a far more wide-ranging action plan to close the gap between the wealthiest and the poorest and tackle a "festering sense of social resentment" across Britain.
He pointed out that, of the 65 areas of the country highlighted by his Social Mobility Commission as the worst for education and employment prospects, only three voted to remain in the EU.
On Tuesday, a memo written by the Department for Education's permanent secretary, Jonathan Slater accidentally confirmed the plans for new grammars.
The document said the policy would be presented as an option in a consultation paper expected within weeks.
The 6 most important issues Theresa May needs to address

Show all 6
However, it also revealed the unease of Justine Greening, the Education Secretary, who wanted it to be pursued only once existing grammars had been forced to open their doors to more pupils from poorer homes.
Sir Michael Wilshaw, the outgoing chief inspector of schools, also warned the idea that poor children would benefit from a return of grammar schools was "tosh" and "nonsense".
At last night's 1922 meeting, the Prime Minister said she wanted to create a "21st century education system" with an "element of selection" – rather than simply return to the past.
One option is expected to be allowing new 'free schools' to embrace selection – but any such move will face fierce opposition and possible defeat in the House of Lords.
Register for free to continue reading
Registration is a free and easy way to support our truly independent journalism
By registering, you will also enjoy limited access to Premium articles, exclusive newsletters, commenting, and virtual events with our leading journalists
Already have an account? sign in
Join our new commenting forum
Join thought-provoking conversations, follow other Independent readers and see their replies