Give aid money directly to women in developing world instead of to charities following Oxfam scandal, Green Party says
Exclusive: Party says 'old, centralised "we know best" charity-based models of aid' must be stopped after abuse row
Benjamin Kentish
Political Correspondent
Sunday 04 March 2018 15:27 Comments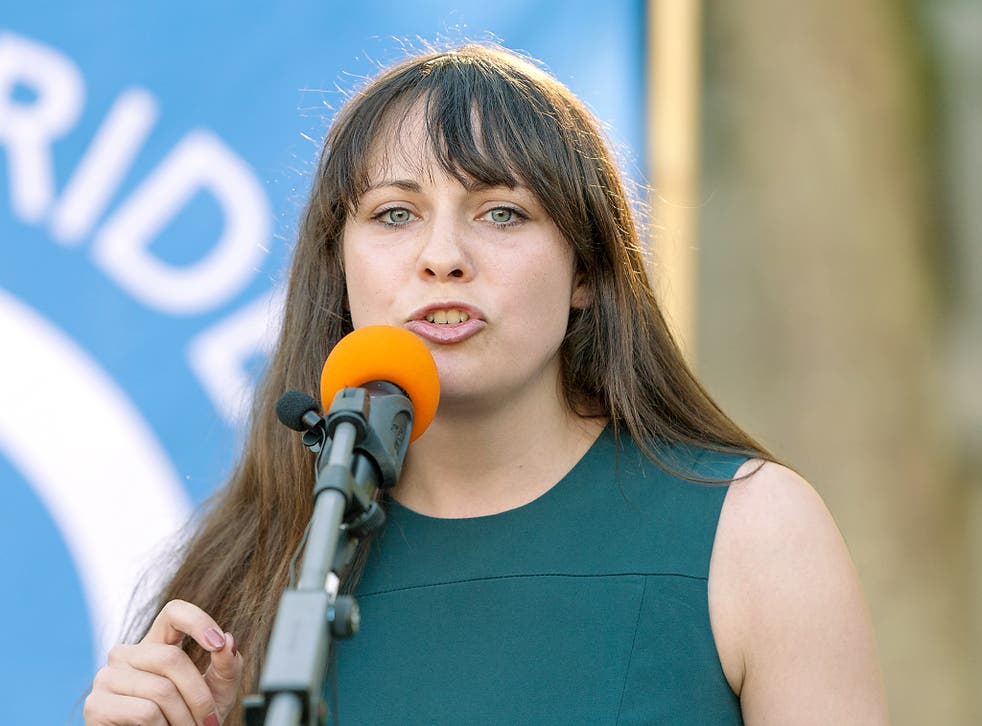 The UK Government should give aid directly to women in developing countries instead of to charities, in order to correct the "power imbalance" exposed by the Oxfam abuse scandal, the Green Party has said.
Amelia Womack, the party's deputy leader, will use a speech today to say UK money is most beneficial "in the hands of those best equipped to use it".
Speaking at the Greens' conference in Bournemouth, she will say giving aid directly to women in the developing world would address "the old, centralised 'we know best' charity-based models of aid" and end the "colonial construct of givers and takers".
It comes weeks after the aid sector was plunged into crisis by allegations of abuse by Oxfam and Save the Children staff working in countries such as Haiti.
The revelations led Penny Mordaunt, the International Development Secretary, to launch an urgent review of UK charities' safeguarding policies and to halt government funding of Oxfam until it can show it has taken steps to improve its procedures.
Ms Womack will say the scandal highlighted a problematic "power imbalance" between Western aid workers and the people they are attempting to help.
Defending aid organisations but saying staff members must be held to account when they "fail in their moral duties", she will call on ministers to divert funding away from charities and instead make regular cash payments to women and households in the developing world.
She is expected to say: "It's time to throw out the old centralised 'we know best' charity-based models of aid, time to show we understand that people know what they need best, and time to put local people in control.
"Only by moving away from the colonial construct of givers and takers will we truly start to end the power imbalance between even the most well-intentioned Western aid workers and those they are attempting to help.
"That's why we want to see more aid money given directly to people who can best use it. Cash transfers, straight into the hands of the people with the knowledge, the skills and the connections to drive real change. Friends, those people are women."
UK news in pictures

Show all 50
It would mark a significant change in the way the UK supports developing countries. Currently the majority of funding is distributed via foreign states, charities and non-governmental organisations (NGOs).
The Department for International Development already makes direct transfers to people and households in underdeveloped countries but this accounts for just 2 per cent of its total budget.
A major study published late last year found direct cash transfers resulted in improved health and increased school attendance among households that received them.
Charities such as GiveDirectly are using cash transfers to try to alleviate poverty in countries including Kenya and Uganda. The funding takes the form of a basic income, with recipients given regular payments to spend as they wish.
Penny Mourdant on Oxfam: If moral leadership isn't there then we cannot have you as a partner
The Green Party said payments should be made to women and also used to fund skills training and to support women's organisations.
It said evidence suggests giving women control of household resources leads to money being spent in more beneficial ways, such as on food and education.
She is expected to say: "Gender targeted cash transfers, distributed with the help of local women's organisations, underpinned by business skills training, peer support networks of fellow business women, and mentoring. Enabling women to take part fully in developing economies. This is the best tool for aid, and we'd be putting it in the hands of those best equipped to use it."
She will add: "No campaign for women's equality can ignore the fact that globally 60 per cent of chronically hungry people are women and girls.
"That in no country have women achieved economic equality with men, or that women are still more likely than men to live in poverty."
Register for free to continue reading
Registration is a free and easy way to support our truly independent journalism
By registering, you will also enjoy limited access to Premium articles, exclusive newsletters, commenting, and virtual events with our leading journalists
Already have an account? sign in
Join our new commenting forum
Join thought-provoking conversations, follow other Independent readers and see their replies