Green party calls for violence against women to be recorded by Home Office as hate crime
Amelia Womack, the deputy Green party leader, also told The Independent about her own experiences in an abusive relationship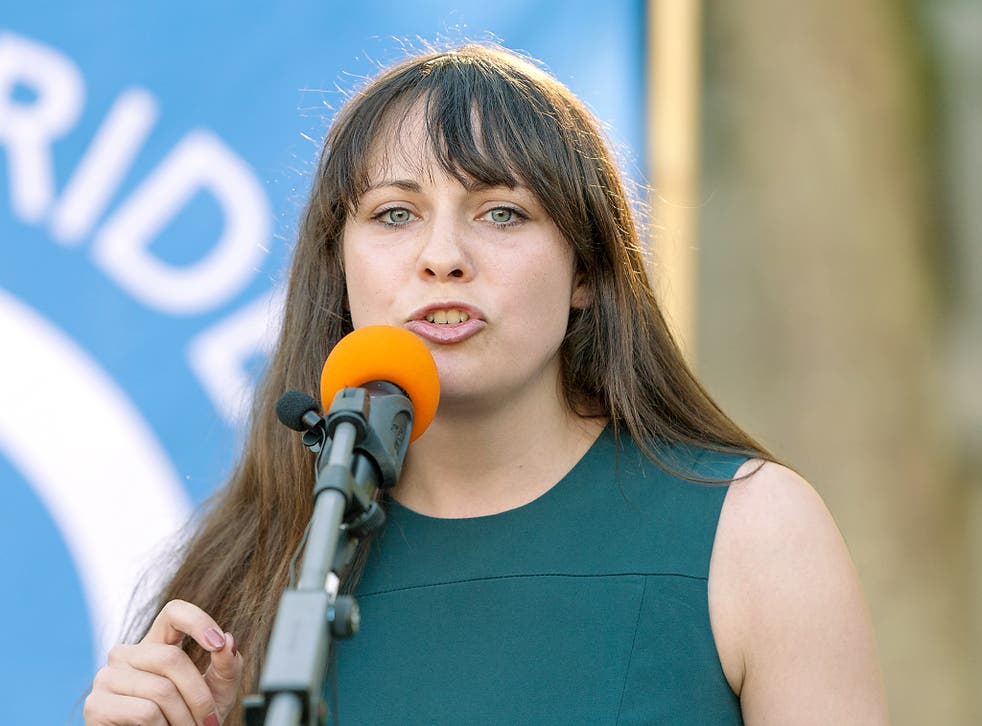 The Green party has called for violence against women that is clearly motivated by gender to be recorded by the Home Office as a hate crime.
Amelia Womack, the deputy leader of the Greens, told The Independent such a change could persuade more women who have suffered from hate crimes to report the offence. It would also shine a spotlight on how often women are subjected to such crimes, she added.
Under current rules the Crown Prosecution Service measures five strands of hate crime: religious and racist, disability, homophobic, biophobic and transphobic.
The party said it had requested a break down of the five strands of hate crime by victims identifying as men, women and other. But the response stated: "The Home Office does not hold the information requested. The Home Office does not collect the data on the sex of all victims of hate crime for England and Wales."
Ms Womack, who has suffered an abusive relationship, said the official data ignores that there are crimes against women purely because of their gender, "from being groped on the dance floor to harassment in the streets to rape".
She added: "Those statistics are just not available. It means after decades centuries of brushing abuse under the carpet we still can't effectively highlight what is happening in society and how many women are truly being affected by these crimes that are happening simply because they are women."
Last year Maria Miller, the chair of the Women and Equalities Select Committee in Westminster, said she was concerned that gender-related hate crimes had been given a second-class status.
Between 2009 and 2011 in her early twenties, Ms Womack told The Independent she was physically abused by her partner. "It began very slowly," she said. "It wasn't immediately obvious - also because his dad was very unwell. A lot of the problems that would start to arise he would blame on as a result of his dad was sick."
Ms Womack said she was physically abused twice in the relationship. On the first occasion her partner hit her over the head and left her unconscious in her bedroom. "I had concussion for three days," she added. "I tried to leave him that night."
After they started seeing each other again, her partner then strangled her in a London nightclub. "I had friends that were visiting from outside of London," Ms Womack added. "I had bruising around my neck that immediately came up so it was obvious. It was obvious what had happened. I didn't see him again after that night, so I just stopped answering his calls and I moved house so he didn't know where I lived.
"I did go to the police and I really felt like it wasn't the easiest system. When I went to the police I felt like what I was discussing was met with scepticism. I believe it was a volunteer I spoke to, who took the official report and they actually said that when I left that don't worry 'God will save you'."
The deputy Green leader hopes that by sharing her experience of a system "where so many people these things aren't happening to women" she hopes more women will come forward and by recording the statistics "know exactly where we are in terms of crimes against women."
"These aren't just statistics – those two women who are killed every week at the hands of their partners that could be someone you know, it's just so brushed under the carpet people just don't know what's going on," she said.
Register for free to continue reading
Registration is a free and easy way to support our truly independent journalism
By registering, you will also enjoy limited access to Premium articles, exclusive newsletters, commenting, and virtual events with our leading journalists
Already have an account? sign in
Register for free to continue reading
Registration is a free and easy way to support our truly independent journalism
By registering, you will also enjoy limited access to Premium articles, exclusive newsletters, commenting, and virtual events with our leading journalists
Already have an account? sign in
Join our new commenting forum
Join thought-provoking conversations, follow other Independent readers and see their replies