Gregory Lauder-Frost exposed: The Tory fringe group leader with Nazi sympathies
Right-wing views and criminal past revealed of vice-president of the Traditional Britain Group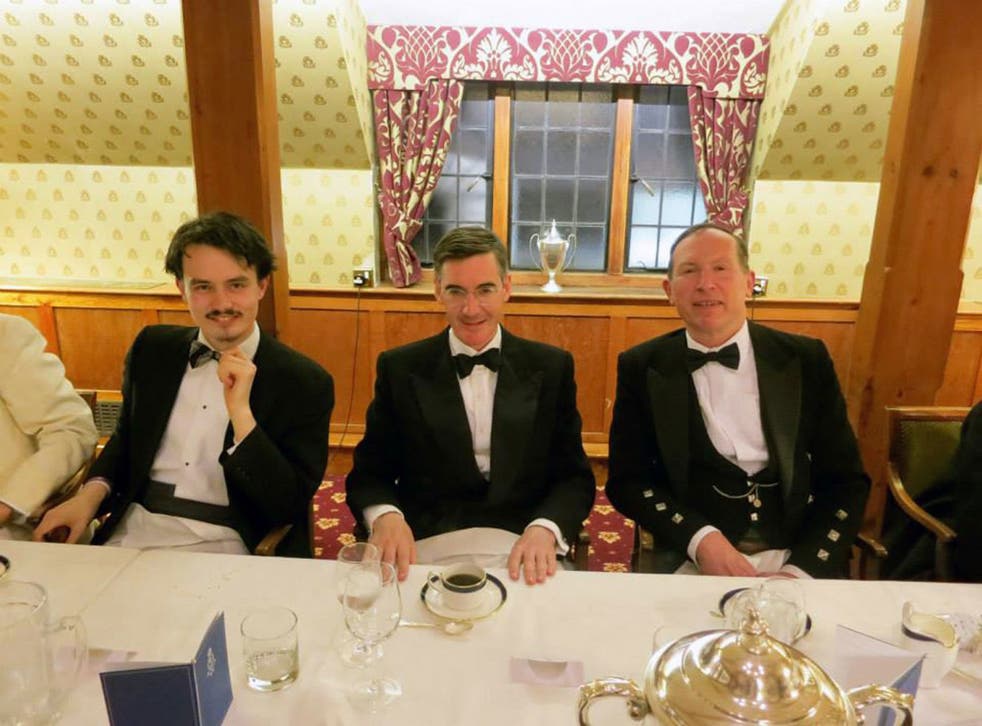 The right-winger whose association with Jacob Rees-Mogg caused the senior Conserative MP great embarrassment this week has added to concerns about his group's relationship with the Tory party – by launching a personal attack on the mother of Stephen Lawrence as "anti-English" and a "nobody", as more damaging revelations emerged about his past.
Gregory Lauder-Frost, the vice-president of the Traditional Britain Group, claimed the decision to award a peerage to the mother of the murdered teenager was an example of a modern fashion for "filling the House of Lords up with spivs".
Mr Lauder-Frost and his organisation were a little-noticed Tory fringe group until the website Liberal Conspiracy revealed that Mr Rees-Mogg had been guest speaker at one of its dinners – and highlighted some of its questionable views.
A red-faced Mr Rees-Mogg has since admitted he did not make a proper check of the organisation's beliefs before taking up its invitation. The MP told the BBC: "I clearly made a mistake. Mrs Lawrence is a wonderful and courageous woman who has contributed to British public life and, in any traditional view of Conservatism, she should be lauded for what she has done."
But Mr Lauder-Frost, who campaigns to reintroduce what he calls "traditional" values into the Tory Party, refused to back down on his views. Speaking to BBC London's Vanessa Feltz show yesterday, Mr Lauder-Frost said of Mrs Lawrence: "We do not feel there is any merit in raising such a person to the peerage. She's a complete nobody. She has been raised there for politically correct purposes. She's just a campaigner about her son's murder.
"It's ridiculous. She has made countless anti-English comments over the last 10 years. She's no friend of the English people."
Referring to the 1999 Act of Parliament that removed most hereditary peers from the upper House, he added: "They have kicked out people who have sat in the House of Lords for 1,000 years consecutively, father to son, father to son, all that experience of running the country. We're filling the House of Lords with spivs."
The Traditional Britain Group supports halting immigration and leaving the EU. Yesterday, Mr Lauder-Frost, who holidayed in Zimbabwe when it was under white minority rule and known as Rhodesia – describing it as "great" – went further, saying that anyone living in the UK who was not of "European stock" should be offered "assisted voluntary repatriation" to their "natural" homeland.
When it was pointed out to him that hundreds of thousands of British citizens from ethnic minorities were born in the UK, he retorted: "As the Duke of Wellington said: 'Being born in a stable doesn't make you a horse'." Asked whether he considered his views to be racist, he replied; "I have said nothing unpleasant about aliens at all."
The Traditional Britain Group was founded in 2001, but made little impact until recently, when it drew new recruits in reaction to David Cameron's efforts to give the Conservative Party a more modern image. Its website boasts that it has been "reinvigorated by a new, dynamic generation of young, intelligent and passionate people".
However, 62-year-old Mr Lauder-Frost is a veteran of the right-wing fringe of the Tory party with a political record that dates back to Margaret Thatcher's time. This was interrupted in 1992 when he was imprisoned for two years after stealing £110,000 from a London health authority where he was employed as payroll operations manager. At the court hearing, where he pleaded guilty to eight specimen charges, his lawyer said he had taken the money to pay for a custody battle with the Polish ex-wife.
At the time he was chairman of the foreign affairs policy committee of the Monday Club, a pressure group within the Tory party that was later banned by Iain Duncan Smith because of its views on race. During a meeting of another group with which he was involved, Western Goals, he provoked a walk out by right-wing Europeans politicians by alleging that the EU was forcing member countries to legalise homosexuality.
A keen admirer of pre-war German culture, particularly its opera and films, he has frequently expressed the view that the UK should not have declared war on Germany in 1939, because the Nazis had no quarrel with this country. In 1990, he criticised Thatcher for her ambiguous attitude to the reunification of Germany. He called for Germany to be restored to its 1938 borders, which would have involved absorbing a large part of what is now Poland. "Poland asked for it from 1919 onwards," he claimed in one post on Facebook.
He has called the Nuremburg trials of leading Nazis a "farce… without an ounce of legitimacy" and has claimed that those who ordered the bombing Potsdam should be tried as war criminals. But he defended the Luftwaffe's bombardment of Coventry, saying: "Britain had all its small arms and tanks manufactured at Coventry. If you did not want to be bombed you should not have declared war on a country who had no quarrel with you."
No holding back: The 'wit and wisdom' of Gregory Lauder-Frost
This woman [Doreen Lawrence] has done the British nation no favours whatsoever. If these people don't like us and want to keep attacking us they should go back to their natural homelands.
The Poles asked for it from 1919 onwards. It was Britain and France who made it a world war, not Hitler.
Basically if you did not want to be bombed you should not have declared war on a country [Germany] who had no quarrel with you.
The barbarians who bombed [Potsdam] right at the very end of the war, serving no purpose whatsoever, should have been tried as war criminals.
The Nuremberg trials were a farce. They were show trials without an ounce of legitimacy.
The Africans never had it so good as when Britain governed their colonies there… We owe Africa nothing whatsoever. It owes us eternal gratitude for lifting it out of barbarism.
This article has been amended to make clear that Gregory Lauder-Frost only holidayed in Zimbabwe; he did not live there as we originally believed. In addition, the original wording of the piece included a reference to Mr Lauder-Frost having accused those who walked out of a meeting of Western Goals as "sympathising with sodomites". In fact, these words were spoken by the Chairman of the meeting, not by Mr Lauder-Frost.
Register for free to continue reading
Registration is a free and easy way to support our truly independent journalism
By registering, you will also enjoy limited access to Premium articles, exclusive newsletters, commenting, and virtual events with our leading journalists
Already have an account? sign in
Register for free to continue reading
Registration is a free and easy way to support our truly independent journalism
By registering, you will also enjoy limited access to Premium articles, exclusive newsletters, commenting, and virtual events with our leading journalists
Already have an account? sign in
Join our new commenting forum
Join thought-provoking conversations, follow other Independent readers and see their replies