Grenfell Tower survivors could be deported in 12 months despite government immigration amnesty
The Government has confirmed those who come forward to receive support and assistance will receive only 12 months' limited leave to remain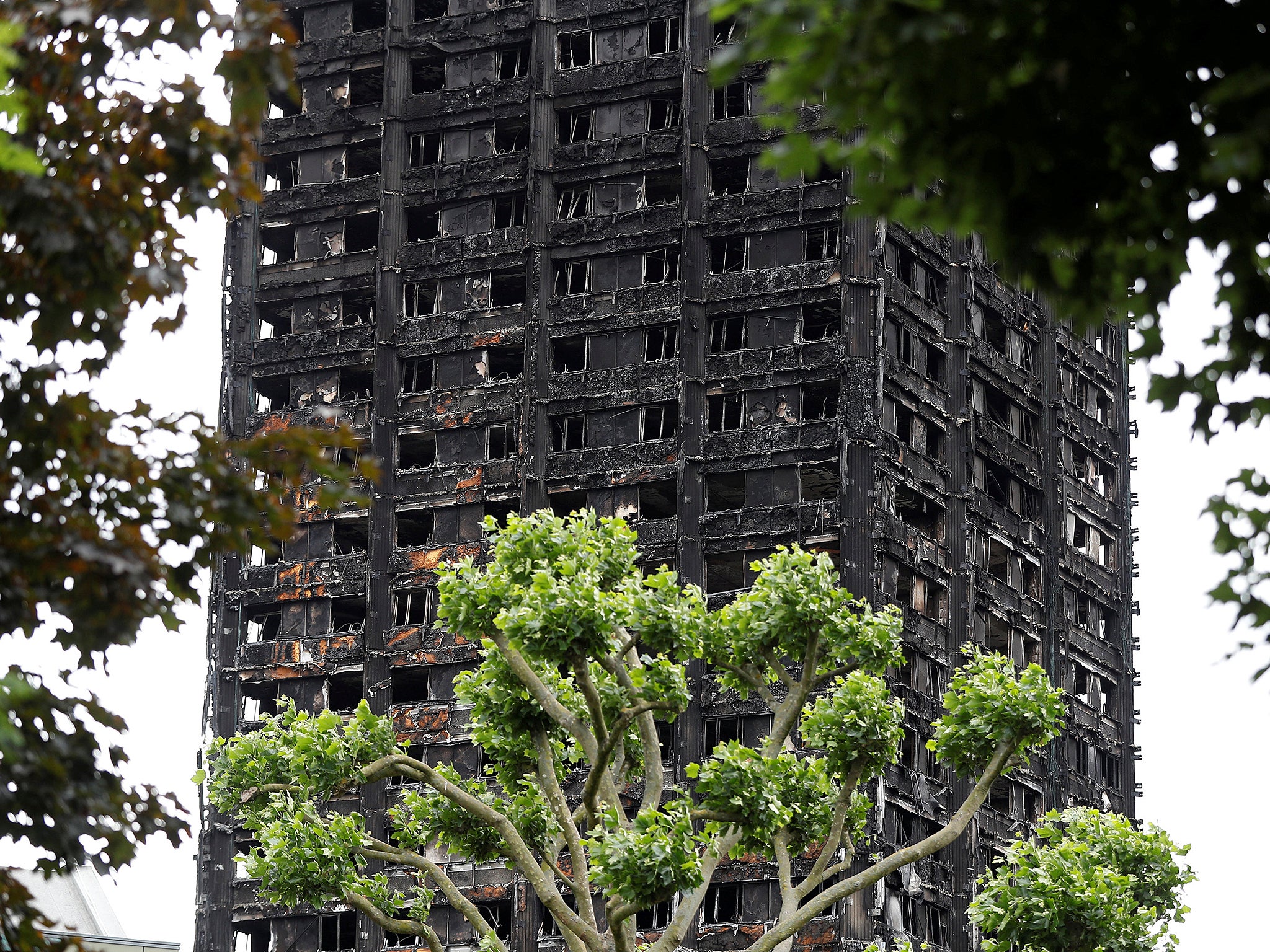 Theresa May has U-turned on a promise not to carry out immigration checks on Grenfell fire victims, leaving survivors who need help at risk of deportation if they come forward.
The Prime Minister pledged in Parliament not to use the tragedy as an excuse to check residents' immigration status, but ministers confirmed anyone wanting help must register with Home Office officials and be subject to normal immigration rules after 12 months.
Downing Street confirmed to The Independent that what happens to survivors at that point would "depend on their circumstances".
Housing Minister fights back tears recalling Grenfell Tower stories
Campaigners had raised concerns victims may not come forward for help because they feared questions being raised about their immigration status, with Labour branding the Government's newly unveiled approach as "grotesque".
It came as police announced 87 discoveries of human remains in the charred tower, but could not say they belonged to the same number of people because of the "catastrophic damage" in the building.
Ministers also announced they would send a task force to take over parts of the beleaguered Kensington and Chelsea Council following heavy criticism of its response to the disaster.
Immigration Minister Brandon Lewis said: "The Government has been clear that our priority is to ensure that victims of this tragedy get the access they need to vital services, irrespective of immigration status.
"This period of leave to remain for those directly affected by the fire will provide survivors with the time to deal with the extremely difficult circumstances in which they find themselves and start to rebuild their lives whilst considering their future options, as well as to assist the police and other authorities with their enquiries about the fire."
Jolyon Maugham QC, a prominent barrister who has volunteered to offer free legal services to Grenfell victims, said: "You can't really call this an amnesty. The Government is offering not to deport you immediately if you give it the wherewithal to deport you later. It's hard to see that it will have the response the Government says it desires."
In Pictures: Grenfell Tower after the fire
Show all 51
Karen Doyle, spokesperson for Movement for Justice – an immigration rights group – said: "A 12-month amnesty is like handing over a ticking time bomb to severely traumatised people. Recovery from what happened at Grenfell will be a lifetime process – one that requires people are in a safe and secure environment to make space for that painstaking work.
"Navigating the immigration system, living with constant fear of deportation and being constantly told you are a liar is itself a traumatising process.
"For those who are undocumented, who know what fate awaits them at the end of 12 months, this 'offer' means nothing.
"The only meaningful offer would be a complete amnesty with permanent right to remain. Let these people heal."
Those granted limited leave to remain will have full access to relevant support and assistance, but only for the limited time available.
Diane Abbott, the Shadow Home Secretary, said the possibility of deportation for survivors was "grotesque".
Ms Abbot said: "The partial amnesty is limited to 12 months, which does not go far enough.
"Some victims have literally lost everything in this horrific tragedy: all their possessions, homes and loved ones. The idea that on top of this they could be deported later is grotesque.
"To access all the support they need without fear of deportation, any survivors concerned about their status must be given indefinite leave to remain. Otherwise, they may just disappear off the grid."
Two weeks ago, Theresa May told the House of Commons: "We will not use this tragic incident as a reason to carry out immigration checks on those involved or on those providing vital information to identify victims or those assisting with the criminal investigation.
"We will make sure that all victims, irrespective of their immigration status, will be able to access the services they need, including healthcare and accommodation."
Earlier on Wednesday, the Metropolitan Police said that, even with the team of 250 forensic pathologists and officers that are currently working within the tower, it would still take "many months" for the final death toll to be known.
Commander Stuart Cundy said: "Until formal identification has been completed to the coroner's satisfaction I cannot say how many people have now been recovered."
The last visible human remains were extracted on Monday, and 21 people have been formally identified by the coroner and their families informed.
He added: "This will take us many months, but we will search each and every flat.
"We will use all the information we have, especially what we have been told by survivors and families, to prioritise our search where we believe we may find more human remains.
"We are absolutely determined to do all we can as quickly as we can to return all those who are in Grenfell Tower to their loved ones."
It was also revealed that a government task force will step in to take over the running of certain council services, in the wake of Kensington and Chelsea Council's heavily criticised response to the tragedy.
Communities Secretary Sajid Javid confirmed outside experts will be brought in to manage Kensington and Chelsea Council's housing, regeneration, community engagement and governance services.
It comes just days after leading MPs and campaigners warned The Independent that the Government had to strip the local council of its powers or face possible civil unrest.
They said the Government should impose new commissioners to run the local authority, which was plunged into further turmoil last week after leader Nick Paget-Brown and deputy leader Rock Feilding-Mellen were forced to stand down over their handling of the disaster, which claimed at least 80 lives.
Robert Black, the head of Kensington and Chelsea Tenant Management Organisation, also stood down to "assist with the investigation and inquiry".
Mr Javid said: "The scale of the recovery effort needed on the Lancaster West Estate in the months to come cannot be underestimated. Support to survivors, the families and friends of those who lost their lives and residents in the wider community must and will be ongoing. The challenge of providing that support is and will continue to be significant. I want to help the council meet that challenge.
"The immediate response to the disaster is being coordinated by the Grenfell response team, headed up by John Barradell. He is ably supported by a number of colleagues drawn from London councils, the wider local government sector including the RBKC [Royal Borough of Kensington and Chelsea], the voluntary sector, police, health and fire services as well as central government. Their expertise and hard work is making a huge difference.
"As well as providing that immediate support, we must have an eye to the future. This intervention is putting in place the foundations that will support the longer term recovery."
At the despatch box in the House of Commons today, new housing minister Alok Sharma fought back tears as he described the suffering of the families of victims he had met since the tragedy occurred.
"'The families which I've met have been through unimaginable pain," he said, before pausing for several seconds. "This is a tragedy which should never have happened, and we are determined to do all that we can to make sure something like this never happens again." When he sat down, he wiped his face with a tissue.
Join our commenting forum
Join thought-provoking conversations, follow other Independent readers and see their replies