Grenfell Tower: MPs warned that fire safety tests will 'put lives at risk'
Exclusive: Letter cautions that failing to enforce rigorous tests may make another disaster more likely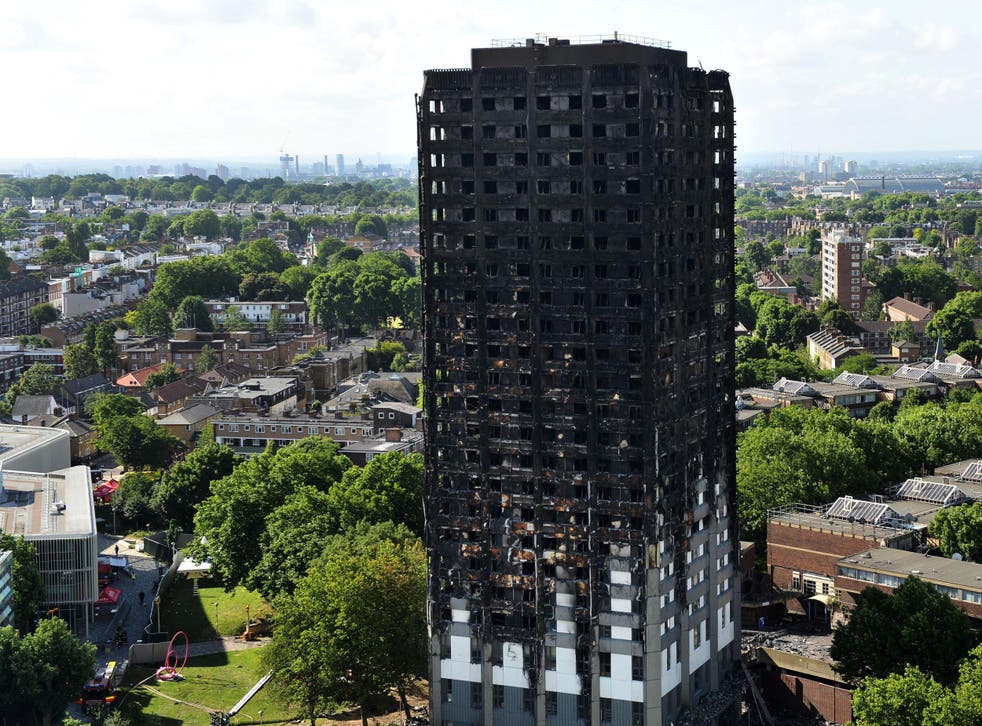 Dozens of MPs have written to the Government to warn that plans to reform fire-safety regulations post-Grenfell will "put lives at risk" by allowing building materials to be approved without undergoing rigorous testing.
In a letter seen by The Independent, nearly 50 MPs from Labour, the Conservatives, the Liberal Democrats and the Green Party said that a refusal to rule out the use of desktop assessments to determine if cladding and other materials are safe was "unfathomable" and would contribute to a "culture of cost-cutting".
The letter follows confirmation that ministers are to consult on allowing the continued use of the assessments, despite pledges in the wake of the Grenfell disaster to make safety regulations "as effective as possible".
Desktop assessments have been used by manufacturers and construction companies in recent years as a way to bypass more comprehensive and expensive methods of testing.
The studies use data from previous assessments to clear combustible materials for use on high-rise residential buildings.
Some experts have warned that this results in corners being cut and inadequate testing of potentially lethal materials.
Fears have been raised that flammable cladding and insulation used on Grenfell Tower, which led to fire engulfing the entire building within minutes, had only been declared after undergoing desktop studies. Many of the materials were later found to fail fire safety tests.
Last week it was revealed that a fire door in the tower that was supposed to be fire-resistant for 30 minutes actually blocked the flames for only half that time.
Despite concerns over their effectiveness, construction firms have lobbied for desktop studies to continue to be allowed.
Reports suggest the Government is now planning to "revise the wording" on the use of desktop studies in a key document, known as Approved Document B, that explains how companies should meet safety regulations. A Government source confirmed to The Independent that the continuing use of desktop studies will be allowed, but said their use would be tightly regulated.
The confirmation prompted the 47 MPs to warn that the use of desktop studies should be banned completely in relation to flammable materials.
In Pictures: Grenfell Tower after the fire

Show all 51
In a letter to Housing and Communities Secretary Sajid Javid, they wrote: "In the wake of the Grenfell Tower fire we find it unfathomable that the Government's response would be to make building regulations weaker and more lenient when it comes to the use of combustible materials on high rise buildings and tower blocks.
"We are deeply concerned about the culture of cost-cutting and unsafe practices that came to light post-Grenfell, and we await the publication of Dame Judith Hackitt's review of building safety regulations."
In December, an interim report of an independent review into building regulations carried out by Dame Judith Hackitt said the Government should "significantly restrict the use of desktop studies" to ensure "they are only used where appropriate and with sufficient, relevant test evidence."
In their letter, the MPs said: "The Hackitt Review's interim report called on the Government to 'significantly restrict' the use of desktop studies to approve changes to cladding, and we urge you to ensure that the Government will not make any changes to regulations that could result in combustible materials being cleared for use on tower blocks in our constituencies without a fire test taking place.
"Such changes would be totally unacceptable, highly dangerous and would put lives at risk.
"We call on you to be true to your promises and ensure that no changes are made to fire safety and building regulations that could make another tower block fire more likely."
Grenfell Firefighter tells Sky News with better communication equipment more people could have been saved
Labour MP David Lammy, who lost a friend in the Grenfell Tower fire and co-ordinated the letter from MPs, said: "I am frankly shocked that the Government are even considering desktop studies.
"Sajid Javid promised us that the Government will take every precaution to avoid another tragedy, and he will be held to that promise."
A number of groups have voiced doubts about the effectiveness of desktop studies.
In its submission to the Hackitt Review, the Local Government Association said of the method: "These reports are a matter of judgement and cannot be verified by building control.
"Subsequent to the Grenfell Tower fire a number of cladding systems which have been used on tall buildings have proved not to meet the required standard of non-combustibility.
"This raises serious questions about the appropriateness of a route to compliance which does not depend on an actual fire test."
In another submission, the Royal Institute of British Architects said the safety of building materials should "be based on full scale fire testing and not use desktop studies".
And the National Fire Chiefs Council warned: "Another concern is the practice of undertaking desktop studies in the absence of carrying out fire tests ... This relies heavily on the competence of the person undertaking the desktop study, and may lead to errors or a reduction in safety margins."
However, construction firms' representatives have argued that desktop studies should continue to be allowed.
The Construction Industry Council said: "The need for desktop assessments is clear, particularly in the situation where requirements are made more stringent ... The lack of capacity for large scale fire tests also makes the desktop assessments necessary.
"However, desktop assessments or judgements on extended application need to be of high quality, and carried out by competent professionals."
Government sources insisted desktop studies were valid in certain circumstances and denied the proposed changes amount to a weakening of regulations.
A spokesperson for the Ministry of Housing, Communities and Local Government said: "Dame Judith Hackitt recommended in her interim report that we should significantly restrict the use of desktop studies. We agree with this, and will shortly be consulting on revised guidance."
Register for free to continue reading
Registration is a free and easy way to support our truly independent journalism
By registering, you will also enjoy limited access to Premium articles, exclusive newsletters, commenting, and virtual events with our leading journalists
Already have an account? sign in
Register for free to continue reading
Registration is a free and easy way to support our truly independent journalism
By registering, you will also enjoy limited access to Premium articles, exclusive newsletters, commenting, and virtual events with our leading journalists
Already have an account? sign in
Join our new commenting forum
Join thought-provoking conversations, follow other Independent readers and see their replies