Grenfell Tower fire: Survivors being hounded by 'ambulance chasing' lawyers, claims Diane Abbott
'I am sure that we all agree that this type of behaviour 'ambulance chasing' is disgraceful and should not be tolerated in any circumstance,' says Shadow Home Secretary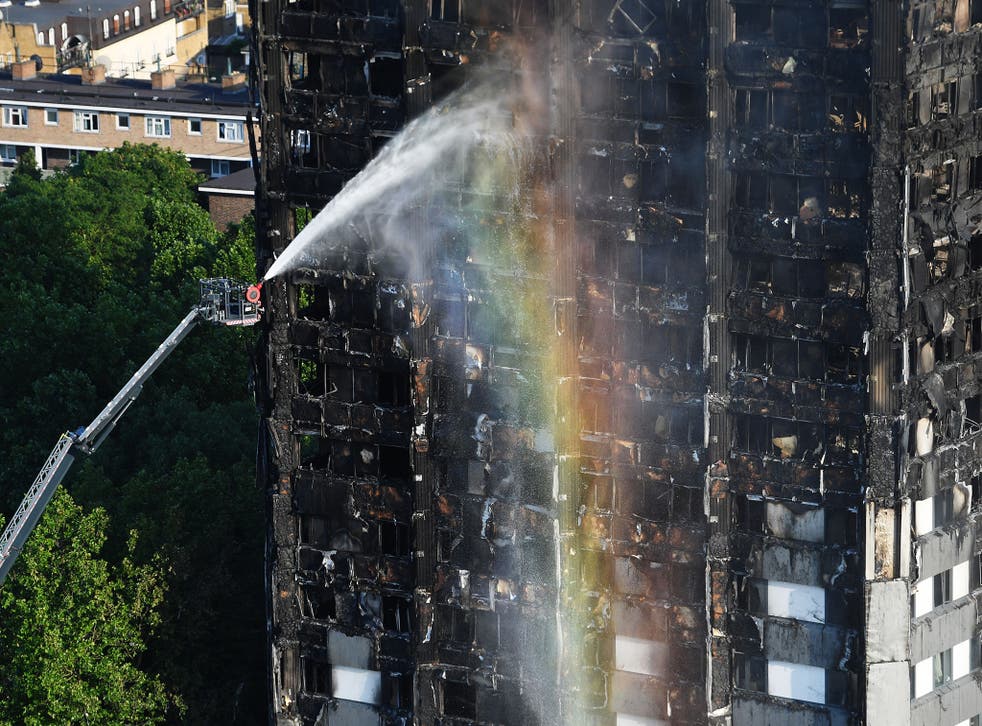 Diane Abbott has hit out at "ambulance chasing" lawyers over allegations survivors of the Grenfell Tower fire are being hounded about legal representation.
The Shadow Home Secretary claimed her office had received numerous complaints about the behaviour of some law firms.
In an email sent to legal associations, she said survivors had reported feeling "intimidated" into signing up for specific representation "on the premise that success depends on them all (a group of survivors) instructing one legal professional and/or firm".
Advocates for the survivors confirmed to The Independent that some residents were being hassled by law firms.
But one source also warned against fuelling further mistrust of the legal system and said many reports appeared to be "conjecture".
It comes just weeks after law firm Leigh Day was forced to suspend two paralegals after a poster was put up offering legal support to those affected, with an email address different from their work contact details.
But the Labour MP claimed such episodes had since continued.
In the email addressed primarily to the Law Society and Bar Council she said: "Whilst at this stage it is not clear on which matters these individuals have been advised that they need legal representation, it is evident that legal representation will be required at some point and to this end, it is entirely for those affected by this tragedy to instruct the legal professional of their choice without being coerced into instructing firms who are clearly misleading people whilst they are extremely vulnerable.
"I am sure that we all agree that this type of behaviour 'ambulance chasing' is disgraceful and should not be tolerated in any circumstance.
"We are aware that two paralegals have been suspended following such allegations and I had initially believed that this was the end of the matter, however complaints have persisted and I offered to send this letter in an attempt to ensure that those affected by this have support and a voice where their concerns are raised at the highest level."
In Pictures: Grenfell Tower after the fire

Show all 51
She called for the "relevant authorities" to explain to survivors their legal rights, how to make a complaint about inappropriate action and what to do if they are concerned about a document they have signed.
It comes as tensions continue to run high over the handling of the tragedy. Survivors repeatedly told Sir Martin Moore-Bick, the judge appointed to lead the public inquiry that he lacked the confidence of the community during a public meeting earlier this week.
Survivors and residents applauded as one member of the public told Sir Martin Moore-Bick he did not think he would do them justice in the public investigation.
One of the first people to speak said: "I don't think you are going to do us justice.
"I'm just watching you here. We need someone who's real."
Meanwhile, Communities Secretary Sajid Javid named those appointed to a new taskforce which will oversee some of Kensington and Chelsea Council's operations in the wake of the fire.
Members include Javed Khan, chief executive of the charity Barnardo's and Aftab Chughtai Chair of West Midlands Police Independent Advisory Group. Wiltshire Council leader Jane Scott and housing director Chris Wood will also be appointed to also listen to "the views of the local community".
It will also "ensure that the right leadership and governance arrangements are in place across the Council", the DCLG said.
Mr Javid said: "I am determined that everything possible is done to support the local community following the disaster.
"This includes ensuring an effective recovery plan is developed that takes into account the views of the local community. The new Taskforce has extensive experience in this area and will provide the Council with the expertise needed to deliver this important work."
Additional reporting by PA
Join our new commenting forum
Join thought-provoking conversations, follow other Independent readers and see their replies