Grenfell Tower fire: Theresa May announces £5 million fund for victims amid angry protests
The Prime Minister announced the fund on a visit to a church in Kensington, where protesters had gathered outside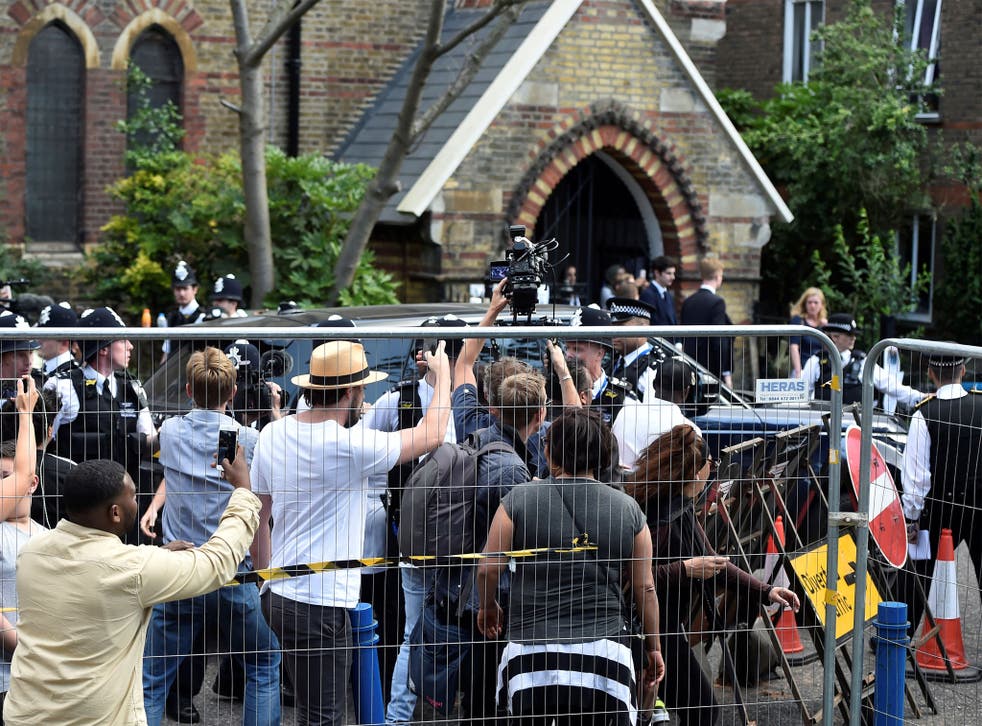 Theresa May has announced a £5m fund for survivors of the Grenfell Tower fire, as furious protests have gathered on the streets of Kensington and Westminster.
The Prime Minister met survivors of the fire at a church in Kensington, during which she announced the fund to pay for emergency supplies, food, clothes and other costs.
The announcement came as protesters gathered outside the church, and outside Kensington Town Hall, to protest their anger over the government reaction to the tragedy, and what they see as the slow emergence of information with regard to people still missing. At the same time, other protesters marched past the entrance to Downing Street chanting "May Must Go!"
As well as the £5m, the Government has committed itself to ensuring that residents who have lost their homes will be rehoused within three weeks, as close as possible to Grenfell Tower.
The Prime Minister also confirmed the Treasury will work with banks to ensure people who may have lost bank cards and identification can quickly regain access ot their money.
The Government has also committed to a fire safety review of all high rise buildings, to ensure they have complied with recent fire orders.
In the afternoon, Theresa May had visited Chelsea and Westminster Hospital and met some of the survivors of the tragedy, many of whom are still in critical condition.
Ms May told Sky News: "We are committed to ensuring that people are rehoused as far as possible within the borough, or in neighbouring boroughs.
"Some people may actually want to go to another part of London where perhaps they have a greater support network, where perhaps they have friends and relatives.
"We are ensuring that within three weeks people will be rehoused so that they have a home to go to."

Earlier, in a statement, she said: "The individual stories I heard this morning at Chelsea and Westminster Hospital were horrific. I spoke with people who ran from the fire in only the clothes they were wearing.
"They have been left with nothing – no bank cards, no money, no means of caring for their children or relatives. One woman told me she had escaped in only her top and underwear.
"The package of support I'm announcing today is to give the victims the immediate support they need to care for themselves and for loved ones. We will continue to look at what more needs to be done.
"Everyone affected by this tragedy needs reassurance that the Government is there for them at this terrible time - and that is what I am determined to provide."
Register for free to continue reading
Registration is a free and easy way to support our truly independent journalism
By registering, you will also enjoy limited access to Premium articles, exclusive newsletters, commenting, and virtual events with our leading journalists
Already have an account? sign in
Register for free to continue reading
Registration is a free and easy way to support our truly independent journalism
By registering, you will also enjoy limited access to Premium articles, exclusive newsletters, commenting, and virtual events with our leading journalists
Already have an account? sign in
Join our new commenting forum
Join thought-provoking conversations, follow other Independent readers and see their replies