Handbagged! David Cameron's promise of EU referendum by 2017 provokes storm of controversy
Deputy PM warns of 'years of uncertainty because of a protracted, ill-defined renegotiation'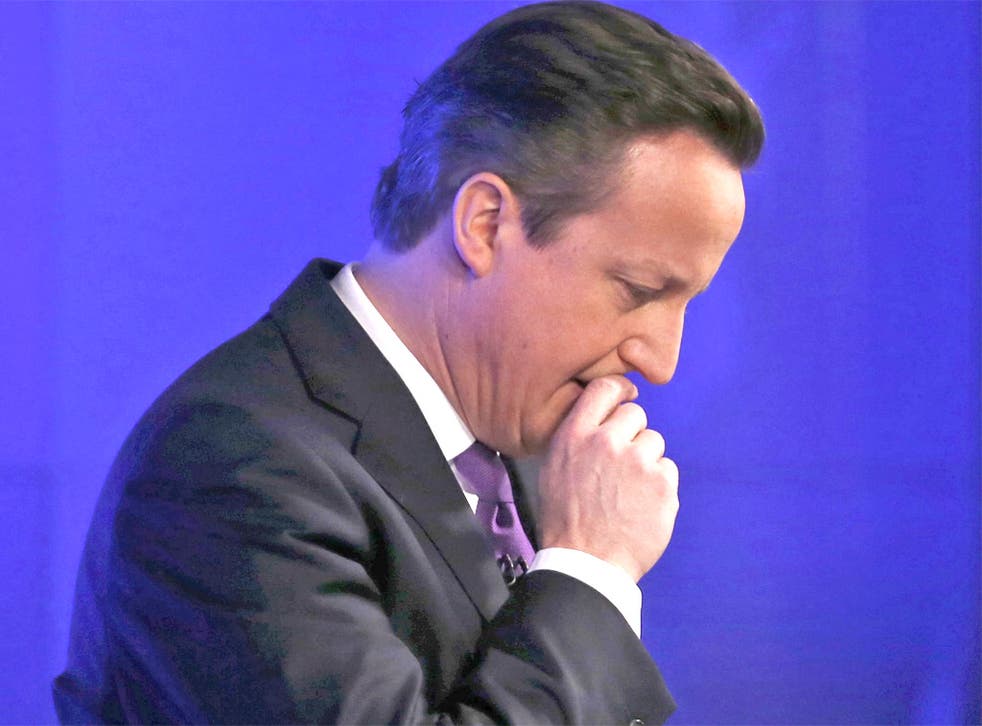 David Cameron was accused of taking dangerous gamble with Britain's economic future last night, after he bowed to Eurosceptic demands for an in/out referendum on membership of the European Union.
The Prime Minister insisted he was optimistic of winning a "new settlement" for Britain in Europe, saying he wanted to recommend staying in a reformed EU. He promised the British people that they will decide the UK's destiny by the end of 2017 if the Tories win the 2015 general election.
But other EU leaders reacted with hostility to his demands and Labour and the Liberal Democrats warned that his gamble could backfire. They said his premature pledge would create five years of uncertainty in which Britain could lose job-creating foreign investment.
Laurent Fabius, the French Foreign Minister, said: "If the UK decides to leave the EU, we will roll out the red carpet to businessmen."
Martin Shulz, President of the European Parliament, accused Cameron of playing a "dangerous game", while the German Chancellor, Angela Merkel, said that other EU countries with "different wishes" to Britain could reject the PM's demands.
The dangers of Mr Cameron's high-risk approach were summed up by Tony Blair, who told BBC Radio 4: "It reminds me a bit of the Mel Brooks comedy Blazing Saddles where the sheriff … holds a gun to his own head and says, 'If you don't do what I want I'll blow my brains out'."
Tory Eurosceptics welcomed Mr Cameron's historic pledge to hold the country's first referendum on Europe since 1975.
But hardliners said he was unlikely to win a good enough deal and are already promising to vote No to continued membership. They urged the Prime Minister to spell out more clearly that he would recommend a No vote if he failed to secure a good agreement for Britain. He dodged that crucial question today, saying: "Who goes into a negotiation hoping and expecting to fail? That is not the approach I take … There is every chance of success."
Business leaders welcomed the debate on Britain's position in Europe but some businessmen expressed concern. Sir Martin Sorrell, chief executive of the WPP advertising group, told The Independent its clients are worried about the uncertainty and would suspend investment decisions or move elsewhere. "To postpone it for this length of time is dangerous. Like it or not, we are part of Europe," he said. "I think for us to be outside it would be a mistake."
Nick Clegg, the Deputy Prime Minister and Lib Dem leader, said: "The overwhelming priority of the British people is jobs, growth and a strong economy and my view is that achieving that ambition is made all the more difficult if you have years and years of uncertainty because of an ill-defined and protracted renegotiation of Britain's status within the EU."
EU diplomats predicted other countries would make limited concessions but would not concede the special treatment Mr Cameron seeks to keep the UK on board.
German Chancellor Angela Merkel, said: "We are prepared to talk about British wishes but we must always bears in mind that other countries have different wishes and we must find a fair compromise," she said.
Guido Westerwelle, her Foreign Minister, added that "cherry picking is not an option", saying Europe needed more, not less, integration.
In a radio interview, Mr Fabius warned: "You can't do Europe a la carte... to take an example which our British friends will understand - imagine Europe is a football club and you join, once you're in it you can't say 'Let's play rugby' ".
And tonight the White House reiterated the United States's wish from Britain to remain within the EU.
President Obama's press secretary, Jay Carney said: "We believe that the United Kingdom is stronger as a result of its European Union membership and we believe the European Union is stronger as a result of having the United Kingdom in the EU."
Cameron aides believe his landmark pledge to "let the people decide" will be a vote-winner at the 2015 election. They seized on confusion over Labour's position after Ed Miliband ruled out an "in or out" referendum at Prime Minister's Questions, only for his party to make clear later that one was not excluded forever.
Tory Eurosceptics, who gave Mr Cameron a hero's welcome in the Commons chamber, were jubilant about his call for Britain to be exempt from the EU founding fathers' commitment to "ever-closer union." But in private, they are pressing the Prime Minister to go further. "He has got to go into the talks with a stick in his hand," one said. "He has got to say he would recommend we pull out if they don't give us back the powers we want."
There was little sign that Mr Cameron's promise would buy him much time on an issue that has haunted the Tory party since the Thatcher era. Mark Reckless, a prominent Eurosceptic, said the Prime Minister's position in the referendum was now "up for grabs" and predicted he would recommend withdrawal. Sajid Javid, the Treasury minister, told The Spectator that if no renegotiation were on offer, he "would personally consider our options outside the EU."
Giving his long-awaited speech in London, Mr Cameron insisted: "We should think very carefully before giving that position up. If we left the EU, it would be a one-way ticket, not a return. So we will have time for a proper, reasoned debate."
He added: "I understand the appeal of going it alone, of charting our own course. But it will be a decision we will have to take with cool heads….Of course Britain could make her own way in the world, outside the EU, if we chose to do so. So could any other member state. But the question we will have to ask ourselves is this: is that the very best future for our country."
Mr Cameron continued: "I never want us to pull up the drawbridge and retreat from the world. I am not a British isolationist. I don't just want a better deal for Britain. I want a better deal for Europe too."
But leading Europhiles warned that Britain would be sidelined by EU withdrawal.
Former Lib Dem leader Lord Ashdown said: "Mr Cameron has effectively told us that it is his intention to put Britain on a one-way street to leaving Europe."
Register for free to continue reading
Registration is a free and easy way to support our truly independent journalism
By registering, you will also enjoy limited access to Premium articles, exclusive newsletters, commenting, and virtual events with our leading journalists
Already have an account? sign in
Register for free to continue reading
Registration is a free and easy way to support our truly independent journalism
By registering, you will also enjoy limited access to Premium articles, exclusive newsletters, commenting, and virtual events with our leading journalists
Already have an account? sign in
Join our new commenting forum
Join thought-provoking conversations, follow other Independent readers and see their replies