Liam Fox strongly hints at hard Brexit, saying leaving EU will be 'golden opportunity' for Britain
The Secretary of State for International Trade said the UK would 'tear down trillions of dollars of international tariffs', the strongest indication yet that the UK will pursue a 'hard Brexit', which critics warn will have 'disastrous consequences' for UK businesses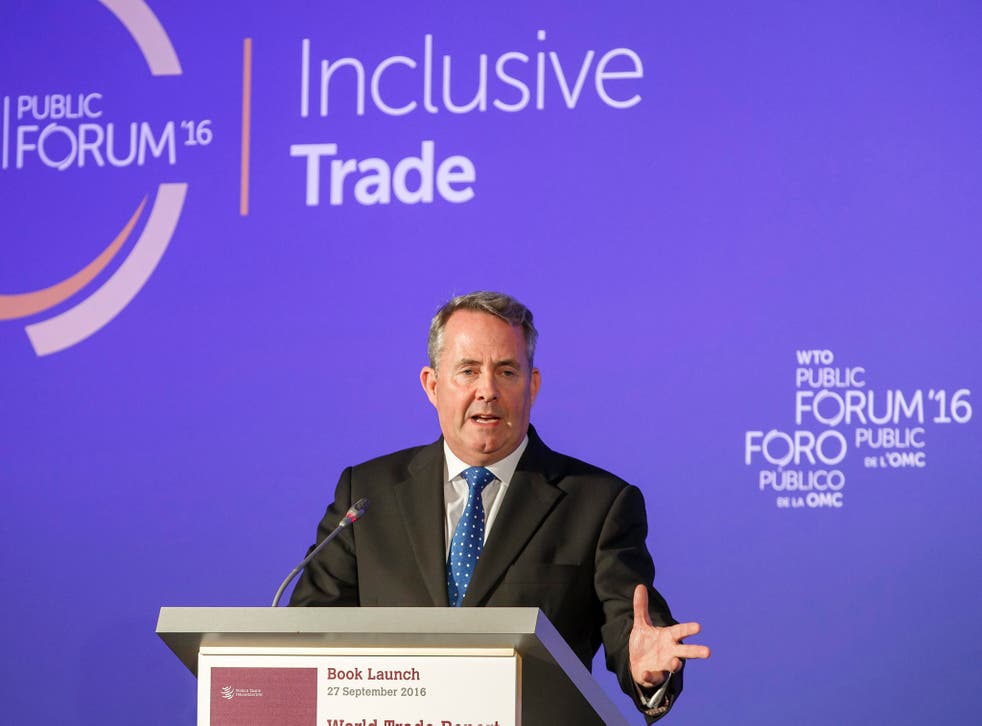 International Trade Secretary Liam Fox has indicated that the UK will seek a "hard Brexit" when it leaves the European Union, saying that the country will become a "newly independent member" of the World Trade Organisation.
Acting in an official capacity as the Secretary of State for International Trade, Dr Fox gave a speech in which he said Brexit was a "golden opportunity" for Britain. The suggestion that the UK would become a "newly independent" WTO member strongly suggests the country will relinquish membership of the European single market and membership of the European customs union, which critics warn will have "disastrous consequences" for British businesses.
Dr Fox said Britain will be in a "a prime position to be a global leader in free trade" said those who thought the Brexit vote meant the country would "turn inwards" after Brexit were "100 per cent wrong".
He said: "As a newly independent WTO member outside the EU, we will continue to fight for trade liberalisation as well as potentially helping developing markets trade their way out of poverty by giving them preferential access to our markets. "
But WTO membership imposes a complicated series of tariffs, particularly on the car industry, which are crucial to both British based car exporters to Europe and particularly German exports to Britain.
Dr Fox's new department has been set up to establish free trade deals with other leading nations outside the EU, which members are prohibited from doing, but he is formally legally prohibited from doing so until after the UK has formally left the bloc, prompting criticisms from the likes of former Business Secretary Vince Cable that his department is "redundant."
Speaking to an audience of business leaders in Manchester, Dr Fox appeared to warn European leaders not to seek to impose tariffs on British business. "Protectionism never actually helps anybody at all. W e want it [trade with the EU] to be as free and as open as possible and don't just look at it from a UK perspective, the European Union has a massive surplus in goods to the UK," he said.
"Who does it harm more if we end up in a new tariff environment? It is in everyone's interests that we have at least as free a trading environment as we have today. Anything else may not harm institutions but it will harm the people of Europe and it is the people of Europe who should be at the forefront of our thoughts."
The EU's customs union currently ensures that all goods imported or manufactured by member countries meet the EU's standards and means there are no border customs checks within the 28 member bloc. The arrangement has tremendous upsides for EU businesses, but it is argued it forces businesses exporting to non-EU countries to comply with needless regulations, which Dr Fox strongly indicated would no longer be the case after Brexit.
"We will work within the World Trade Organisation to build on its successful work in taking an axe to red tape across borders, phasing out distortive export subsidies, and scrapping trillions of dollars' worth of tariffs," he said.
He described the UK's decision to leave the EU as an "unprecedented opportunity" and an "exhilarating time."
He said: " It is potentially the beginning of what I might call 'post geography trading world' where we are much less restricted in having to find partners who are physically close to us.
"It is an exhilarating, empowering and liberating time yet this bright future is being darkened by the shadows of protectionism and retrenchment. History teaches us that such trends do not bode well for the future.
"That is the glorious joy of free trade – it is not a zero-sum game, it really can be win-win."
Register for free to continue reading
Registration is a free and easy way to support our truly independent journalism
By registering, you will also enjoy limited access to Premium articles, exclusive newsletters, commenting, and virtual events with our leading journalists
Already have an account? sign in
Join our new commenting forum
Join thought-provoking conversations, follow other Independent readers and see their replies