Harmondsworth: Asylum seekers' hunger strike spreads to second centre
Solidarity protest reflects growing resistance to Government's treatment of asylum-seekers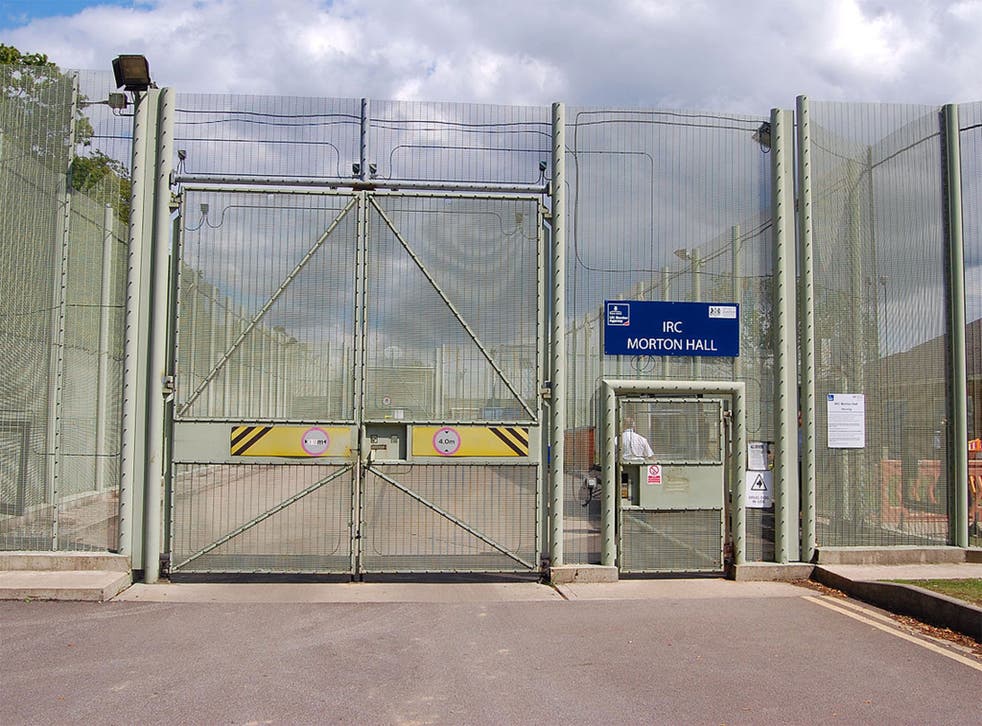 A hunger strike by hundreds of asylum-seekers at the UK's largest immigration detention centre has spread to a second site 150 miles away, amid signs that a wave of resistance is forming against the Government's detention policy.
A number of detainees held inside Morton Hall immigration removal centre in Lincolnshire have started refusing food in solidarity with those at Harmondsworth, who began a hunger strike on Sunday in protest at overcrowded, prison-like conditions which they said were "comparable to animal cages".
Morton Hall, which is run by the Prison Service, opened in 2011 and has 392 rooms for male detainees. In September last year, police in riot gear were brought in to restore order after the death of 26-year-old Rubel Ahmed, from Bangladesh, led to protests.
By yesterday afternoon around 240 people were taking part in the original protest at the Harmondsworth complex near Heathrow Airport, which holds more than 600 men awaiting removal or deportation. Some have been held in detention for over a year.
"The numbers are rising," said Abbas Haider, 43, who is being held in Harmondsworth and is acting as a spokesman for the hunger strikers. "One of the guys in here has been inside for 19 months. The staff tell us that if we don't stop our strike and disperse, we will end up in jail. But all the guys say in one language, in one sound: 'We are already in prison.' We don't have any human rights left here."
As the protest continued, it emerged that serious incidents of self-harm at Harmondsworth have almost quadrupled in two years, faster than at any other detention centre. In 2012 there were 16 cases, rising to 29 in 2013 and 62 last year, according to figures obtained by Channel 4 News.
Another asylum-seeker detained in Harmondsworth for the past five months said fellow detainees had no access to proper medical facilities.
"We are not criminals... most of us want to seek asylum by ourselves and we are being detained for half a year and over. We are locked up in rooms like animals," the unnamed detainee wrote on the Detained Voices website.
"I [would] prefer to sleep on the streets. Water supply was shut off in one part of the Harmondsworth complex yesterday, which some detainees claimed was to punish those who spoke to journalists."
"G Wing is also on hunger strike and they closed the water supply over there," another detainee told the independent production company Standoff Films. "Some guys gave interviews on TV… so that's why they are getting punished."
But a spokesman for Mitie, the private company that took over the running of the centre in September, said the water outage had been caused by "routine maintenance work" and that the supply would shortly be restored. He described the atmosphere inside the complex as "stable".
The UK is the only country in the EU with no limit on the length of time asylum-seekers can be detained. Migrants rights groups told The Independent that unrest inside the UK's immigration removal centres had been brewing for some time and called on the Government to end the practice of indefinite detention.
A Home Office spokesperson said: "Detention and removal are essential parts of effective immigration controls. It is vital these are carried out with dignity and respect… Detention is only ever used as a last resort after all attempts to encourage individuals to leave voluntarily have failed."
Harmondsworth in numbers
600 men awaiting removal or deportation at complex near Heathrow Airport
62 serious incidents of self-harm at the complex, according to Channel 4 News figures
Register for free to continue reading
Registration is a free and easy way to support our truly independent journalism
By registering, you will also enjoy limited access to Premium articles, exclusive newsletters, commenting, and virtual events with our leading journalists
Already have an account? sign in
Register for free to continue reading
Registration is a free and easy way to support our truly independent journalism
By registering, you will also enjoy limited access to Premium articles, exclusive newsletters, commenting, and virtual events with our leading journalists
Already have an account? sign in
Join our new commenting forum
Join thought-provoking conversations, follow other Independent readers and see their replies