Harry Leslie Smith: Second World War veteran says politicians should get to grips with UK poverty
The veteran and activist hit out at the current Government's austerity policy
Adam Lusher
Sunday 06 March 2016 20:46 Comments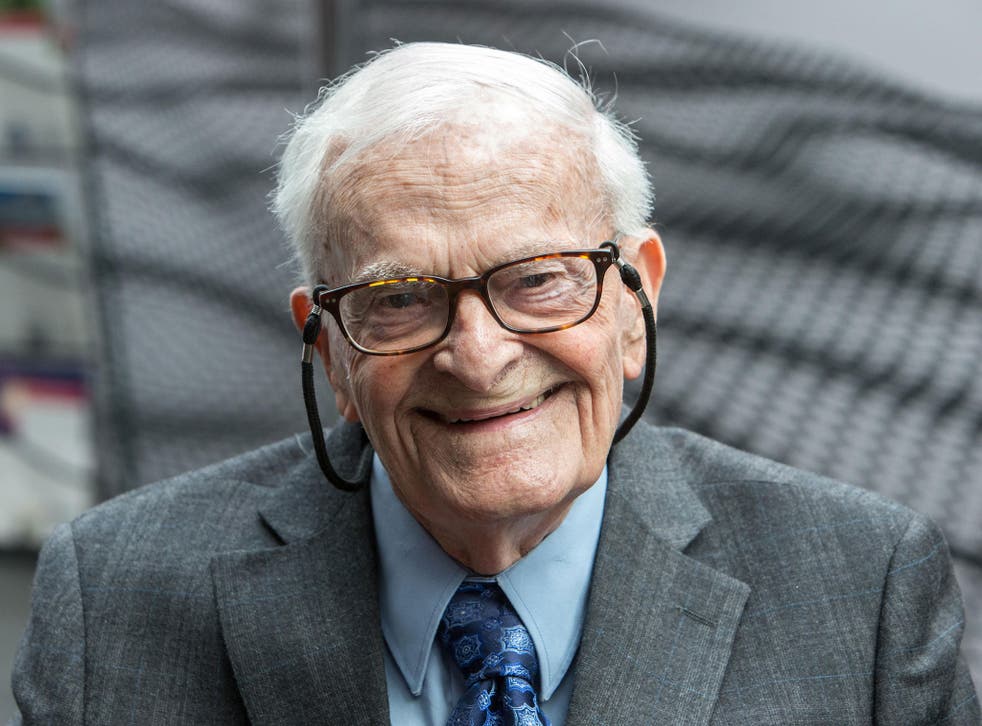 Modern politicians do not grasp the scale of poverty in Britain because most have not known personal hardship, according to campaigner and Second World War veteran Harry Leslie Smith.
In an emotional address to an audience at The Independent Bath Literature Festival, Mr Smith urged ministers and MPs to leave their "ivory towers" and get to grips with Britain's worsening social problems, including hunger.
The veteran and activist, who turned 93 last week, spoke of experiences of hard times during WW2, and hit out at the current Government's austerity policy. He added people should do more "to keep politician's feet to the fire".
"It's essential we have politicians and leaders who have known hardship in their lives," he said. "That's what we had just after the war. We had men who had fought, they had suffered and they also lived in the community that elected them. They knew their citizens."
Mr Smith added: "Today politicians think once they are elected, that's all they have to do. We must keep their feet to the fire and make them suffer a bit. Ring them up, ask them what they are doing to force change."
He claimed that many Westminster MPs will not have visited cities outside of London and seen poverty, hunger and people living on the streets. "The politicians need to stop down from their ivory towers and look around at what's happening in this country. They need to listen to the people for a change."
Mr Smith grew up in poverty in Barnsley, survived the Great Depression and was in the Royal Air Force during the Second World War. He became a social activist following the banking crash in 2008.
He came to prominence in 2013 when he wrote in a newspaper column that he would no longer wear a poppy for Remembrance Day because he thought it was used to justify present conflicts. A year later he wrote Harry's Last Stand dedicated to the preservation of the Welfare State.
Mr Smith, who addressed the Labour Party conference in September 2014, backed Jeremy Corbyn as leader but added "he's not pushy enough for my liking".
"He is a very honest-minded man. He has the desire to change things in Britain. Corbyn will change the world for the better. There is no one else," he said, adding: "He'll learn he has to put some more weight behind it. I am behind him and will work with him."
During the elections, Mr Smith revealed he travelled to 50 cities and towns in 40 days, adding: "I have tremendous stamina when I get a bee in my bonnet."
He decried the current Government's policy of austerity and said many people in the country were going hungry, saying: "Hunger is brutal and awful in a country as wealthy as ours." During his childhood in Yorkshire, Mr Smith and his sister would have to dig through restaurant bins looking for food. "That's a hunger people feel today," he said. "People die from lack of food.
He wept as he recalled seeing the hunger on the streets of Hamburg, where he was stationed towards the end of the Second World War as part of the allied occupation force. His account is outlined in his new book Love Among the Ruins: A Memoir of Life and Love in Hamburg 1945.
"I would like to see Britain as I knew it at its best, not at the stage it is today with too many people struggling day to day," he said.
"I walk around towns and cities and I don't recognise Britain, with thousands of citizens on the streets. It's appalling."
The fairness has gone out of society, the campaigner continued. "Let's speak up and let our governments know."
Register for free to continue reading
Registration is a free and easy way to support our truly independent journalism
By registering, you will also enjoy limited access to Premium articles, exclusive newsletters, commenting, and virtual events with our leading journalists
Already have an account? sign in
Join our new commenting forum
Join thought-provoking conversations, follow other Independent readers and see their replies