Keir Starmer told to 'rethink strategy' as Labour goes backwards on 2019 result in Hartlepool
Colleagues accuse Labour leader accused of sending candidates out 'naked' and 'almost policy-less'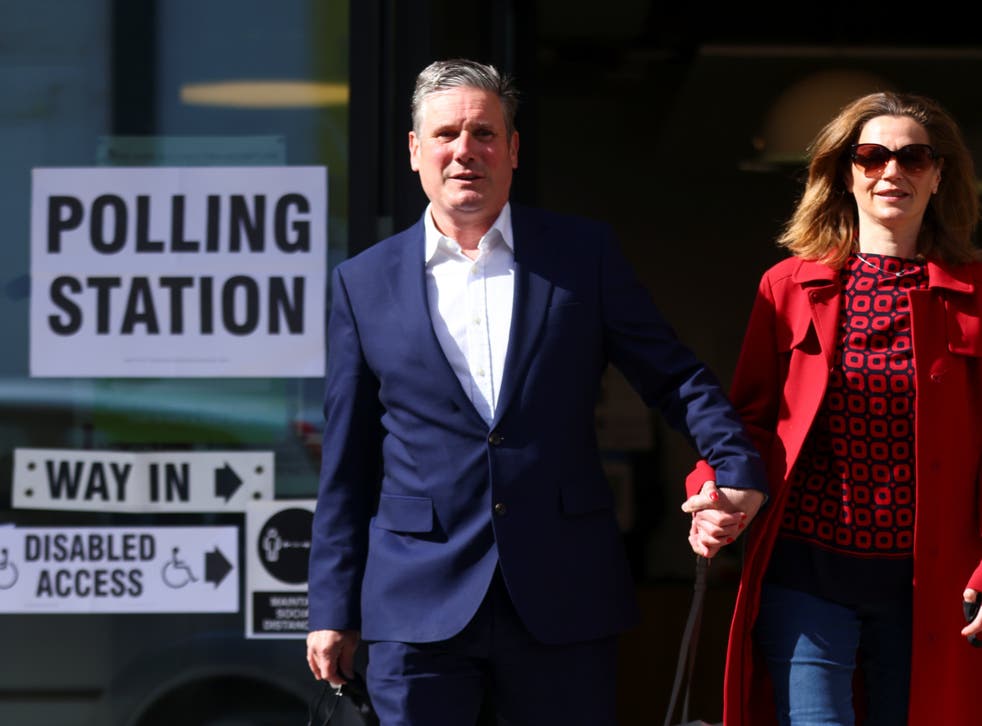 Keir Starmer has been told to rethink his strategy and change course after he led Labour to a crushing by-election defeat in a seat Labour held twice in 2017 and 2019.
The Labour leader faced a barrage of criticism from the left of his party as the result became clear on Friday morning – while his allies pinned the blame on the legacy of former leader Jeremy Corbyn.
And a call for his replacement as leader came from the Blairite former cabinet minister Lord Adonis, who said he lacked the political skills needed to win elections.
John McDonnell, who served as shadow chancellor under the former leader, accused Sir Keir of sending activists out "naked" and "almost policy-less".
Keir now needs to sit down and think through what happened in this campaign," he said.
"What I've been saying to him is you need to demonstrate to people the sort of society you want to create, the policy programme that will achieve that society and you need to get back to that real grassroots campaigning.
"We must never again send our candidates into an election campaign almost naked without a policy programme, without a key view on the sort of society we want to create."
Richard Burgon, an MP on the left of the party, said Labour was "going backwards in areas we need to be winning".
"Labour's leadership needs to urgently change direction," he said. "It should start by championing the popular policies in our recent manifestos - backed by a large majority of voters."
And Mr Corbyn himself - currently suspended from Labour's parliamentary grouping - said the party must offer "a bolder vision".
"Tory gains are bad news for jobs, the environment and public services for the many not the few," tweeted the former leader.
"With millions not voting, these results show a loss of hope. We must offer a bolder vision to transform people's lives and give them the confidence to strive for a more equal world."
But Peter Mandelson, a former New Labour minister who was previously MP for Hartlepool before being given as seat in the Lords, said Labour had "fought such a strong campaign" and pinned the blame on Sir Keir's predecessor.
He said he felt a "mild fury" at the result, adding: "Until the Labour Party and until people like all of these people who were with Jeremy Corbyn leading the party to the worst possible defeat we could have imagined in 2019, until they grasp the scale of the challenge and transformation it needs to undertake as a party we will be here again and again on mornings like this."
Mr Mandelson was in charge of Labour's the 2010 general election campaign, when it won 29 per cent of the vote across the country - lower than any other, including 2019.
He told the Today programme: "The reasons for the defeat, if I really had to boil them down to two things, I'd say they were two Cs: Covid and Corbyn", he said, referring to the former leader who held the seat twice and stepped down last year."
But former shadow Home Secretary Diane Abbott described the defeat as "crushing" and said it was "not possible to blame Jeremy Corbyn for this result".
"Labour won the seat twice under his leadership. Keir Starmer must think again about his strategy," she said.
Conservative candidate Jill Mortimer won 51 per cent of the vote in Thursday's by-election, up by 23 per cent on the Tories' 2019 result, while Labour fell back 9 per cent on the vote share won under Jeremy Corbyn in 2019.
With a majority of around 7,000 the Conservatives won almost twice as many votes as Labour in the seat: a major political turnaround for the town, where Labour increased its majority as recently as 2017, then moving from 35 per cent of the vote to 52.5 per cent.
The Tories appeared to benefit from the collapse of the Brexit party's substantial 2019 vote in the seat. In 2017 had Labour won the lion's share of voters back from Ukip's strong 2015 showing, but appeared unable to repeat the trick.
Speaking for Sir Keir's shadow cabinet on the morning news programmes, shadow communities secretary Steve Reed said the party should respond to the defeat in Hartlepool "with great humility".
"If we do not listen to voters and hear what they're telling us and change, we won't deserve to win..." He said.
"The Labour Party spends far too much of its time litigating its own past and having battles about which part of Labour's history you most prefer.
"The British people are focused on the future - that is where Labour needs to turn now. We need to address the concerns of the British public today and in the future, not in the past - if we don't do that, these defeats will keep coming."
UK news in pictures

Show all 51
Shadow schools minister Wes Streeting defended Sir Keir's tenure, tweeting: "Our leadership has changed for the better, but the voters aren't convinced that Labour has too. This is a huge and urgent task. Keir gets it. So must we."
But Andrew Scattergood, co-chair of left-wing campaign group Momentum said: "This result is a disaster. In 2017, we won over 50% of the vote in Hartlepool. Now it looks like we've lost it to the Tories.'
"67 per cent of voters in the constituency want to increase investment in public services, 57 per cent agree with taking Royal Mail into public ownership, and 69 per cent support free broadband. A transformative socialist message has won in Hartlepool before, and it would have won again.
"Starmer's strategy of isolating the left and replacing meaningful policy with empty buzzwords has comprehensively failed. If he doesn't change direction, not only will he be out of a job - but the Labour Party may be out of Government forever."
Join our new commenting forum
Join thought-provoking conversations, follow other Independent readers and see their replies