Heathrow: Boris Johnson's office invests millions in the airport despite his opposition to expansion plans
It's just one of the GLA's controversial moves with taxpayers' cash, and others, too, have sparked fury
Cahal Milmo
Saturday 12 December 2015 23:43 Comments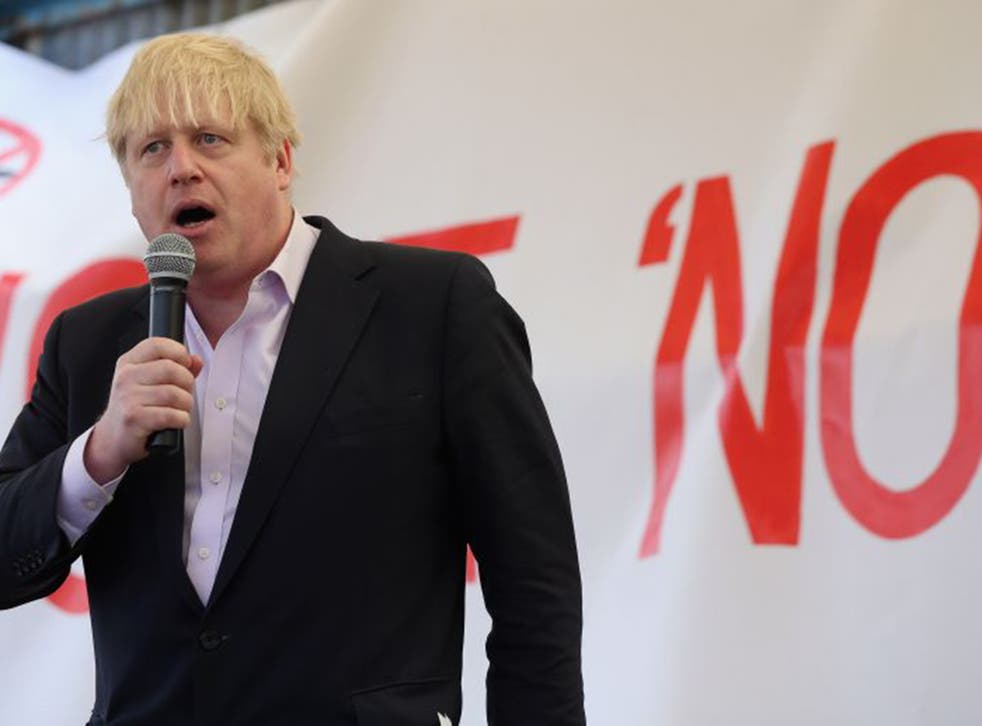 Millions of pounds of public money has been invested on behalf of the London Mayor in Heathrow Airport despite Boris Johnson's strident opposition to its £23bn expansion plans, The Independent on Sunday can reveal.
The £3.5m corporate bond was bought by the Greater London Authority prior to the Government's announcement this week that a decision on the building of a third runway at the airport has been postponed for a further six months. It is due to mature next March, delivering a return of £11,000 to the GLA before the next deadline for a decision on airport expansion expires in June 2016.
The bond purchase is one of a number of controversial investment decisions made by Mr Johnson's financial officers as they juggle nearly £2.5bn of public funds held by the GLA and other organisations, including the capital's police and fire authorities as well as the body in charge of redeveloping the site of the 2012 Olympics.
Documents seen by The IoS show that £200m of taxpayer funds has been placed with banks in the Middle East, including £100m with the Saudi Arabian Riyad Bank.
Opponents of Mr Johnson, and trade unions, sharply criticised the decision to invest taxpayers' money in a Saudi bank and asked why it was taken amid grave concerns about human rights in the country. Campaigners have highlighted continuing curtailment of freedom of expression in the Kingdom, arbitrary detention, executions and discrimination against women.
Stephen Knight, the Liberal Democrat London Assembly member who obtained the investment records, said: "It says a great deal about Boris Johnson's moral compass that he is happy to lend hundreds of millions of pounds of London taxpayers' money to banks based in, and partly owned by ... repressive regimes."
The investments are made from the pool of short-term cash balances held by all local authorities as they manage cash flow and borrowing requirements. The GLA, which has an annual budget of about £17bn, has formed a Group Investment Syndicate (GIS) with several of the bodies it oversees to invest some £2.38bn of public funds in short-term deposit accounts and corporate bonds.
The newly released documents show for the first time where this money is being sent and are potentially uncomfortable for Mr Johnson, who must personally approve the overall investment strategy for the GIS. Decisions on where to invest are taken by City Hall staff and the GLA does not employ any external fund managers.
The Mayor has made opposition to the further growth of Heathrow a cornerstone of his two terms in office and has spent £6.2m since 2011 on feasibility studies for "Boris Island" – the £112bn airport in the Thames Estuary which he had hoped would replace London's main airport.
The 10 world's worst airports 2015

Show all 10
Mr Johnson earlier this year sent a dossier to MPs and peers after the independent Airports Commission set up to evaluate the competing schemes to build a new runway in southern England rejected his project on grounds of cost and impact. In the dossier, the Mayor condemned the continuing focus on Heathrow, saying any decision to back the airport's expansion would be "investing in decline".
Such concerns did not deter City Hall's number-crunchers when it came to choosing companies in which to park funds. On 1 December, officials authorised the purchase of a bond worth £3.54m from Heathrow Funding Ltd, a subsidiary of the airport's operating company.
In a recent note updating investors on its £50bn corporate bond programme, the airport welcomed the decision by Sir Howard Davies' commission to name Heathrow as its preferred site for a new London runway and said it was waiting to proceed with the project.
The GLA said that notwithstanding Mr Johnson's trenchant views on Heathrow, it remained a suitable investment. But critics of the Mayor, who is ultimately responsible for GLA investments, said there was a clash between the mayor's public position and his officials' investment decisions.
Mr Knight said: "Only Boris Johnson would not be able to understand the total contradiction between publicly opposing a third Heathrow runway, whilst behind the scenes pouring millions of pounds of London taxpayer's money into Heathrow bonds, which will help finance such an expansion."
The GLA's GIS scheme is unusual among local authorities in placing half of its money abroad, including £265m held in Singapore and £100m held in the United Arab Emirates.
The IoS understands the GLA first placed funds with Riyad Bank in 2014, and its four outstanding loans will pay a total of £388,000 in interest when they mature between next week and next April.
The bank, which has a branch in Mayfair, London, is the third-largest in Saudi Arabia and there is no suggestion that it is not well run nor fully compliant with all international regulations. But critics argue that its links to the Saudi state, which has been heavily criticised in recent months for actions from its ongoing air campaign in Yemen to its imprisonment of the blogger Raif Badawi for "insulting Islam", make it an inappropriate destination for UK taxpayers' money. The bank is 49 per cent owned by state bodies and prominently features the three most senior members of the Saudi royal family in its annual reports.
Paul Embery, regional secretary of the Fire Brigades Union in London, said: "It beggars belief that Boris Johnson cannot see the contradiction in using its money to do business with a regime notorious for its appalling human rights record.
"Ordinary firefighters will feel angry that their service is being tainted by association in this way. This grubby arrangement taints the reputation of the London Fire Brigade, and it should be terminated."
Riyad Bank did not respond to requests from The IoS to comment.
The GLA said it only invested its short-term cash balances in "high-quality institutions" and it had a duty to minimise the risk of any loss to the taxpayer by rigorously examining the creditworthiness of all recipients of investments.
A spokesman added: "The Mayor's opposition to a third runway ... at Heathrow is well known; however, the airport remains a credible and profit-making business ... suitable for this type of investment."
Register for free to continue reading
Registration is a free and easy way to support our truly independent journalism
By registering, you will also enjoy limited access to Premium articles, exclusive newsletters, commenting, and virtual events with our leading journalists
Already have an account? sign in
Register for free to continue reading
Registration is a free and easy way to support our truly independent journalism
By registering, you will also enjoy limited access to Premium articles, exclusive newsletters, commenting, and virtual events with our leading journalists
Already have an account? sign in
Join our new commenting forum
Join thought-provoking conversations, follow other Independent readers and see their replies