Government urged to scrap 'undemocratic farce' of electing hereditary peers where tiny clique of voters choose successor
'The public should decide who votes on our laws – not a tiny clique of aristocrats,' say campaigners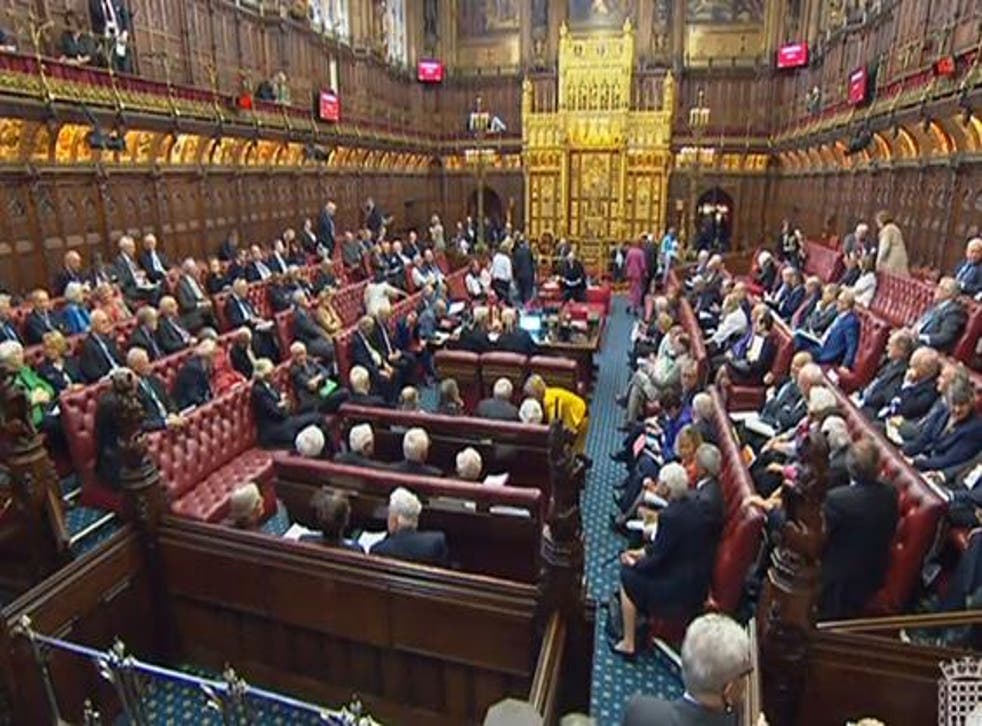 Ministers are facing calls to scrap the "undemocratic farce" of electing hereditary peers as new analysis reveals the average poll only attracts 29 voters.
Ahead of a by-election to replace Earl Baldwin of Bewdley, critics described the system as a "bizarre hangover from feudal times", where some elections are decided by as few as three voters.
Labour abolished the majority of hereditary peerages in 1999 but around 90 still remain, accounting for some 12 per cent of the House of Lords. In most circumstances, if one dies, quits or retires then the successor is voted for by members of their own party.
Analysis by the Electoral Reform Society (ERS) found that the average electorate for normal hereditary by-election is only 32 voters, with only 29 people usually turning out.
The group found that four by-elections had more candidates than electors in recent years – including a by-election for Labour hereditary peers with 11 candidates and only three voters.
Some 3,190 votes have been cast in the last 32 by-elections, which began in 2003, compared to the last 32 Commons by-elections, where 931,725 votes have been cast.
ERS chief executive Darren Hughes said: "These so-called by-elections are an undemocratic farce – and make mockery of our democracy.
"This time, around 25 peers are set to decide which aristocrat remains in parliament to vote on our laws, for the rest of their lives.
"That is not democracy – and it's time we ended this bizarre hangover from feudal times.
"It's vital for trust and faith in our democracy that the forthcoming farce of a by-election – brought about by the retirement of Earl Baldwin of Bewdley – will be the last.
"The public should decide who votes on our laws – not a tiny clique of aristocrats."
Labour peer Lord Grocott is trying to axe the by-elections through a private members' bill but his efforts were blocked by a handful of hereditary peers in March.
However, Conservative frontbencher Lord Young of Cookham said the government "will not obstruct" his bill and offered it more parliamentary time.
Lord Grocott told The Independent: "These were only supposed to be a temporary measure but it's now gone on for 19 years.
"There have been 32 hereditary by-elections, so I mean that's a third of all hereditary peers who have been replaced. It's ridiculous.
"You have this situation where the government is trying to reduce the size of the Lords and the House of Commons but you have 92 peers who cannot be touched."
Only one woman is eligible to stand in the upcoming by-election out of more than 200 candidates, and just 31 peers will be able to vote, according to a written parliamentary question to Lord Grocott.
The poll will also cost taxpayers more than £1,140 to stage.
Liberal Democrat MP Tom Brake said the issue was "another reminder of how archaic, undemocratic and outdated" the Lords is.
"Liberal Democrats have long argued for an elected upper chamber, but sadly attempts to introduce reform were thwarted by the self-interest of the other two parties," he said.
"Isn't it ironic, however, that murmurs from the Tories have changed in recent weeks as a result of the Lords defeating them on the EU Withdrawal Bill on fifteen occasions?"
Lord Fowler, the Lords speaker, has welcomed efforts to slash the size of the upper chamber after a key Lords committee recommended limiting any peer's term to 15 years and adopting a new "two-out, one in" system to accelerate a reduction in numbers.
A Lords spokesperson said: "The House of Lords recognises the need for reform and, following a report from the Lord Speaker's committee on the size of the house in October 2017, showed overwhelming support for reducing and capping the size of the house, and for linking new appointments to general election results."
UK news in pictures

Show all 50
It comes after Theresa May was accused of "hypocrisy" after appointing nine new Tory peers to the House of Lords, including several ex-ministers, despite promising that senior politicians would not receive automatic ennoblement.
Her announcement coincided with the eve of the royal wedding between the Duke and Duchess of Sussex, prompting claims that the prime minister had tried to sneak out the news when it would receive little attention.
Candidates for the upcoming by-election will be announced on 15 June, with the count on 4 July.
Join our new commenting forum
Join thought-provoking conversations, follow other Independent readers and see their replies