Hidden homeless: Benefit sanctions blamed as rough sleepers increase by a third in five years
Around 280,000 people asked their council for help in keeping a roof over the heads in 2013/14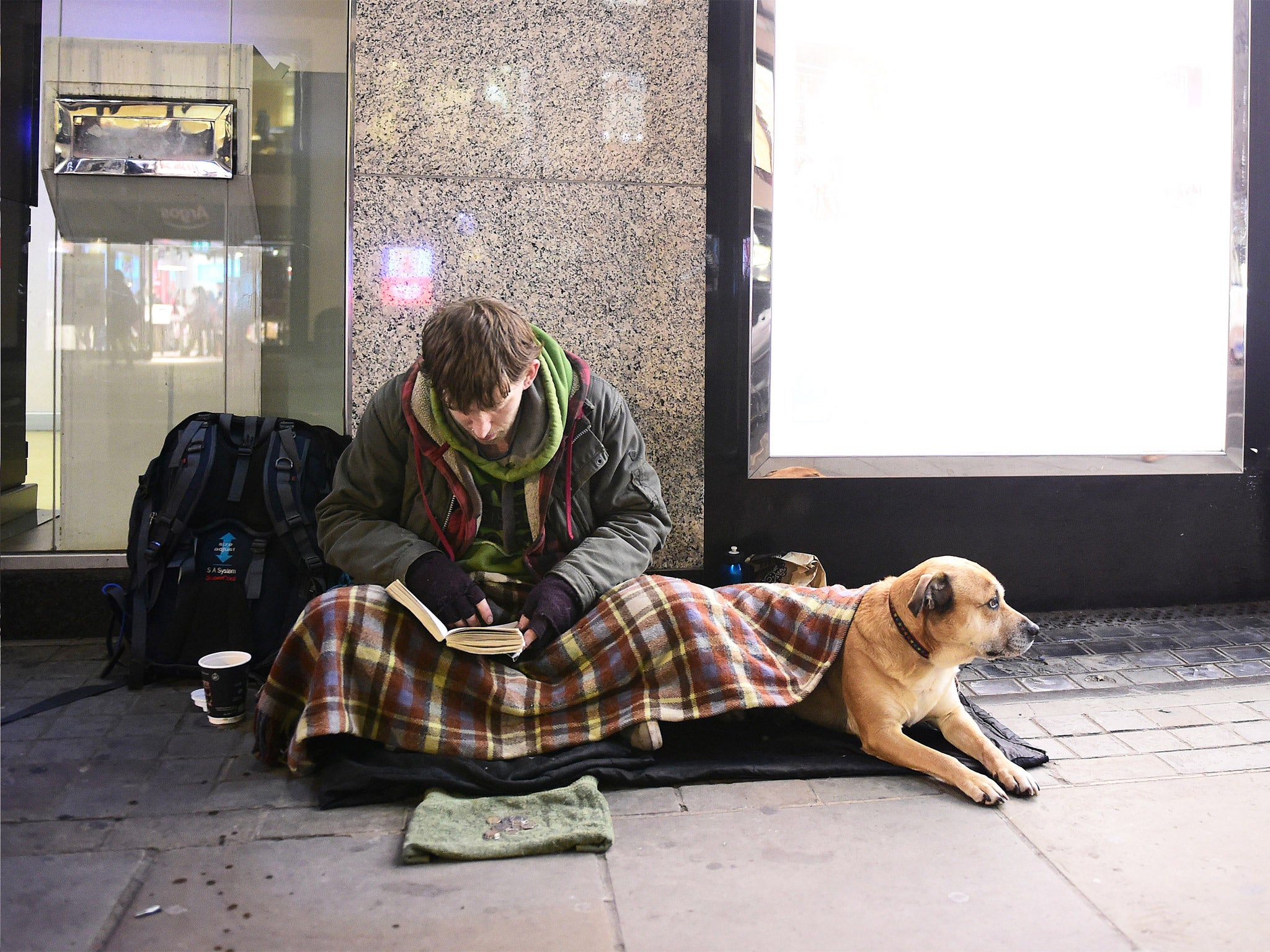 Benefit sanctions are contributing to a rise in homelessness, according to a new study showing there were more than a quarter of a million homeless cases in England last year.
Around 280,000 people asked their council for help in keeping a roof over the heads in 2013/14, up more than a third since 2009/10 and nine per cent on last year, according to a report released today by Crisis and the Joseph Rowntree Foundation.
The research argues that official figures are masking the true scale of the problem, as councils are increasingly using informal approaches to tackle homelessness - such as assisting people with debt advice, help to stay in a tenancy or family mediation.
Government figures indicate that just 52,000 households were accepted as homeless in England in 2013/14.
A combination of benefits cuts, changes to housing benefit making it difficult to find accommodation, and rising rents are resulting in people facing severe hardship, according to the report
Services working with homeless people are seriously concerned about the rising use of sanctions - which are imposed on benefits claimants for breaching rules and missing appointments - with respondents viewing them as a significant cause of homelessness.
The research reveals that 90 per cent of councils believe that welfare reforms will continue to impact on homelessness. More than half of local authorities fearing that things will worsen over the next two years.
The report - which is published as The Independent campaigns for more help for Homeless Veterans - also found that growing numbers of people being forced to live away from their area amid a lack of affordable housing locally, and more people needing help to cope with debts.
The Homelessness Monitor report found that problems are particularly acute in London, where a "prime structural contributor to homelessness" is a shortfall in the level of new homes being built to cope with levels of demand.
Jon Sparkes, chief executive at Crisis, said: "Council officials are clear that benefit cuts and sanctions are taking a dreadful toll on people's lives, with rising numbers facing the loss of their home at a time when councils are being forced to cut services. This is a desperate state of affairs."
Julia Unwin, chief executive at JRF, commented: "If we are to prevent a deepening crisis, we must look to secure alternatives to home ownership for those who cannot afford to buy – longer-term, secure accommodation at prices that those on the lowest incomes can afford."
Homelessness Minster Kris Hopkins said: "These claims are misleading and the fact is statutory homelessness remains lower than in 27 of the last 30 years.
"This Government has increased spending to prevent homelessness and rough sleeping, making over £500million available to local authorities and the voluntary sector."
Responding to the findings, a Government spokesman said: "This report is misleading. Homelessness is at one of the lowest levels for the last 30 years and official evaluation does not show a link to welfare reforms - which are focused on helping people improve their circumstances." They added: "As the report itself says, a 'wide definition' of homelessness is used including people staying with friends or relatives."
The Government's evaluations of the impacts of the bedroom tax, and changes to benefits, do not show evidence that welfare reforms have caused a rise in homelessness, according to officials. Around £94 billion is being spent each year on 'working age benefits.' Nearly £500million has been provided since 2013 to support those affected by welfare reforms; and in the first six months of 2014 there were around 53,000 fewer benefit sanctions compared to the first six months of the previous year, say officials.
Join our commenting forum
Join thought-provoking conversations, follow other Independent readers and see their replies