Hinkley Point: Critics slam 'out of date, flawed and expensive technology' after approval of nuclear power project
Campaigners and politicians warn it could cost UK tax-payers up to £30bn over the project's lifetime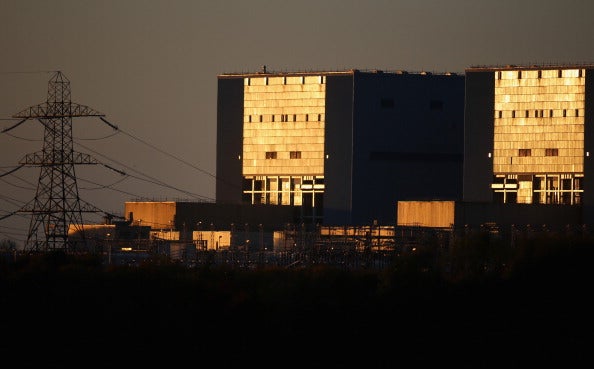 Theresa May is gambling the country's future energy supply on the £18bn Hinkley nuclear power project despite claims it runs off unproven technology and the cost of its electricity is "a lousy deal".
The Prime Minister ended weeks of speculation by approving the controversial project, but was immediately challenged over why ministers have not secured a better price for Hinkley's power than one set to cost British tax-payers £30bn.
Campaigners, green businesses and politicians from both opposition and Tory benches attacked the move, with some casting doubt over whether the scheme will ever happen given the unanswered questions surrounding it.
Proposals to build the EDF-led Hinkley Point C power station have been dogged by concerns over cost, design and national security, given the involvement of the Chinese state.
But in the Commons, Business Secretary Greg Clark gave the green light for the French firm to build two new reactors at the Somerset site, part funded with £6bn from Beijing, in what he called a "rebooting" of the UK nuclear industry.
The move immediately led to a state-owned Chinese firm announcing it would begin a push to build two further UK power stations.
Mr Clark said: "The investment will secure 7 per cent of the UK's electricity needs for 60 years, helping to replace existing nuclear capacity that is due to be decommissioned in the decade ahead.
"The electricity generated will be reliable and low carbon, and therefore completely compatible with our climate change obligations.
Hinkley Point nuclear power station will go ahead
"Hinkley Point C will inaugurate a new era of UK nuclear power, with UK-based businesses benefiting from almost two thirds of the £18bn value of the project, and 26,000 jobs and apprenticeships will be created."
His positive pitch was backed by the GMB union which represents nuclear workers and others, including MPs whose home seats could benefit financially.
But even before Mr Clark stood up in the Commons to deliver it, other experts from around the UK were sounding alarm bells.
They highlighted how at Flamanville in France, where a reactor of the same design is being built, costs have more than tripled and construction is six years behind. Problems have also dogged a similar project in Finland.
Most criticised, uniting detractors from the right and left of politics, was the price promised to EDF for Hinkley's electricity at £92.50 per MWh, more than double the current wholesale price.
Former Chancellor and ex-Energy Secretary Lord Lawson said every independent energy expert thought it a "thoroughly lousy deal". He said EDF only had two similar reactors under construction in France and Finland - both of which were "hopelessly behind schedule and in deep, deep trouble".
He called for an assurance that if Hinkley appeared to be getting behind schedule the Government would have "no hesitation in ending this contract whatever penalties… because it is a lousy contract and the sooner it is ended the better".
Ms May had paused the deal when she arrived in Downing Street with many expecting her to alter financial terms of the contract on the table when David Cameron left office.
Under the terms of the subsidy scheme now struck, British consumers must compensate EDF for lower wholesale electricity prices. It is a deal that has looked increasingly bad as energy values have plummeted due to a fall in the cost of fossil fuels.
Earlier this year the National Audit Office said Hinkley could cost energy consumers £30bn in such "top-up payments".
Greenpeace executive director John Sauven said the Government's review was "a lot of hot air".
He added: "Even if EDF manages to get the technology to work, the UK will pay the price by saddling themselves until 2060 with an out of date, flawed and expensive technology."
A group opposed to the project, alongside Greenpeace, delivered a 300,000-name petition to Downing Street calling for it to be scrapped.
Michael Grubb, an energy and climate change professor at University College London, said the contract would commit UK consumers to pay tens of billions of pounds, adding: "For this amount, we could now get about twice as much electricity even from the more expensive renewables like offshore wind energy."
In pictures: Hunterston B nuclear power station will operate until 2023
Show all 7
Former Chancellor George Osborne had indicated that Chinese support for Hinkley, could lead to the country's government building other reactors in the UK.
The idea had displeased one of Ms May's top advisors, Nick Timothy, who previously warned about Chinese involvement in infrastructure linked to national security.
Tory former minister John Redwood MP also indicated following the announcement that he thought, "future power stations would be much better financed by private sector British investors or even, on occasion, by Treasury investment rather than foreign investors who will now be able to take enormous sums of money out of our country."
But following the announcement the state-owned Chinese firm helping to build Hinkley announced it was now "able to move forward and deliver" nuclear capacity at sites including Bradwell in Essex and Sizewell in Suffolk.
To allay concerns Mr Clark did announce new rules around future foreign investment that will see the Government take a "special share" in all new nuclear projects in a bid to control who owns the sites.
It will also examine the national security implications of foreign direct investment in any future project before it signs off a deal.
Mr Clark told MPs: "These changes mean that while the UK will remain one of the most open economies in the world, the public can be confident that foreign direct investment works always in the country's best interests."
But shadow Energy Secretary Barry Gardiner cast doubt on whether the new rules added powers to those already in place.
He said the deal was "face-saving", adding: "They have failed to get a better deal for bill-payers, they've caused a crisis in investor confidence in the UK, they've risked offending one of our key future trading partners, and in the end all they have done is to pretend to give themselves powers which they already had."
The GMB said it was "delighted" about the announcement, particularly focussing on the job and apprenticeship opportunities. But it too cautioned against handing "vital UK infrastructure lock, stock and barrel to China."
Business groups the CBI and the BCC both welcomed the move and called for the Government to press ahead with big infrastructure decisions.
A Downing Street spokesman said Ms May spoke by phone with French president François Hollande before the announcement, while Mr Clark spoke with his counterparts in France and China.
He said: "We are proceeding on the basis of robust new safeguards that will enhance security at Hinkley.
"We are satisfied it is a good deal. It is worth pointing out that there will be no addition to anyone's bills until Hinkley is constructed and up and running."
Join our commenting forum
Join thought-provoking conversations, follow other Independent readers and see their replies