Sturgeon attacks 'disgrace' of sexual misconduct at Holyrood as report shows a fifth of staff experience harassment
Study finds 30 per cent of women and 6 per cent of men had suffered from the behaviour
Catriona Webster
Thursday 01 March 2018 21:53 Comments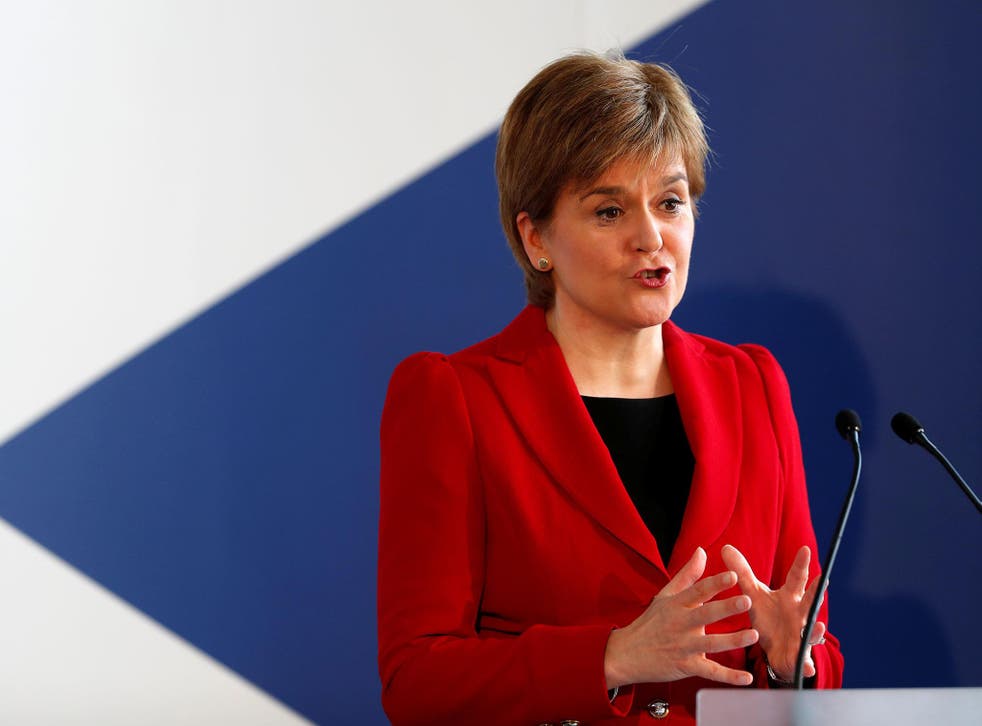 Nicola Sturgeon has said she is "shocked and saddened" after an anonymous survey revealed one-fifth of Holyrood staff had experienced sexual harassment or sexist behaviour.
Scotland's First Minister said it was a "disgrace" that 30 per cent of women and 6 per cent of men had experienced such behaviour while working at the Scottish Parliament and called on perpetrators to change their behaviour.
The confidential survey was set up last year after revelations emerged about sexual harassment in Scottish politics, and attracted 1,039 responses.
For women, the most commonly reported issues were comments of a sexist nature (20 per cent compared with 2 per cent of men), looks or leers (16 per cent compared with 3 per cent) and unwanted physical contact (9% versus 1%).
For those who had experienced sexual harassment, 45 per cent said it came from an MSP, 40 per cent said the perpetrator was a member of the Scottish Parliament staff and 20 per cent said a member of MSP staff was responsible.
Nine respondents specifically mentioned that they had experienced unwanted physical contact from an MSP.
The most common response when respondents were asked what they had done about such behaviour was nothing.
MSP staff were also most likely to say that there was a culture that discouraged reporting sexist behaviour (22 per cent) or sexual harassment (20 per cent).
Presiding Officer Ken Macintosh said the findings made for "difficult reading" and apologised to anyone who had experienced inappropriate behaviour, saying he was determined to address the problem.
A joint working group set up earlier this year is taking steps including developing a programme of education and development for staff, introducing special training for managers and improving reporting procedures.
Ms Sturgeon said: "I am shocked, saddened and disappointed by these survey results and I welcome the apology from the presiding officer to all of those who have experienced harassment or sexism while working in our parliament.
"It is clear that women and men – but mainly women – have put up with behaviour that is unacceptable.
"The most significant change that can be made in response to these results is a change in behaviour by the perpetrators.
"People across the parliament from MSPs, to staff, to members of the media should be considering how they use the power they hold and whether their behaviour lives up to the high standards that we should all expect.
"The fact women and men have experienced harassment or sexism in our parliament is a disgrace but we must seize this opportunity to change our society and culture for all and for good."
UK news in pictures

Show all 50
Scottish Labour leader Richard Leonard said the results were "shocking" and emphasised there was a zero tolerance approach to harassment in his party.
He said: "We welcome the fact that the Scottish Parliament is taking action immediately to address the issues they raise.
"Harassment of any kind is unacceptable and it is incredibly worrying that there is so little confidence in the reporting mechanisms."
Kezia Dugdale MSP, a member of the Scottish Parliament's corporate body, said the results were concerning but not surprising.
She said: "We have known for many years that sexual harassment and sexist behaviour is present throughout our society.
"This survey confirms that Holyrood is not immune to the problem.
"While it's incredibly important we support those who have experienced this behaviour and ensure perpetrators are held accountable, our overarching aim must be to create a culture which prevents sexual harassment and sexist behaviour from happening in the first place."
PA
Register for free to continue reading
Registration is a free and easy way to support our truly independent journalism
By registering, you will also enjoy limited access to Premium articles, exclusive newsletters, commenting, and virtual events with our leading journalists
Already have an account? sign in
Join our new commenting forum
Join thought-provoking conversations, follow other Independent readers and see their replies