World's largest ever windfarm to be built off Yorkshire coast
The site will consist of 300 turbines and generate enough electricity to power 1.8 million homes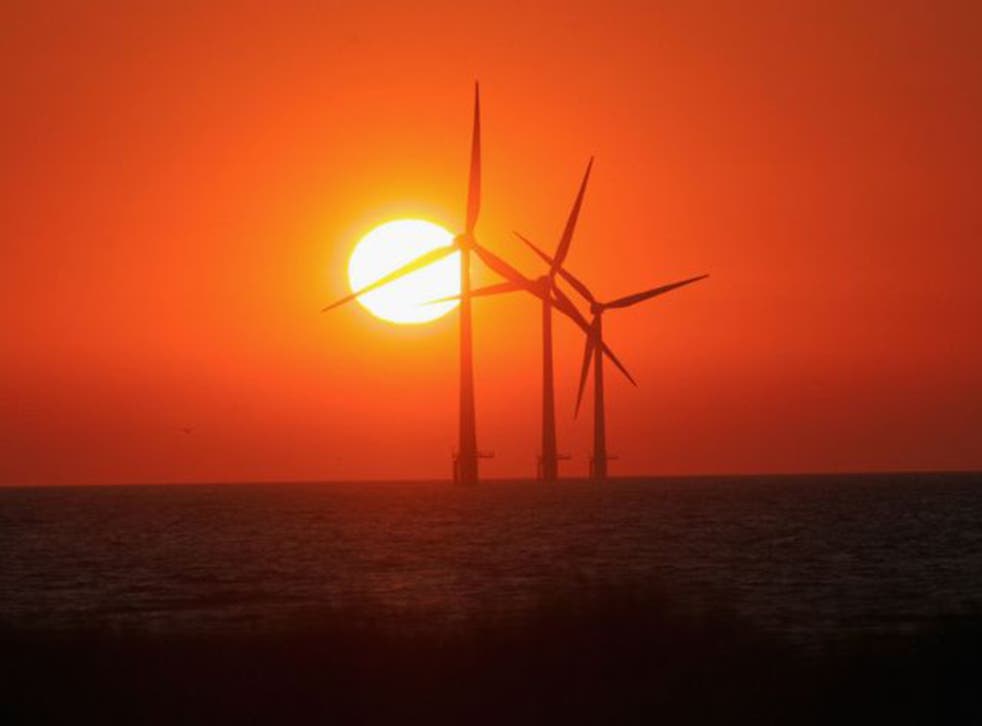 Green campaigners and politicians welcomed news that ministers have approved plans to construct of the world's largest ever off-shore windfarm in the UK.
The gigantic Hornsea scheme off the Yorkshire coast will be made up of more than 300 turbines and generate low carbon electricity to power some 1.8 million homes.
Friends of the Earth, the Greens and Labour all praised the move but urged the Government to continue to peruse a low carbon future.
Business and Energy Secretary Greg Clark hailed the decision as a marker of the UK's status as "a global leader in offshore wind".

Professor Brian Cox clashes with Australian climate sceptic
He said: "The [UK's] industry has grown at an extraordinary rate over the last few years, and is a fundamental part of our plans to build a clean, affordable, secure energy system.
"Britain is a global leader in offshore wind, and we're determined to be one of the leading destinations for investment in renewable energy, which means jobs and economic growth right across the country."
The Government is making £730m of financial support available for renewable electricity generation this Parliament and expects 10GW of offshore wind installed by the end of the decade.
Energy campaigner Guy Shrubsole said Hornsea was "fantastic news", adding: "Developing the nation's massive offshore wind resource could also boost demand for UK steel and help repower British manufacturing.
"Theresa May's Government must do more to harness the UK's huge green energy potential and end our reliance on climate-wrecking fossil fuels."
Ministers claim the windfarm, being constructed by Danish firm Dong Energy, will create up to 1,960 construction jobs and 580 operational and maintenance jobs.
They add that if the site is built to capacity, investment will total around £6 billion.
Climate change protests around the world

Show all 25
Green party leader Natalie Bennett said the project demonstrated funds should be directed away from nuclear power to green energy.
She said: "As it becomes increasingly clear that Hinkley Point C is a white elephant which will not meet the UK's energy needs, the government must instead direct resources to renewable sources like wind, the price of which is falling rapidly while the cost of building new nuclear facilities mounts."
Dong Energy UK Chairman Brent Cheshire said: "Development consent for Hornsea Project Two is very welcome. We have already invested £6 billion in the UK, and Hornsea Project Two provides us with another exciting development opportunity in offshore wind."
It comes after Dong pulled out of a £450 million project that promised to create thousands of jobs in the green energy sector on the Humber.
Labour shadow minister Barry Gardiner said cuts to subsidies may have discouraged some investment in green energy. He added: "It is vital that Britain continues to be an attractive destination for investment in clean energy. But that means government must stop sending mixed messages to investors with incoherent stop start policy decisions."
Join our new commenting forum
Join thought-provoking conversations, follow other Independent readers and see their replies