House of Lords future at risk if it tries to block Brexit, leading cabinet minister warns
'We might have to do a Lloyd George and create a thousand peers,' key Government figure says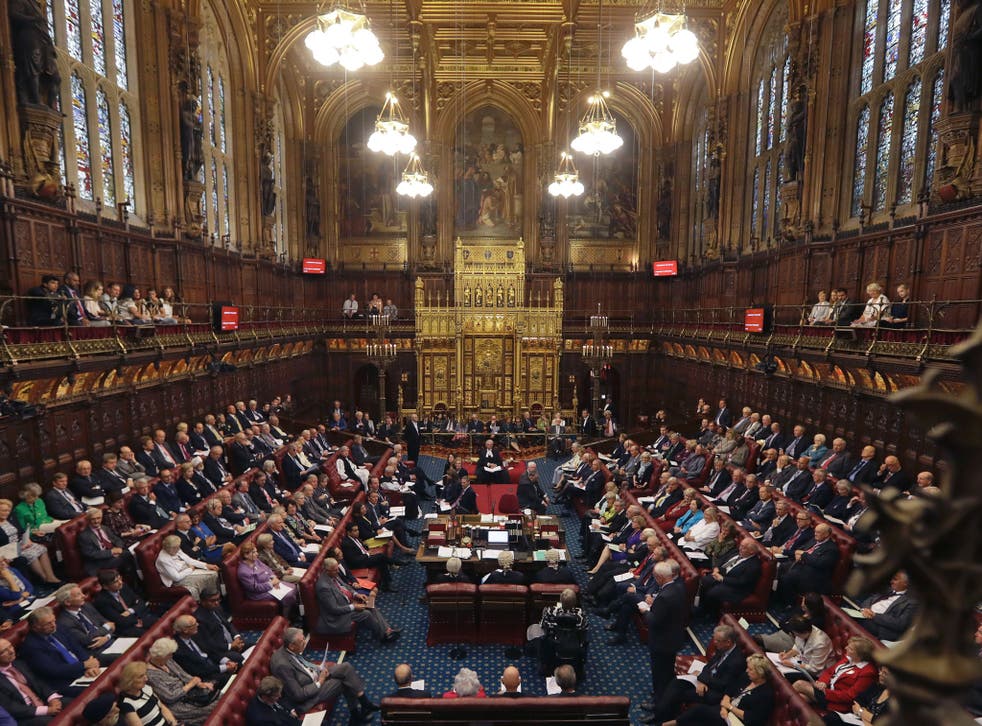 A leading cabinet minister has warned the House of Lords that its future is at risk if it tries to block Brexit.
The senior figure said the government may have to "do a Lloyd George" and flood the upper House with friendly peers if those already there undermine the drive to implement the EU referendum result.
Some Tories in the Lords, where Conservatives are in a minority, have demanded Theresa May let Parliament vote on her preferred Brexit deal before talks with the EU begin. If she refuses, they have threatened to stymie other pieces of legislation the government needs to pass through the Lords to make Brexit happen.
But the cabinet minister told The Independent: "Unelected peers should think very carefully about defying a decision taken by the public in a referendum.
"We might have to do a Lloyd George and create a thousand peers."
As a Liberal Chancellor, George threatened to flood the Lords with new peers who would pass his "People's Budget" of 1909, when the existing Tory–dominated House refused.
It included a land-tax designed to pay for wide-ranging social reforms and naval expansion. A version of the reforming budget only passed after the 1911 Parliament Act clipped the wings of the upper House – ending its veto on legislation and replacing it with a right to delay.
UK: Theresa May lays out post-Brexit plan at party conference
In 1980, left-winger Tony Benn also said that if Labour won an election, it would abolish the Lords by creating a thousand new peers to vote it out of existence.
The issue has arisen again as Ms May prepares to implement the historic decision reached in the referendum to leave the European Union.
She has promised a role for Parliament and the government admits both Houses may need to ratify any deal at the end of negotiations.
MPs and peers will also get to vote on the Great Repeal Bill, promised by the Prime Minister at Tory conference.
But when it comes to a vote at the start of the talks process, either on Ms May's negotiating position or on the triggering of Article 50 of the Lisbon Treaty, the government has refused a vote.
Brexit Concerns

Show all 26
Tory peer Patience Wheatcroft has accused Theresa May of "using the royal prerogative" to decide on her own what Brexit will look like, without giving anyone else a say.
She has demanded Parliament have a say on exactly what kind of Brexit the government is pursuing.
Lords Speaker Norman Fowler has also suggested peers could vote down legislation that comes from the Commons.
One Tory peer has told The Independent: "There are people who are worried that if the Lords pushes back on this, it could be the end of the Lords.
"But the Lords has to be reformed anyway, it has to happen. There are far too many of us. So some of us don't see that as an impediment."
Register for free to continue reading
Registration is a free and easy way to support our truly independent journalism
By registering, you will also enjoy limited access to Premium articles, exclusive newsletters, commenting, and virtual events with our leading journalists
Already have an account? sign in
Register for free to continue reading
Registration is a free and easy way to support our truly independent journalism
By registering, you will also enjoy limited access to Premium articles, exclusive newsletters, commenting, and virtual events with our leading journalists
Already have an account? sign in
Join our new commenting forum
Join thought-provoking conversations, follow other Independent readers and see their replies