New House of Lords peerages 'to be limited to 15 years'
Proposals come as concerns mount over cost of second chamber 
Will Worley
Tuesday 17 October 2017 00:21 Comments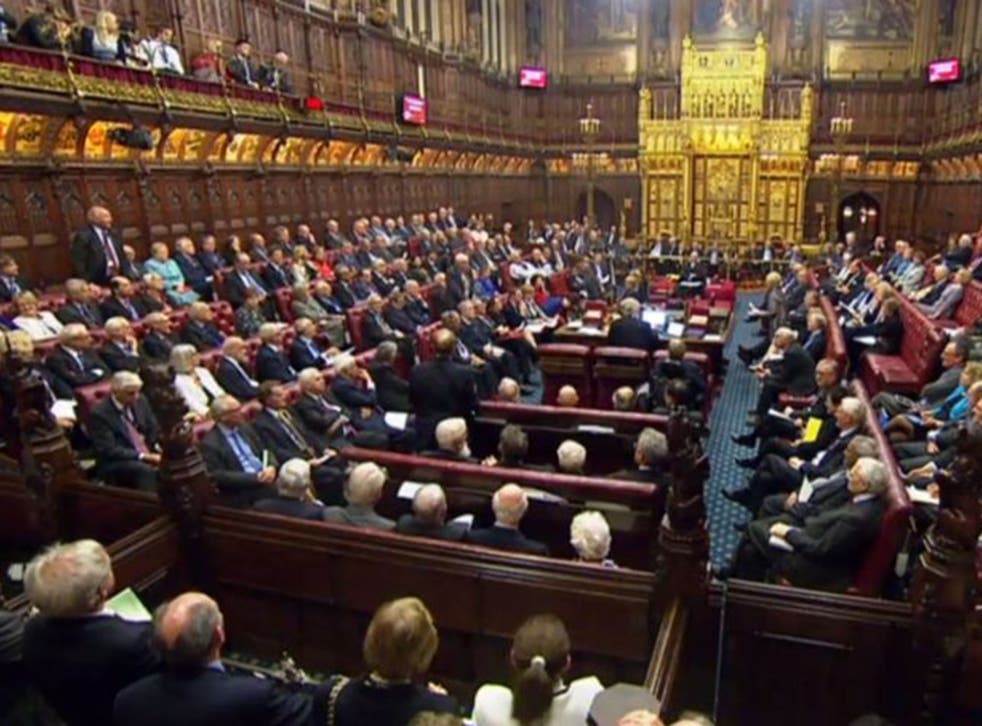 Peerages given to new members of the House of Lords could be limited to 15 years under proposals to shrink the world's second-largest legislative chamber.
Members of Parliament's upper chamber, made of up of nearly 800 life peers, hereditary peers and religious leaders, have come under mounting scrutiny in recent years for the large costs associated with them.
The Government is now examining how the Lords could be reduced in size.
The Lords Committee will publish a report this month which will outline the new time limit, The Times reported.
Members of the House of Lords are given life peerages but since 2014 have had the option to retire while maintaining their titles.
It is hoped the proposed shorter time limit will eventually allow the House to become while still allowing for a longer membership than in the Commons.
It is believed the committee will also request each party gradually reduces the number of its peers.
There are 252 Conservative Lords, 199 from Labour, 100 Liberal Democrats and 180 independents. The only larger legislative chamber is that of the National People's Congress of China.
Concerns have been mounting over the cost of peers who claim expenses but participate infrequently to proceedings.
Last month, it was revealed that 115 peers had claimed more than £1.3m in attendance fees – despite not speaking at all in debates during the 2016-17 session.
An analysis by the Electoral Reform Society found nearly half of the 798 peers made 10 contributions or fewer in the same year but claimed £7.3m.
And £4m was pocketed by 277 members who spoke five times or less.
The attendance fees come at the taxpayer's expense.
Commons Speaker John Bercow recently said the size of the Lords was "patently absurd" and suggested it could be halved.
UK news in pictures

Show all 50
The news came on the same day Andrew Lloyd Webber announced he would be retiring from the Lords because his busy schedule did not allow him to properly commit to the House.
He said the duties expected of him as a Lord now were "very different" to when he became a peer in 1997.
Lord Lloyd-Webber has voted just 42 times in 20 years.
Register for free to continue reading
Registration is a free and easy way to support our truly independent journalism
By registering, you will also enjoy limited access to Premium articles, exclusive newsletters, commenting, and virtual events with our leading journalists
Already have an account? sign in
Join our new commenting forum
Join thought-provoking conversations, follow other Independent readers and see their replies