How do you make Britain a better place for two wheels? Go Dutch
MPs hit the road to find out why the Netherlands is bicycling heaven
Oliver Duggan
Wednesday 12 June 2013 20:43 Comments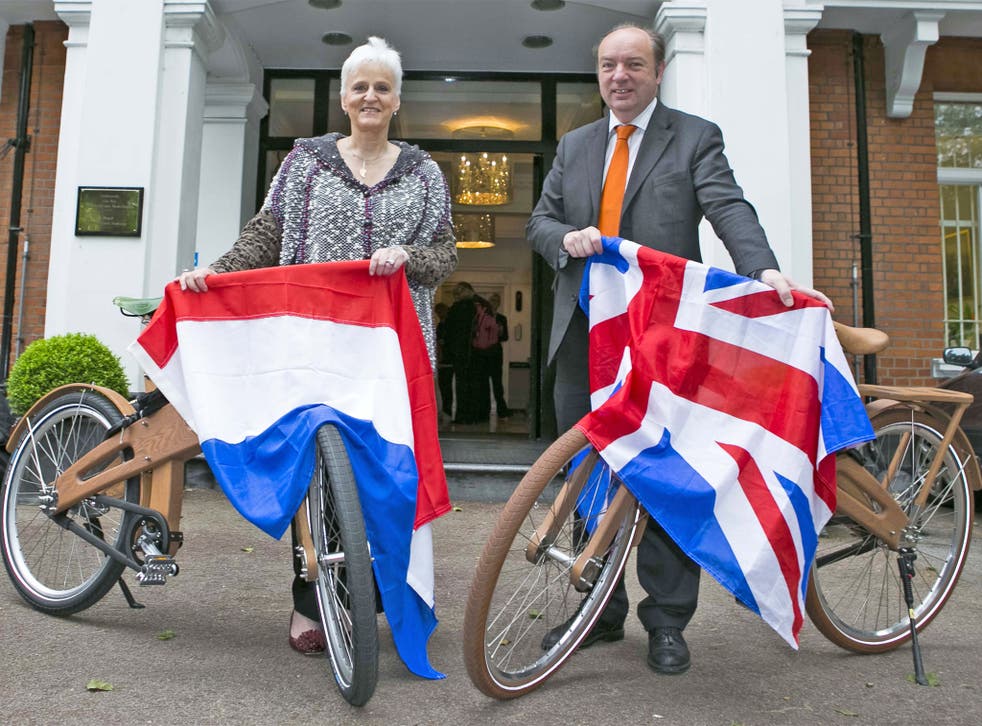 So inexperienced are the British when it comes to cycling that on this week's fact-finding trip to the Netherlands two delegates from the UK contingent wobbled off their bikes.
Policy makers want to learn from Dutch cycling experts so that they can help the Government react to a post-Olympic boom in cycling. According to recent figures, more than 200,000 Britons took up cycling last year, a third more than expected. In London alone three and a half million cycle trips are now made each week.
The result is added pressure on the country's already limited cycling infrastructure, and experts have warned that if the UK does not act fast the "Wiggins effect" could fade.
Cécile de Boer, a key member of the team of Dutch experts advising the UK, said of the trip: "The British were really enthusiastic but actually they were very surprised by the policies that have been going on for years here already; the amount of resources that we put towards cycling.
"For quite a few of them it was their first time cycling – we almost had two accidents. They were all making jokes about how jealous they were of the level of innovation and the techniques we're using to encourage cycling. We have cycling bridges here, for example, and those kinds of things are just not happening in the UK."
Ms de Boer added that the problem was more than just cycle paths and bike lanes and she condemned British politicians for not leading by example. "It's important to actually get policy-makers on a bike," she said.
"Boris Johnson and David Cameron do it, but the rest of the group also needs to cycle; you need role models. In the Netherlands it's our way of life, even the royal family takes a bike."
Philip Darnton, Head of the Bicycle Association, said: "[The Dutch] have invested in cycling every year since 1973 and we've never done anything like that. It's always been stop-start, on-off, party political. An administration changes and all the money disappears, which is a real killer.
"We've still got an elite cadre of cyclists – usually male and under the age of 35 – which is a million mile away from the Dutch culture, and it's because cyclists are vulnerable."
The Dutch Ambassador to the UK, Laetitia van den Assum, who held a video conference with the British team in the Netherlands, echoed calls to change British attitudes: "You have to make it safer. [Here] cyclists and pedestrians virtually have the right of way everywhere."
Norman Baker, the Transport minister, agreed the British had a lot to learn from their counterparts in Holland. "We need a Dutch revolution," he said. "Cycling has changed in London but not elsewhere. It's people who are reasonably well off who are cycling more… It has become slightly middle class and we have to try to deal with that."
Register for free to continue reading
Registration is a free and easy way to support our truly independent journalism
By registering, you will also enjoy limited access to Premium articles, exclusive newsletters, commenting, and virtual events with our leading journalists
Already have an account? sign in
Join our new commenting forum
Join thought-provoking conversations, follow other Independent readers and see their replies