Northern transport chiefs brand government's rail plan 'woefully inadequate' and 'second class'
Government cutting back HS2 leg to Leeds and Northern Powerhouse Rail plans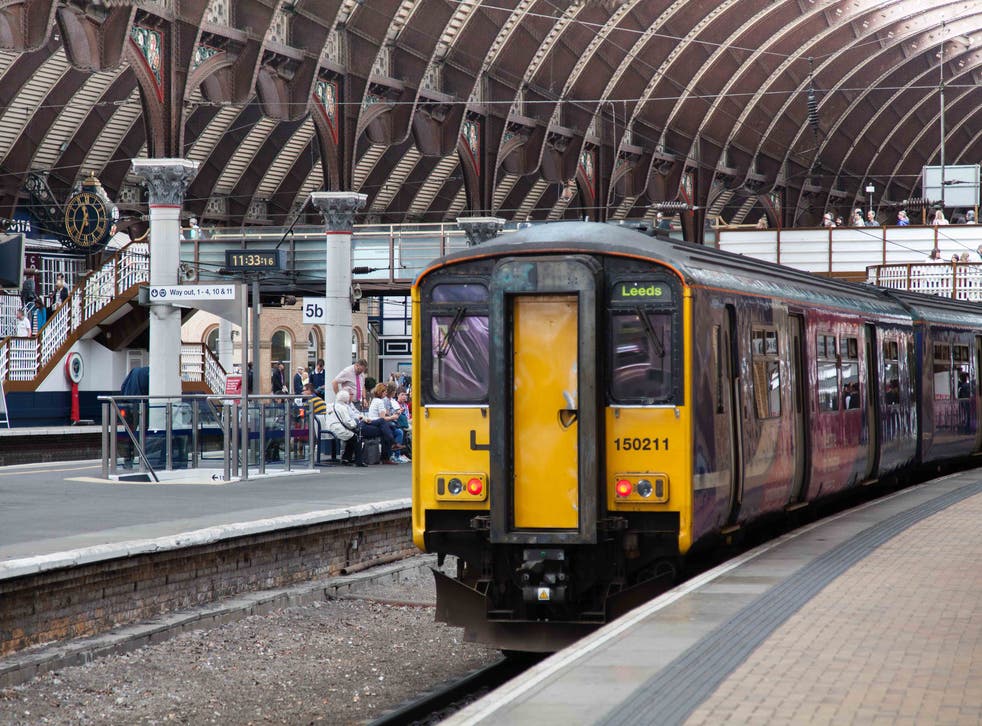 Northern transport bosses have branded the government's rail plan "woefully inadequate" and "second class".
Transport Secretary Grant Shapps unveiled the long-awaited Integrated Rail Review on Thursday – confirming reports that he would not build a promised high-speed rail line between Manchester and Leeds.
The government is also cancelling the Leeds leg of HS2 which would have linked the East Midlands with west Yorkshire.
Under the cheaper revised plans for both railways, trains will run on upgraded existing lines – which will not boost capacity or cut journey times by the same degree.
"Today's announcement is woefully inadequate," said Louise Gittins, Interim Chair of Transport for the North.
"After decades of underfunding, the rail network in the North is not fit for purpose. It is largely twin-track Victorian infrastructure trying to cope with the demands of a 21st Century economy."
Ms Gittens said it was "time for the North to have its fair share", adding: "Leaders from across the North and from across the party political divide came together to ask for a network that would upgrade the North for this century and in line with the rest of the country.
"Our statutory advice asked for an over £40 billion network but the Government has decided to provide even less than half of that."
Meanwhile Henri Morison, director of the Northern Powerhouse partnership business group, said the the "lack of a full new line across the Pennines will dramatically reduce the capacity and potential for rapid economic growth".
"What Northern leaders had proposed was an economically transformational vision. What we have is, as ever, second class," he said, adding that the "complete failure to deliver the Eastern leg of HS2 in the North" was a "a major blow".
Under the plans, which were only finalised first thing on Thursday morning, the government says it will build a new line between Warrington and just east of Manchester. But the journey into Liverpool and across the Pennines will be done on upgraded existing lines.
This has fewer capacity benefits because separating fast non-stop services onto a different line from local services that stop at every station allows for far more of both to run.
On HS2, the eastern leg will be built from Birmingham to East Midlands Parkway, instead of a continuing onto Leeds. As a result, capacity will not be released on the east coast mainline and midland mainline. Nottingham and Derby city centres will gain direct HS2 services.
The government also used the rail plan to recommit to transpennine electrification and the electrification of the midland mainline – projects which it had preciously announced and cancelled. It also says it will investigate proposals for a "rapid transit" system for Leeds. HS2 will go ahead to Manchester, as previously planned, although a link at Golborne to the West Coast Mainline is still under review.
Parts of the midlands fared better under the review, with a green light for the Midland Hub rail programme pushed for by local leaders. John Peace, chair of Midlands Connect, said that while the plans were "different in some respects to what we'd expected, there are a lot of positives in here and lots of things to be excited about".
But east midlands chamber of commerce chief executive Scott Knowles said the announced was a "bitter blow to communities in the East Midlands", accusing the government of "reneging on clear commitments repeatedly made by our country's leaders".
Labour leader Keir Starmer said the policy showed that the government's "levelling up" promises were "just a slogan".
"If you can't level up in Bradford then the whole levelling-up agenda is seen for what it really is," he said on a visit to the city on Thursday.
Accusing Boris Johnson of having "let down everybody in the North", he told reporters: "The North of England has been betrayed.
UK news in pictures

Show all 50
"Because the Prime Minister made two very important promises: HS2 all the way to Leeds, a new line, that promise has been ripped up. He also promised Northern Powerhouse Rail, a new line from Manchester to Leeds, and that plan has been ripped up.
"This was the first test of 'levelling up' and the Government has completely failed and let down everybody in the North, and you can't believe a word the Prime Minister says."
But Boris Johnson said it was "total rubbish" to suggest he was breaking his promises.
"Of course, there are going to be people who, you know, always want everything at once. And there are lots of people who'll say, 'look, what we should do is carve huge new railways through virgin territory, smashing through unspoilt countryside and villages, and do it all at once'," he said.
"The problem with that is those extra high-speed lines take decades and they don't deliver the commuter benefits that I'm talking about. We will eventually do them."
Register for free to continue reading
Registration is a free and easy way to support our truly independent journalism
By registering, you will also enjoy limited access to Premium articles, exclusive newsletters, commenting, and virtual events with our leading journalists
Already have an account? sign in
Join our new commenting forum
Join thought-provoking conversations, follow other Independent readers and see their replies