Huge Labour gains leave Coalition with identity crisis
Conservatives and Liberal Democrats blame each other as both parties take a drubbing in the local elections
Andrew Grice
Saturday 05 May 2012 11:30 Comments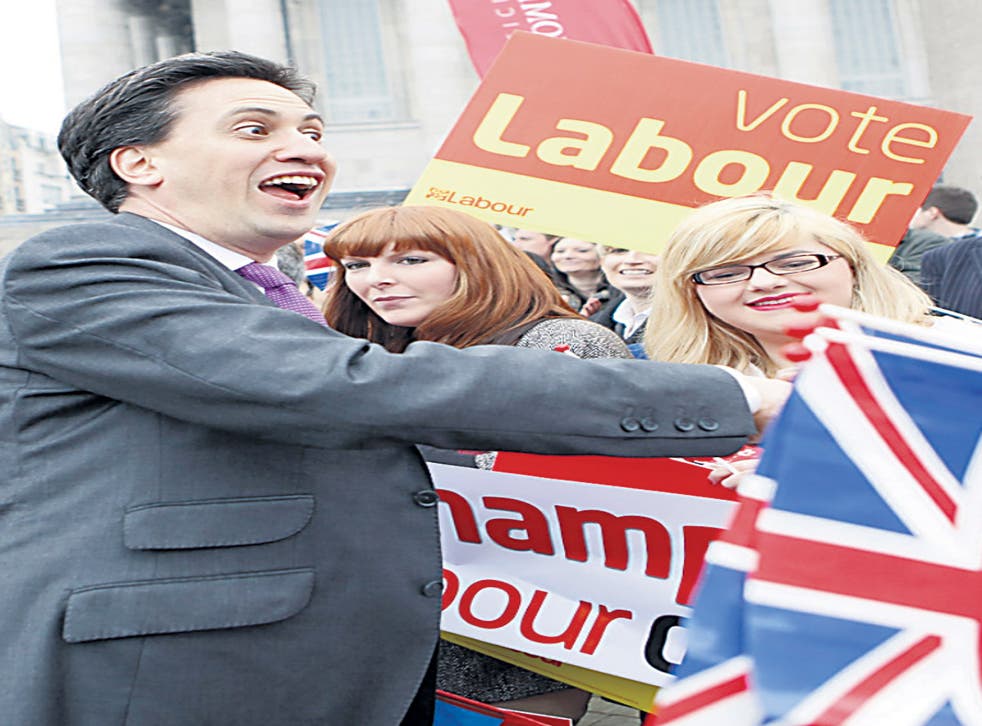 A battered David Cameron and Nick Clegg will try to halt an outbreak of infighting between the two Coalition parties after both suffered heavy losses in the local elections.
Click HERE to view 'State of the nation' graphic
Conservative and Liberal Democrat politicians turned on each other as Labour emerged as the big winner from Thursday's contests in 180 authorities. Labour gained more than 820 seats, beating expectations, the Tories lost more than 400 and the Lib Dems lost more than 330. Ed Miliband's party won 38 per cent of the vote, the Conservatives 31 per cent, the Lib Dems 16 per cent and other parties 15 per cent – with smaller parties and independent candidates performing well. The turnout was a disappointing 32 per cent.
Some of the shine was taken off Labour's triumph late last night when Boris Johnson narrowly defeated Labour's Ken Livingstone to win another four-year term as Mayor of London. The result was closer than opinion polls had suggested, with Mr Johnson winning 51.53 per cent and Mr Livingstone 48.47 per cent after he gave the Tories a last-minute fright. The result was delayed for several hours amid farcical scenes after two boxes of uncounted ballot papers were discovered.
In the short term, Mr Johnson's victory gave Mr Cameron a much-needed fillip and prevented a clean sweep by Labour. But in the medium term, Mr Johnson could emerge as an election-winning "king over the water" and potential leadership rival to Mr Cameron. Tory MPs hailed Mr Johnson as a "real Tory" with greater nationwide appeal than Mr Cameron. One said: "Cameron doesn't play north of The Wash."
Tensions in the Coalition are high. Mr Clegg made clear he would block Tory demands for the Government to shift to a more traditional Conservative agenda – and the dumping of plans to legalise gay marriage and reform the House of Lords. Liberal Democrats hit back, saying Lords reform was not an issue on the doorsteps – but that many voters were angry about George Osborne's decision to cut the 50p top rate of tax.
One Lib Dem source told The Independent: "The Tory voices demanding a lurch to the right demonstrate that the Lib Dems are anchoring the Coalition in the centre ground of British politics. That is where it will stay."
The Prime Minister and his deputy will make a joint appearance on Tuesday to try to show that the Coalition remains strong – and committed to reducing the deficit. They will promise measures in the Queen's Speech the following day to ease the pressures facing hard-pressed families. Despite the slide back into recession, they will rule out a Plan B, arguing that slowing the cuts would put economic recovery at risk.
Their initiative will be a much more sober affair than the Coalition's "love-in" in Downing Street's Rose Garden two years ago. They are expected to hold a question-and-answer session at a manufacturing firm in Essex.
Mr Cameron shelved plans for a Cabinet reshuffle to form part of his fightback after a dismal six weeks since the Budget. Ministers had been put on standby for a shake-up next Thursday but it is now likely to be delayed until after the London Olympics.
Amid a backlash from his party, the Prime Minister came under pressure to rein in the Lib Dems. Senior right-wingers David Davis and John Redwood will issue an "alternative Queen's Speech" reflecting traditional Conservative values, calling for an end to "wind-turbine Toryism".
But Tim Farron, the Lib Dem president, replied that it would be "bonkers" for the Coalition to "lurch to the right." Lord Oakeshott, the party's former Treasury spokesman, warned: "What matters is whether we can fight the next election as a nationwide, powerful, independent force, and if we have another year like this, we won't be able to."
Mr Cameron said the Government was "taking difficult decisions". Mr Clegg added: "We will continue to play our role in rescuing, repairing and reforming the British economy."
Labour beat off a threatened advance by the Scottish National Party in Glasgow. Mr Miliband claimed Labour was winning people's trust. He said: "This Government promised change and it has made things worse, not better."
At a glance: Key election results
* Labour have gained control of 32 councils, while the Conservatives have lost 12 and the Liberal Democrats one
* The Conservatives lost 405 seats, the Liberal Democrats lost 336 seats, while Labour gained 823
* The projected share of the vote put Labour at 38 per cent, Conservatives at 31 per cent and Liberal Democrats at 16 per cent
* Boris Johnson led after first votes were counted in the London mayoral election. Ken Livingstone was second, followed by the Greens' Jenny Jones, Liberal Democrat Brian Paddick and Independent Siobhan Benita
* Labour made significant gains in Wales, regaining control of Cardiff
* In Scotland, Labour held off an expected SNP surge to win an overall majority in Glasgow
* Turnout nationally was 32 per cent – the lowest since 2000
* Labour's Joe Anderson became Liverpool's first elected mayor
Boris Johnson passes the winning post – but it was no easy ride to victory
'Red Ken' finally reaches the end of the line
Clegg punished with his party's worst-ever results
MPs turn fire on Cameron after dismal showing
Labour takes power across the country – and Miliband tightens grip on his party
Leading article: A good result, but Labour must beware a false dawn
Steve Richards: Labour (and Ed Miliband) are no longer doomed
Andrew Grice: Bruised and battered, Clegg will struggle to sell Coalition relaunch
Professor John Curtice: Labour's making progress, but it's still some way from No 10
Chris Bryant: The naked and the dead – just a couple of the things you meet while canvassing
Galloway's Respect wins in Bradford again
'Chipping Norton set' desert the Tories
Cities reject Cameron's dream of mayors for all
Salmond setback as Scots nationalists fail in Glasgow
Register for free to continue reading
Registration is a free and easy way to support our truly independent journalism
By registering, you will also enjoy limited access to Premium articles, exclusive newsletters, commenting, and virtual events with our leading journalists
Already have an account? sign in
Join our new commenting forum
Join thought-provoking conversations, follow other Independent readers and see their replies