Human rights are no longer a 'top priority' for the Government, says Foreign Office chief
Top official says 'prosperity agenda' now takes precedence over fighting injustice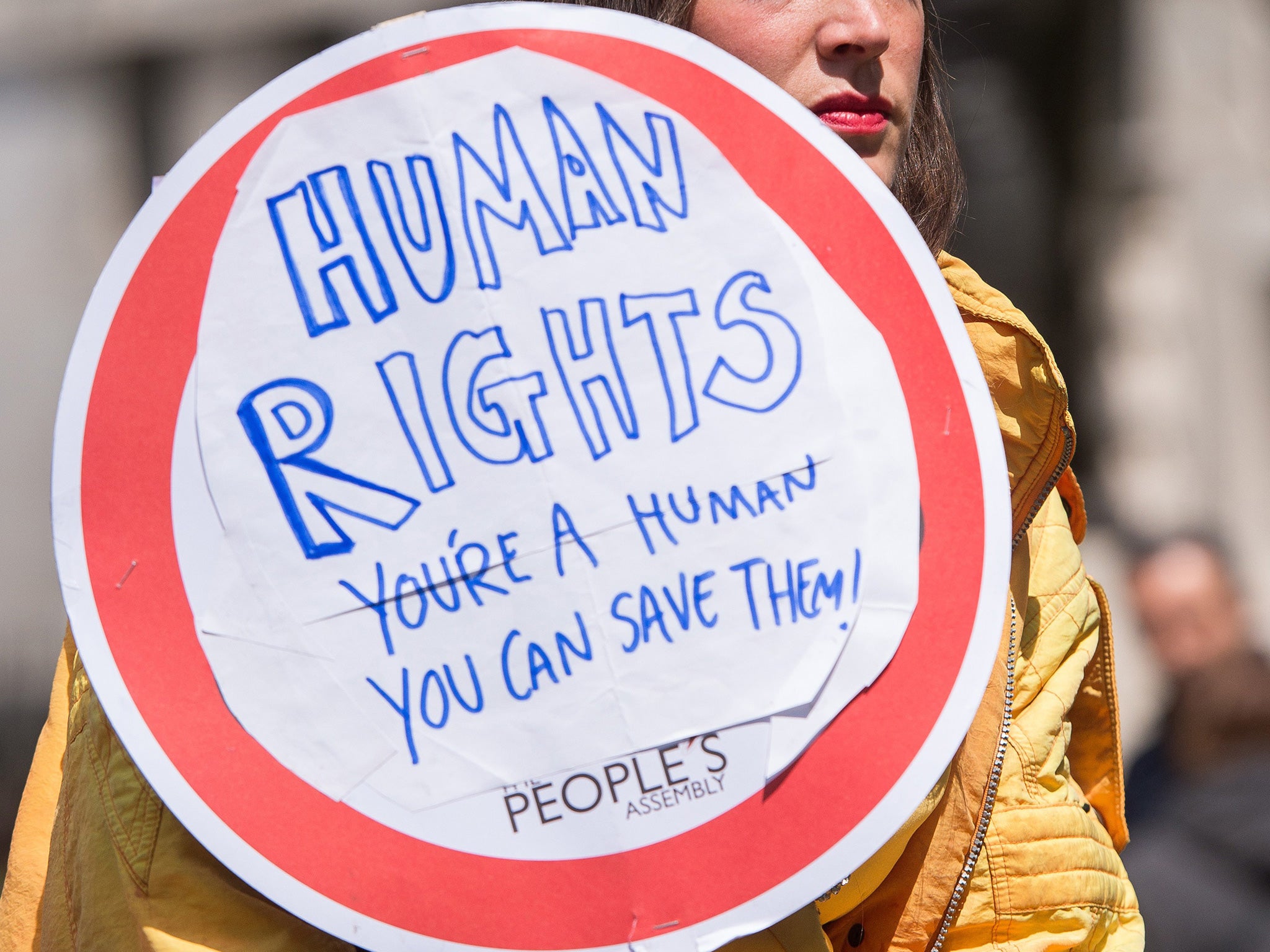 Human rights are no longer a "top priority" for the Government, Britain's most senior Foreign Office official has admitted, as ministers put resources into supporting trade deals ahead of tackling injustice in other parts of the world. In a remarkably frank admission to MPs, Sir Simon McDonald, Permanent Secretary at the Foreign Office, said that human rights no longer had the "profile" within his department that they had "in the past".
And he added that the Conservatives' "prosperity agenda" was now "further up the list" of areas on which the department was concentrating its dwindling resources.
Last night human rights charities said Sir Simon's comments were as "astonishing as they were alarming" and described the change in focus as "deeply regrettable".
The Conservative chair of the Foreign Affairs Select Committee, Crispin Blunt, added that it was "one of the consequences of inadequate resourcing to run a sensible foreign policy".
Sir Simon made his remarks to Mr Blunt's committee when he was questioned about how his department was prioritising resources. Asked whether human rights were now one of its "lower-priority activities", Sir Simon replied: "Well, answering as Permanent Secretary, I say that although it is one of the things we follow, it is not one of our top priorities." He added: "In a more constrained environment, the need to concentrate on Europe, Eastern Europe and Russia, and the Middle East has supplanted it to an extent."
While Sir Simon said human rights was part of that work, he also admitted it was secondary also to the need to promote British companies abroad.
"I would not dispute that right now the prosperity agenda is further up the list [of priorities]," he added.
The right-wing myths about the Human Rights Act
Sir Simon was speaking shortly before George Osborne embarked upon a week-long trade mission to China where he was criticised for failing to publicly raise human rights abuses with his hosts. The Treasury said claimed Mr Osborne had raised human rights in a section of speech to the Shanghai Stock Exchange where he said: "We have different political systems. We're a multi-party democracy. So of course we will disagree on issues. But let's conduct our discussion on the basis of the mutual respect of our two great nations."
His comments suggest that the Foreign Office has substantially altered it priorities since Philip Hammond was appointed as Foreign Secretary last year.
His predecessor, William Hague, pledged in 2011 that there would be "no downgrading of human rights" under his watch, adding that "pursuing a foreign policy with a conscience is the right thing to do" and was in the "long-term enlightened national interest of our country".
Amnesty International's head of policy and government affairs, Allan Hogarth, said they were deeply worried by the comments and would be urgently raising the matter with ministers. "When much of the Middle East is in flames and a refugee crisis is engulfing Europe, Sir Simon's comments are as astonishing as they are alarming," he said.
"There should never be a trade-off between economic interests and the lives and liberties of people. We'll be seeking to follow this up at the highest level within the Foreign Office," he added.
David Mepham, UK director of Human Rights Watch, said: "This unwillingness to fully champion rights and fundamental freedoms runs counter to the best traditions in this country's history and weakens the UK's global standing and influence." Mr Blunt said Sir Simon's admission would form part of a wider inquiry by his committee into Britain's policy on facing down human rights abuses.
"It does seem that this has been downgraded and there will be colleagues who will be immensely concerned about this," he said. "I think that the use of our soft power around agendas such as human rights is particularly important."
Mr Blunt added: "If we are beginning to see human rights work formally come second fiddle to a commercial strategy, it fits pretty oddly when we are still speaking the language of a great power such as getting stuck into conflicts such as Syria."
A Foreign Office spokeswoman insisted that human rights were still "an integral part of the Foreign Office's work" and were "intrinsically linked with many aspects of our national interest, including the stability and prosperity of our international partners".
"The UK plays a leading role in the Human Rights Council, calling recently for resolutions on Syria and Sri Lanka and we are committed to using our global network to promote and protect universal human rights across the world," the spokeswoman added.
Human Rights Act divides Tories
Show all 1
Join our commenting forum
Join thought-provoking conversations, follow other Independent readers and see their replies