Hundreds gather in Glasgow, Liverpool and Brixton to 'celebrate' death of Margaret Thatcher
Kevin Rawlinson
,
Oscar Quine
Tuesday 09 April 2013 18:22 Comments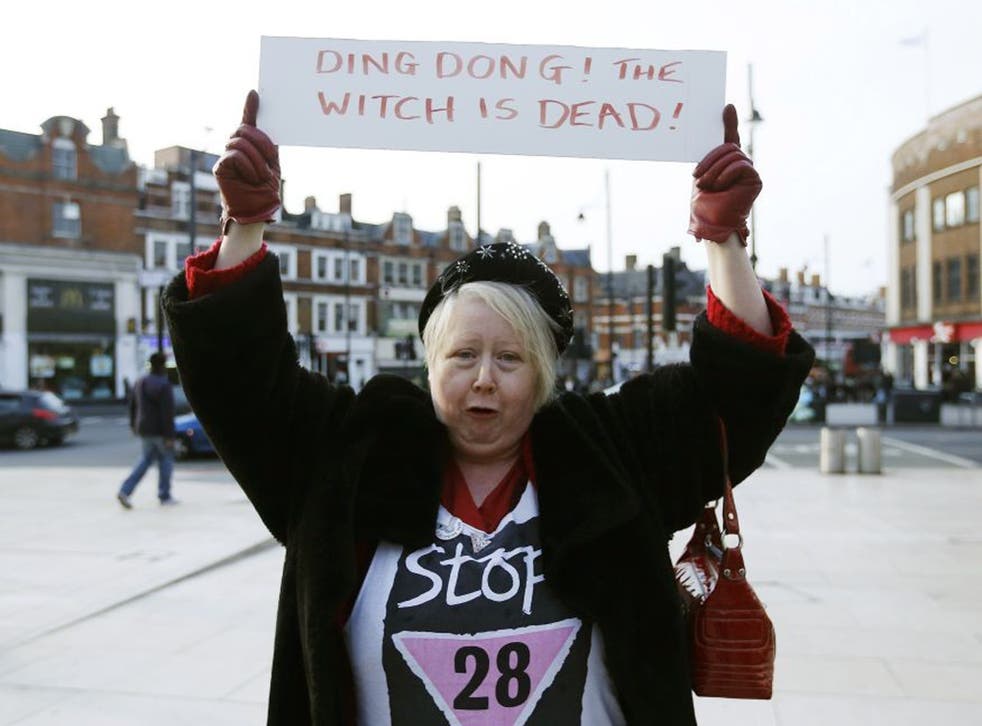 Hundreds of cheering people held parties to "celebrate" the death of Baroness Thatcher.
A crowd of two or three hundred people assembled in Glasgow's George Square where in 1989 protests to the introduction of Thatcher's poll tax took place.
Some wore party hats and launched streamers into the air while a bottle of champagne was opened with a toast to the demise of Baroness Thatcher.
Members of various organisations including the Anti-Bedroom Tax Federation, the Communist Party, the Socialist Party, the Socialist Working Party, the International Socialist Group, were joined by members of the public to mark the occasion.
Martin Chomsky, the lead singer of Chomsky Allstars, performed his song "So Long Margaret Thatcher" in George Square.
He said: "There are mixed emotions. I was never brought up to celebrate anyone's death but the pain she brought to Latin America, Europe and around the world should be remembered.
"I would rather that Thatcherism was dead because she is mostly to blame for what is going on today.
"She is responsible, but not solely, for the massive gap between the rich and the poor."
About 200 people gathered by St George's Hall in Liverpool and a similar number met in Brixton, the scene of some of the worst rioting during Margaret Thatcher's time as Prime Minister, to celebrate her demise.
Outside the Ritzy cinema, they played music and drank as a party atmosphere in the evening contrasted with the more respectful tone earlier in the day. They chanted: "Maggie, Maggie, Maggie, Dead, Dead, Dead".
Saul Adamczewski, 24, from Camberwell, had a banner saying 'the bitch is dead'. He said: "We are here for a celebration. I have never seen such a joyous atmosphere for someone's death.
"She was so particularly evil and hated by everyone; there are 12-year-olds here. I wasn't even alive to witness most of her reign but people are here because of the effects of it.
"It is the celebration of the end of a tyrant. And Brixton is the right place to do it."
Jonny Middleton, 22, unemployed, from Essex, said: "No one is celebrating the death of a mother or a grandmother. It is an opportunity to all get together and say 'Maggie, you were an awful person' and acknowledge that."
Richard Kennedy, a 35-year-old NHS worker from Peckham, said: "[When I heard she had died] I felt overwhelmed with euphoria. She was such a pernicious character. She talks about society being unimportant. She put in place seeds of social disillusionment and social destruction.
"She was single-minded and she was tenacious and I love all that stuff about her but she didn't have the social understanding to run a country. She was selfish but claimed to be selfless and I think this is an illustration of that.
"It's like Tahrir Square. When have you ever seen people celebrating a states person's death? It's the illustration of a groundswell of opinion that's been waiting for a moment to just say, 'we've lost something'."
But not all in Brixton were so quick to soak up the party atmosphere.
Aaron Fullerton, 25, from Dulwich, was watching the 9pm showing of Springbreakers at the Ritzy Cinema when the audience was ushered out of the fire escape.
He said: "She didn't really affect me to be honest, I'm only 25-years-old so I don't have much of an opinion. I think this is all a bit extreme to be honest.
"I think it's just mob mentality, half the people don't really know why they're here."
Register for free to continue reading
Registration is a free and easy way to support our truly independent journalism
By registering, you will also enjoy limited access to Premium articles, exclusive newsletters, commenting, and virtual events with our leading journalists
Already have an account? sign in
Join our new commenting forum
Join thought-provoking conversations, follow other Independent readers and see their replies