I did not bully Lord Goldsmith, insists Blair
Former PM comes out fighting as more revelations emerge from inquiry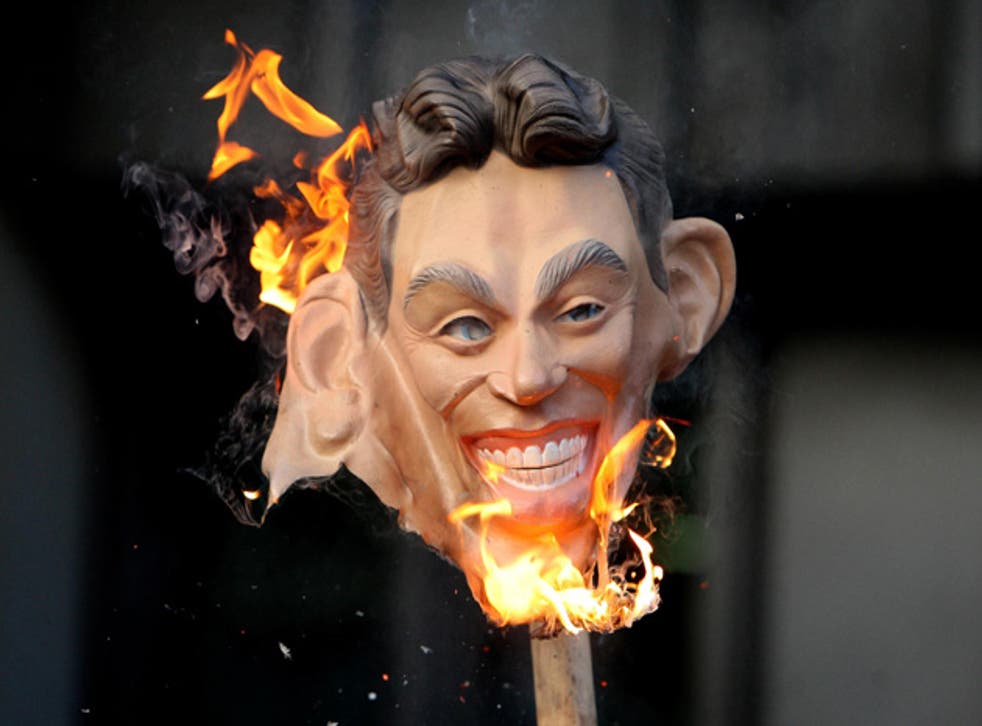 Tony Blair ordered Army chiefs to draw up war plans for Iraq nine months before the invasion took place, one of his key aides has revealed.
The former prime minister began planning the offensive two months after a secretive meeting with President George W Bush at his ranch in Crawford, Texas, during which he was warned that the US had already started preparing for military action to remove Iraqi president Saddam Hussein.
Sir David Manning, who at the time was Mr Blair's foreign policy adviser, told the Chilcot inquiry into the Iraq war that President Bush and Mr Blair discussed the country just three days after the 9/11 terror attacks, and that the US did not need British assistance to carry out the invasion in March 2003.
Sir David's revelations came as Mr Blair denied allegations that he had gagged his top legal adviser, Lord Goldsmith, after the peer had questioned the legal grounds for invading Iraq. In an interview with CNN, Mr Blair stood by his decision to back the removal of Saddam. "One of the things you learn as a leader ... is that you have a responsibility to make decisions," he said. "Some of those decisions are difficult ... some [are] controversial. I think it was one of your presidents who said: 'If you can't stand the heat, don't come into the kitchen.' And that's my view of politics."
Asked whether it was true that he had bullied Lord Goldsmith "into being quiet", he replied: "No, it's not."
Mr Blair's words on regime change in Iraq were "notably tough" after the Crawford meeting in April 2002, Sir David told the inquiry. During the trip President Bush revealed that a secret "cell" had been set up within the US Central Command in Florida to work on a strategy to topple the regime in Baghdad, though no decisions had been taken. Sir David said it was this revelation that prompted Mr Blair to order the Ministry of Defence to come up with similar plans in June of that year.
Weeks later, the then Defence Secretary, Geoff Hoon, presented Mr Blair with three possible military options. The first, an "in-place support package", would make use of British troops already in the area. The second option added marine and aircraft support, with the addition of some special forces. A third, known as the "discreet option", involved a 20,000-strong deployment of British troops that would take six months to prepare. Sir David said that Mr Blair wanted to keep the plans secret because he was still determined to encourage the US to deal with Iraq through the United Nations. However, as early as Ocober 2002 there was an acceptance in London that Britain would offer the third option to the US. "Clearly during October there was further discussion between the Prime Minister and the Defence Secretary about this and I think as time passed there was an acceptance that if it came to military action, that we probably would be willing to move to package three," Sir David said.
He said that Britain's participation in the invasion had not been necessary to remove Saddam. However, Mr Blair's commitment to back the invasion was "enormously desirable" to President Bush. "[It] was not seen as essential," he said. "Do I think the Americans could not have done this without our military participation? My answer would have to be no, I'm sure they could have done."
He also revealed that during a telephone call on 14 September 2001, President Bush disclosed that he thought there could be a link between the Iraqi leader and al-Qa'ida. The Prime Minister's response was that the evidence would have to be "very compelling indeed to justify" a policy of regime change, he added.
Sir David said that he believed that UN weapons inspectors were not given enough time to carry out their work before military action took place and also admitted major failings in post-war planning. "I think the assumption that the Americans would have a coherent plan which would be implemented after the war was obviously proved to be unfounded," he said. "The American military thought that they were fighting a war and when that war was over they were expecting to go home and they were not in the mode of peacekeeping or policing."
Register for free to continue reading
Registration is a free and easy way to support our truly independent journalism
By registering, you will also enjoy limited access to Premium articles, exclusive newsletters, commenting, and virtual events with our leading journalists
Already have an account? sign in
Register for free to continue reading
Registration is a free and easy way to support our truly independent journalism
By registering, you will also enjoy limited access to Premium articles, exclusive newsletters, commenting, and virtual events with our leading journalists
Already have an account? sign in
Join our new commenting forum
Join thought-provoking conversations, follow other Independent readers and see their replies