I'm not calling anyone anything: David Cameron sidesteps Ukip comments row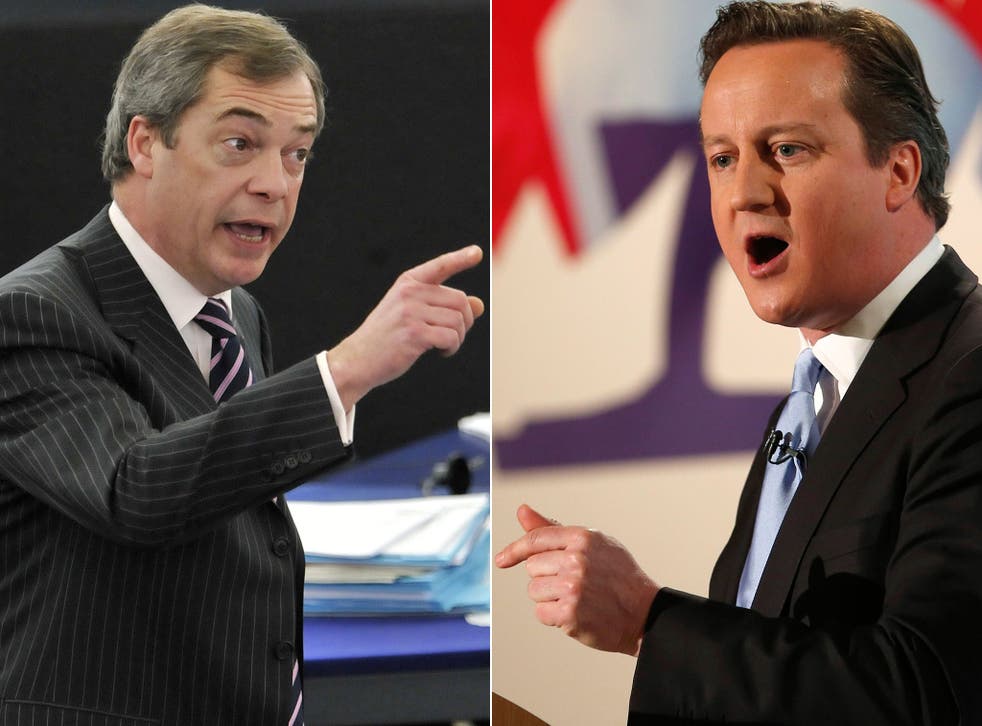 David Cameron said today he would not engage in insulting the UK Independence Party (Ukip) despite continued sniping from fellow Tory ministers.
The Prime Minister's party is braced for a significant haemorrhage of voters to the eurosceptic party in tomorrow's local elections.
In bitter exchanges over the weekend, Cabinet minister Ken Clarke branded Ukip politicians "clowns" and some of its supporters racist.
Foreign Secretary William Hague echoed his attack today - saying the party's economic policies did suggest a "clown-like aspect".
Mr Cameron famously dismissed Ukip members in 2006 as "fruitcakes, loonies and closet racists, mostly".
But pressed several times on ITV's Daybreak to discuss the electoral threat posed by Nigel Farage's fast-rising party, the Prime Minister declined.
"I am not calling anybody anything," he said - seeking to focus attention instead on the battle with Labour.
"With a day to go, I think it is still important to talk about what the choice is at this election.
"And most people sitting at home face a choice either between the Conservatives running their local council or Labour.
"If Labour get in, as we've heard from Miliband over recent days, they believe in more spending, more borrowing, more of the things that got us into this mess.
"That's the same in the town hall as it is in government so I hope people will stick with the blue team who can deliver good services at low cost and keep your bills down."
Speaking on BBC Radio 4's Today programme, Mr Hague said: "When you look at the financial commitments... you can see why a former chancellor thinks they have a clown-like aspect."
Mr Cameron highlighted what he said was good progress in tackling "out of control" immigration - one of the key concerns among Ukip voters.
"I am going to try and show people, between now and the next election, that a Conservative-only government will be able to act on these things further and faster and get more done in terms of turning our country round," he said in a swipe at his Liberal Democrat coalition partners.
The Prime Minister also insisted he would "rule nothing out" in seeking to remove hate preacher Abu Qatada from the UK if Home Secretary Theresa May's latest initiative failed.
It is suggested that temporary withdrawal from the European Convention on Human Rights is among options, though that has been dismissed by Deputy Prime Minister Nick Clegg and Mr Clarke.
"I wish we could just put him on a plane and get him out tomorrow but we have to act within the law," Mr Cameron said.
"We have a plan now to deliver that... and I rule nothing out in dealing with this issue.
"We must be able to remove those people who have no right to be here, who are a threat to our country. It is a very profound part of our national sovereignty and it will be sorted out."
PA
Register for free to continue reading
Registration is a free and easy way to support our truly independent journalism
By registering, you will also enjoy limited access to Premium articles, exclusive newsletters, commenting, and virtual events with our leading journalists
Already have an account? sign in
Register for free to continue reading
Registration is a free and easy way to support our truly independent journalism
By registering, you will also enjoy limited access to Premium articles, exclusive newsletters, commenting, and virtual events with our leading journalists
Already have an account? sign in
Join our new commenting forum
Join thought-provoking conversations, follow other Independent readers and see their replies