I won't let you derail law to allow gay marriage, Nick Clegg warns Tories
A free vote is expected when it is put to the Commons because it is an issue of conscience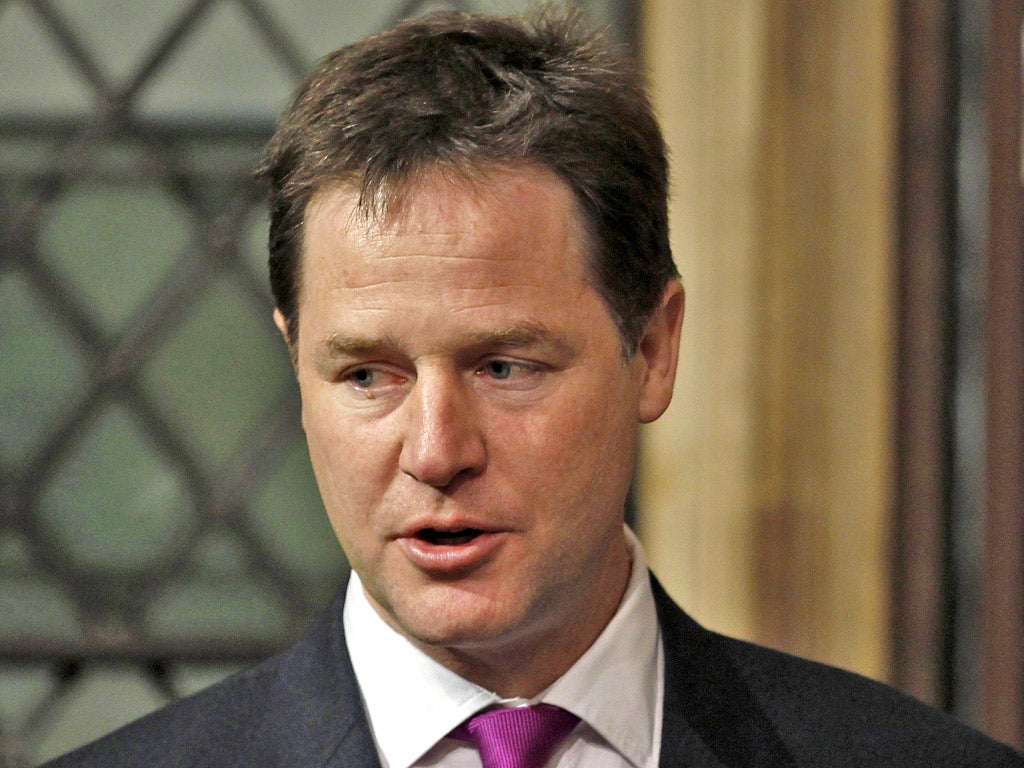 Nick Clegg has given a firm promise that the Government will bring in a law to allow gay marriage despite a growing campaign to derail it by Conservative MPs. In a warning to opponents, the Deputy Prime Minister said it is a matter of "how, not whether" same-sex marriage is legalised.
A dispute between Liberal Democrat and Tory MPs has broken out after both parties suffered heavy losses in this month's council elections. Tory backbenchers have urged ministers to shelve gay marriage legislation and House of Lords reform, both flagship Liberal Democrat policies, so the Government can focus on bread-and-butter issues, such as the economy, which they claim matter more to voters.
A free vote is expected when it is put to the Commons because it is a conscience issue. Yesterday Owen Paterson, the Northern Ireland Secretary, became the first Cabinet member to declare that he will oppose the move. In a letter to a constituent, Mr Paterson, a Conservative, said: "Having considered this matter carefully, I am afraid I have come to the decision not to support gay marriage." The Coalition for Marriage, which leads the campaign against same-sex marriage, has won the backing of several church leaders and Tory MPs. More than 520,000 people have signed its petition, which supports "the legal definition of marriage which is the voluntary union for life of one man and one woman to the exclusion of all others".
Mr Clegg, by contrast, has signed a petition organised by the rival Coalition for Equal Marriage, which is lobbying for the change. He told the group: "The Coalition Government, the Liberal Democrats and I remain wholeheartedly committed to lifting the ban on equal civil marriage. We are currently consulting on how, not whether, to introduce proposals for equal marriage and I want to encourage everyone to make sure that their voices are heard during this time. Many other countries have taken this progressive step and I think it's about time Britain joined them."
The Liberal Democrats do not suspect that David Cameron is backsliding on his pledge to bring in a gay marriage law, because he has made a strong personal commitment to it.But they are worried that some Tory ministers may try to reopen the issue under pressure from the party's MPs.
"The idea that this was an issue on the doorstep in the local elections is nonsense," said one Liberal Democrat source. But Philip Hammond, the Defence Secretary, said after the elections: "Clearly it's not the number one priority." He suggested the Government would take a final decision after the Home Office consultation exercise now underway.
Conor Marron, co-founder of the Coalition for Equal Marriage said: "We're very happy to have Nick [Clegg] standing with us on this issue, along with the majority of MPs who have voiced their position on the subject. We welcome Nick's reassertion that this consultation is on how to introduce civil marriage equality, not if."
Adam Smith, the constituent in North Shropshire who wrote to Mr Paterson, said: "It is bizarre that a Cabinet minister can both praise his Government's progress on LGBT equality in the same letter that he tells me he won't support my right to marriage equality."
Yvette Cooper, the shadow Home Secretary, said the Tory ministers trying to stop same-sex marriage revealed the deep hostility to equality that remains in their party. "Legislation on equal marriage doesn't prevent Government prioritising jobs, growth or family finances – it is the Coalition economic policy which is preventing that."
Beecroft dismisses cable as a 'socialist'
A controversial Downing Street adviser has accused Business Secretary Vince Cable of being a socialist who "appears to do very little to support business".
Venture capitalist Adrian Beecroft, who wrote a report for No 10 calling for proposals making it easier to fire workers, said his objections to his plans were "ideological not economic". "I think he is a socialist who found a home in the Lib Dems, so he's one of the left," he told The Daily Telegraph. "I think people find it very odd that he's in charge of business and yet appears to do very little to support business."
He also attacked Nick Clegg for "always threatening to go nuclear" when he does not get his way. Mr Clegg said of plans to allow bosses to fire at will: "I have not seen any evidence that creating industrial-level insecurity for workers is a good way of creating new jobs."
Sam Lister
Join our commenting forum
Join thought-provoking conversations, follow other Independent readers and see their replies