Iain Duncan Smith announces plans to change the way child poverty is measured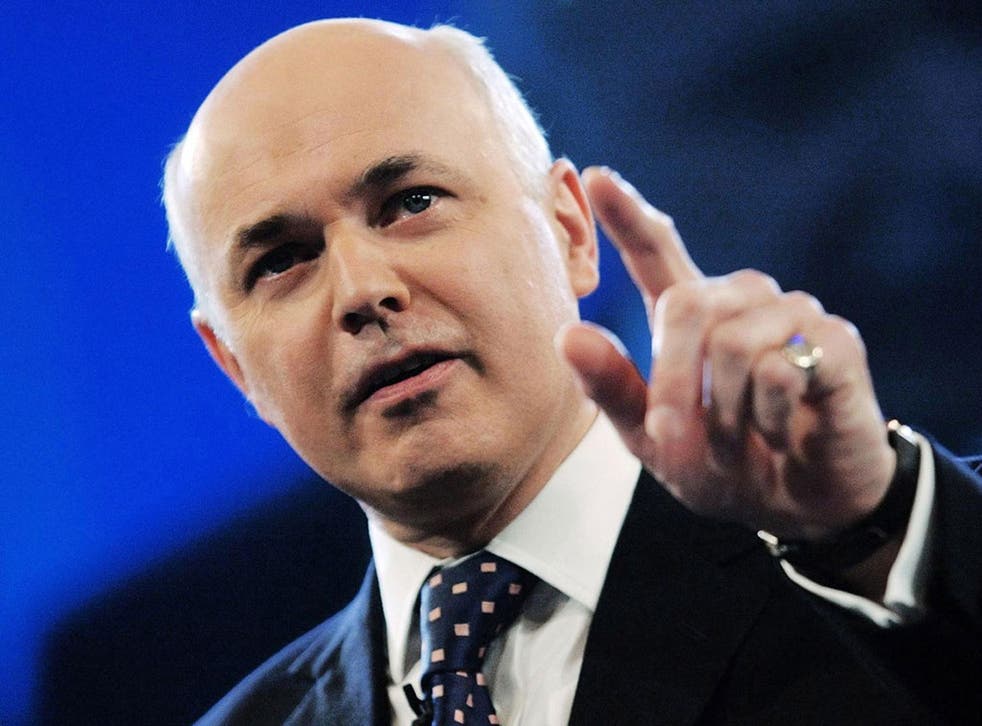 Work and Pensions Secretary Iain Duncan Smith has announced plans to change the way child poverty is measured, as new figures showed that Labour missed its target of halving the number of children in poverty by 2010.
The proportion of children classed as living in poverty in the UK fell by 2% to 18% in 2010/11, equating to 2.3 million children. But the reduction meant the Government had missed by around 600,000, Labour's target of halving child poverty from the 3.4 million level of a decade ago.
And Mr Duncan Smith pointed out that the main factor driving the reduction was the contraction in Britain's economy.
As poverty is officially defined as 60% of average household income, a fall in incomes throughout society caused by the recession lifted thousands of families above the poverty line without their circumstances changing at all.
"How perverse that the simplest way of reducing child poverty is to collapse the economy," Mr Duncan Smith said.
Speaking at a community centre in London, Mr Duncan Smith said the Government remained committed to Labour's target of eliminating child poverty by 2020, enshrined in the Child Poverty Act of 2010.
But he said the latest figures proved that the previous government's strategy of pouring "vast amounts of money" into benefits designed to lift families above the poverty line had failed to have the intended impact.
"We remain committed to the targets set out in the Child Poverty Act, but it is increasingly clear that poverty is not about income alone," Mr Duncan Smith said.
The coalition Government's aim instead is to tackle poverty "at source" by addressing the problems of worklessness, welfare dependency, addiction, educational failure, debt and family breakdown which lie behind child poverty, he said.
A consultation beginning this autumn will seek a new way of measuring child poverty, taking into account these factors, rather than setting an "arbitrary threshold" above which a child is deemed to have been lifted out of poverty.
"Today's figures show that we must bring an end to the tick-box culture that cost so much and progressively failed to achieve its aim," Mr Duncan Smith said.
"What we need is a system that understands that government policy should be measured by the effect social programmes have on changing lives, not just counting how much money is put in."
Mr Duncan Smith said that Labour had made inroads into child poverty between 1999 and 2005, with a 75% rise in tax credit payments to £22.9 billion in the latter part of this period, much of which was aimed at families with children.
But from then until 2009, poverty rates were flat, despite "remarkable" rates of spending on welfare, which rose by 40% in real terms despite rising growth and employment, the Work and Pensions Secretary said.
Some £171 billion was lavished on tax credits and welfare spending was increased by almost £30 billion between 2003 and 2010 just to sustain the existing position, he said.
And he added: "Today's statistics clearly show that over the course of the Labour Government, the money failed to have the impact it was supposed to."
The statistics showed that in 2010 there were 600,000 children living in severe poverty and 1.4 million households suffering from absolute low income - well below the relative poverty line - Mr Duncan Smith said.
But even lifting people above the poverty line was not enough unless there were also changes in their lifestyle, he argued.
He gave the example of an addicted parent who would spend any additional money from welfare on drugs, or a household where no-one worked, where extra benefits would weaken the incentive to find employment.
Instead, for those who were able to, finding work was "the best route out of poverty", delivering a "transformative" affect on a family's life.
"Getting a family into work, supporting strong relationships, getting parents off drugs and out of debt, all this can do more for a child's wellbeing than any amount of money in out-of-work benefits," Mr Duncan Smith said.
The Government's Universal Credit would ensure that the vast majority of children would be taken out of poverty if at least one parent worked 35 hours a week - 24 hours for a single parent. The introduction of Universal Credit could lift 350,000 children and 550,000 adults out of poverty, he said.
While pledging that benefits would remain available for the most vulnerable, Mr Duncan Smith said: "For those who are able to work, this has to be seen as the best route out of poverty.
"For work is not just about more money - it is transformative.
"It's about taking responsibility for yourself and your family, playing a productive part in your community, creating an environment where success through hard work is celebrated, so that children can aspire to even more.
"So we also have a simple message for those who can work: we will make work pay more than a life on benefits."
The chief executive of the Child Poverty Action Group, Alison Garnham, said: "By measuring whether the poor are getting poorer compared to the rest of society, the relative income poverty measure is the single best indicator of whether 'we're all in it together'.
"It would be shameful if the coalition's approach on child poverty was moving the goalposts rather than tackling the problem."
Ms Garnham added: "Families and children have been made the main target of the coalition's austerity agenda and experts now predict child poverty will rise dramatically.
"If we side-line income poverty it will backfire and we will see an increase in problems like debt, family breakdown, poor health and addiction.
"What worked is the broad approach required by the Child Poverty Act, focusing on financial support alongside areas like parental employment, child care, Sure Start, education, health, housing and parenting skills."
Helen Dent, chief executive of charity Family Action, said: "Iain Duncan Smith is right to stress early intervention in the fight against child poverty, but cash counts too. We're concerned that his claim that universal credit will make work pay will not be realised unless there is adequate investment in welfare support in and out of work.
"Our experience of working with families now is that families won't be lifted out of poverty and the troubled families programme won't work if troubled families can't pay the rent and they keep moving house.
"New mothers who are too depressed to care for their babies properly won't be helped if they can't put food on the table or don't have enough money to get out of the house.
"We welcome the commitment to protect the most vulnerable but good intentions from the minister need to be matched by concrete actions on early intervention services and adequate incomes which protect families and children's futures."
Shadow work and pensions secretary Liam Byrne said: "This Government has decided that the best way to tackle the problem of child poverty is to run away from it.
"But they cannot escape the bottom line - this Government has created a perfect storm leaving thousands of families at sea.
"Iain Duncan Smith's response is to tell hard-pressed families to simply get a new job, but there are five people chasing every vacancy. He has become the Marie Antoinette of British politics. While parents struggle to juggle the bills, he says 'let them eat cake'."
Shadow chancellor Ed Balls said he was "proud" of Labour's record on child poverty.
"There was still much further to go, but I am proud that the last Labour government took over one million children out of poverty and enshrined in law a commitment to eradicate child poverty," said Mr Balls.
"But I fear all that progress is set to be undone by this Government's unfair and failing economic policies. With long-term unemployment rising and deep cuts to tax credits and childcare support making thousands of parents better off quitting work, there is a real risk that child poverty will now rise.
"It's no wonder that this Government is cynically trying to move the goalposts, despite what David Cameron promised before the general election. What we need is a plan to get the economy growing again, tax credits to make work pay and services like Sure Start to give every child, and not just some, the best start in life."
TUC general secretary Brendan Barber said: "Today's figures show that the last government's investments made a huge difference to reducing child and pensioner poverty.
"However, there is a real danger that the vital headway the last government made into getting children out of poverty will now go into reverse. Moving the goalposts on what constitutespoverty won't help improve conditions for children living below the breadline. Spending on tax credits and benefits took children out of poverty - now government cuts are sending them straight back.
"The current definition of poverty already includes many extra items, and it is simply foolish to say money isn't important for poor people. Instead of changing the poverty indicators, the Government needs to tackle the problem, and do something about the spiralling economic and social costs of the increased poverty its policies look set to cause."
Economic think-tank the Institute for Fiscal Studies said Mr Duncan Smith's continued commitment to eradicating child poverty by 2020 left the Government "in the position of having a target looming in just eight years without policies which are likely to transform the distribution of income anywhere near radically enough over that kind of timescale".
The IFS said it was "sensible" for the Government to consider a broader range of indicators than income along when measuring child poverty.
But it added that the large reductions in income poverty among children during Labour's time in power relied "very heavily" on fiscal redistribution measures - such as spending on tax credits and benefits - which the coalition Government has made clear it does not regard as appropriate during the current period of austerity.
"There does seem to be a tension between this judgment and the retention of the income-based 2020/21 child poverty targets," said the IFS.
"Why? Because the targets loom in just eight years. Over short periods - and anything less than a generation is probably short-term when it comes to making radical and politically feasible changes to the income distribution - it is difficult to think of tools beyond fiscal redistribution which would achieve a transformation of the large scale required."
Unicef UK executive director David Bull called on the Government to "step up its efforts to reduce relative child poverty and set out a credible plan to reach the goal of ending childpoverty by 2020".
Mr Bull said: "Today's figures are good news, showing previous policies were working to reduce the number of children living in unacceptable conditions. But the long-term view is grim as the number of children living in poverty in the UK is set to increase due to recent spending cuts.
"We agree with Iain Duncan Smith's comments today that getting parents into work is a long-term solution but these jobs - if they can be found in recession-torn Britain - must pay enough to keep families out of poverty.
"A child's family income is the foundation for his or her chances in life. While a holistic approach to tackling child poverty is vital, we cannot get away from the fact that income is highly significant for ending child poverty."
PA
Join our new commenting forum
Join thought-provoking conversations, follow other Independent readers and see their replies