Iain Duncan Smith's 'groundless' benefit sanctions claim to be reported to UK Statistics Authority
The Work and Pensions Secretary claimed 75 per cent of jobseekers say benefit sanctions help them 'focus and get on'
Ashley Cowburn
Saturday 12 March 2016 13:57 Comments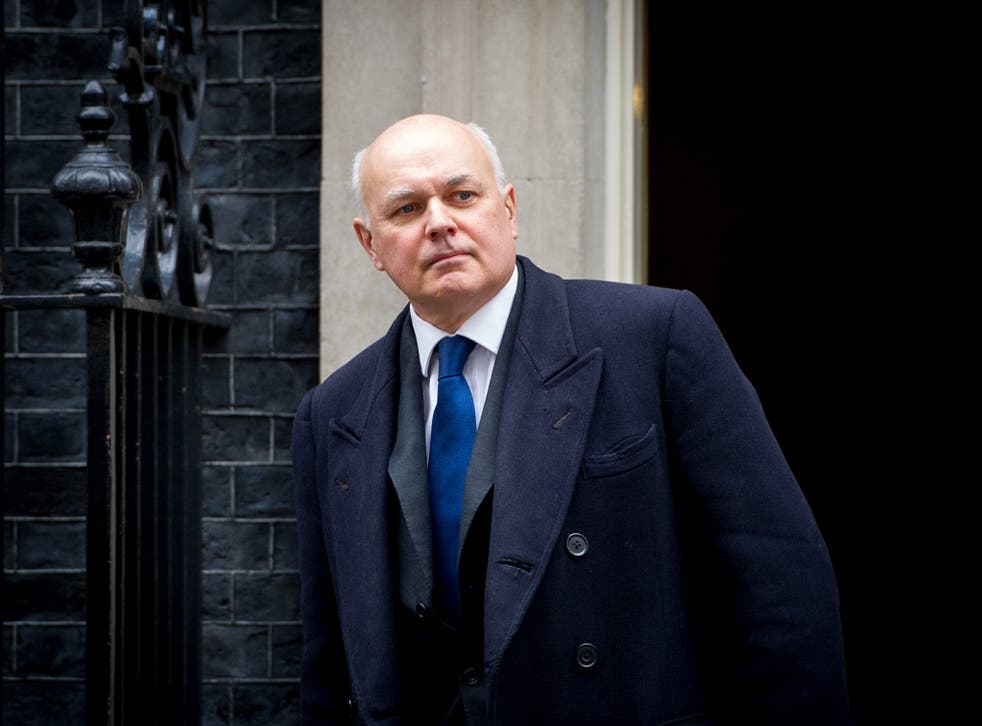 Iain Duncan Smith is to be reported to the official statistics watchdog, after a "groundless" claim that 75 per cent of jobseekers believe benefit sanctions have helped them.
Owen Smith, the shadow Work and Pensions Secretary, said he intends to refer Mr Duncan Smith to the UK Statistics Authority for investigation following the claim that the sanctions regime helps claimants "focus and get on".
In an interview with the Camden New Journal, the Work and Pensions secretary suggested many claimants were grateful for the consequences of benefit sanctions. He was approached during a visit to Belsize Park where he was campaigning for Conservative London mayoral candidate Zac Goldsmith.
He said: "Seventy-five per cent of all those who have been sanctioned say it helped them focus and get on. Even the people in the job centres think it's the right thing to do... sanctions are the reason why we now have the highest employment levels ever in the UK, and more women in work.
"What we say is, 'we'll give you all the support but at the end of the day we expect you to do something for it: go back to work, take the job, take the interviews'. And it works, talk to any of the advisers in the job centres."
Mr Duncan Smith added: "The Labour Party had sanctions. We haven't actually changed the sanctions regime. It's just a classic buzz from the Left. These are just political campaigners – they leap up and down on everything. These people are never going to vote for us. You have to understand, these people hate us.
"You'd be surprised…we're actually running out of people to go back into work."
The most ridiculous reasons people had their benefits sanctioned

Show all 16
Owen Smith said: "Iain Duncan Smith's claim that seventy-five per cent of people who had been sanctioned say it 'helped them focus and get on' is groundless and shows he is out of touch with the real impacts of policies introduced by his department.
"In reality widespread concerns have been raised about this government's use of sanctions, including from their own advisers, which is why the cross party Work and Pensions Select committee called for a full independent review in to the system.
"However, Iain Duncan Smith is reluctant to accept such scrutiny. Labour is calling for far greater transparency and honesty in this debate, so we can ensure greater numbers of people are actually helped in to work, while being treated fairly. That is why I will be writing to the Secretary of State to inform him that we will refer his use of data to the Statistics Authority and calling for the long overdue independent review in to sanctions to begin."
The Independent has contacted the DWP for a comment.
Register for free to continue reading
Registration is a free and easy way to support our truly independent journalism
By registering, you will also enjoy limited access to Premium articles, exclusive newsletters, commenting, and virtual events with our leading journalists
Already have an account? sign in
Join our new commenting forum
Join thought-provoking conversations, follow other Independent readers and see their replies