Iain Duncan Smith resigns as Work and Pensions Secretary over disability benefit cuts
Minister says the cuts were not defensible 'in the way they were placed within a Budget that benefits higher earning taxpayers'
Caroline Mortimer
Friday 18 March 2016 21:58 Comments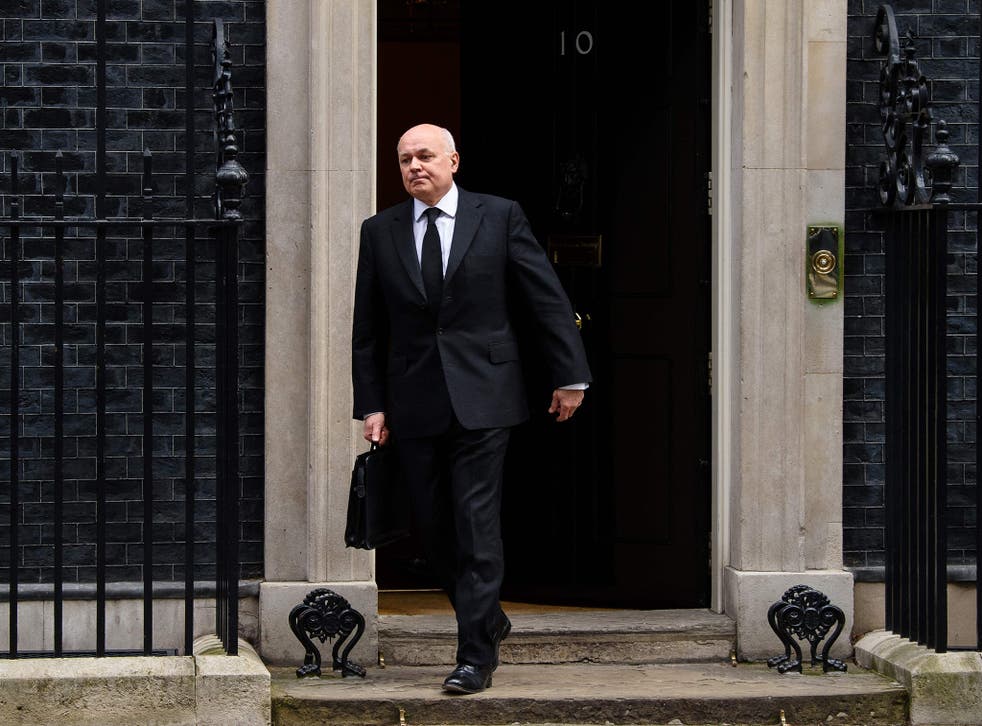 Iain Duncan Smith has resigned from his role as Work and Pensions Secretary complaining of Treasury pressure to make cuts to benefits.
In a statement to the media Mr Duncan Smith, known as IDS, said he was "incredibly proud" of his work at the department but said he is "unable to watch passively whilst certain policies are enacted in order to meet the fiscal self imposed restraints that I believe are...distinctly political rather than in the national economic interest".
He said he had "rather reluctantly" come to believe "the latest changes to benefits to the disabled and the context in which they've been made are compromised too far".
"While they are defensible in narrow terms, given the continuing deficit, they are not defensible in the way they were placed within a Budget that benefits higher earning taxpayers. They should have instead been part of a wider process to engage others in finding the best way to better focus resources on those most in need", he continued.
He questioned whether the Government has made sure "we are all in this together".
He said: "You should be very proud of what this government has done on deficit reduction, corporate competitiveness, education reforms and devolution of power. I hope as the government goes forward you can look again, however, at the balance of the cuts you have insisted upon and wonder if enough has been done to ensure 'we are all in this together'."
"I am unable to watch passively whilst certain policies are enacted in order to meet the fiscal self imposed restraints that I believe are more and more perceived as distinctly political rather than in the national economic interest. Too often my team and I have been pressured in the immediate run up to a budget or fiscal event to deliver yet more reductions to the working age benefit bill.
7 ways the Tories have 'helped' disabled people

Show all 7
"There has been too much emphasis on money saving exercises and not enough awareness from the Treasury, in particular, that the government's vision of a new welfare-to-work system could not be repeatedly salami-sliced."
The Government is reportedly on the verge of shelving plans to cut Personal Independence Payments (PIP) by £30 a week after the Conservative party threatened to rebel.
Backbenchers have threatened to vote down the measure that could leave almost 400,000 disabled people an average of £3,500 worse off.
The cut will affect disabled people who are deemed well enough to work as many will no longer be able to afford the specially adapted equipment - such as cars - which enable them to get dressed, go to the bathroom or leave the house.
At the same, in his annual budget on Wednesday, Chancellor George Osborne cut corporation and capital gains taxes and lifted the earnings threshold at which the higher rate of income tax is payable while warning the economy would grow more slowly than previously forecast.
In a blog post, The Spectator editor Fraser Nelson said the resignation was a culmination of several years "biting his tongue" at every budget.
He said: "He fought (and won) battles to try to stop Osborne tearing tax credits away from the low paid. But the fighting wore him down over the years. It was the same story: trying to persuade a Treasury machine that there were human lives behind these benefits; that the objective was to save money. And that a moral thread needs to run through welfare reform".
A Labour source reportedly told the Telegraph that the Conservatives had "gone from chaos to meltdown".
Some have viewed his resignation as an act of "war" against Mr Osborne - likening it to the resignation of former Conservative Home Secretary Geoffrey Howe which led to the downfall of Margaret Thatcher in 1990.
Former Labour shadow business secretary Chuka Umunna speculated that Mr Duncan Smith's resignation was less to with his discomfort about benefits cuts and more of a target attack on the leadership for backing Britain remaining the EU.
Journalists have also suggested IDS had been mulling over resigning "for weeks" after feeling "humilated" over Brexit.
IDS is a firm supporter of the Brexit campaign along with several other Cabinet members including Justice Secretary Michael Gove and Leader of the House of Commons Chris Grayling.
Commentators have speculated that this is a particularly serious sign of the rupture within the Conservative party over Europe that has reached boiling point ahead of the EU referendum in June.
BBC Radio 4 Today presenter Nick Robinson has described the resignation as "firing an Exocet missile" at George Osborne.
The resignation is an embarassment for Mr Osborne who is one of the top contenders to replace David Cameron - who has said he does not plan to serve a third term as prime minister.
It could play into the hands of his rival, Mayor of London, Boris Johnson whose support for the Brexit campaign as been widely seen as an attempt to win over the Eurosceptic grassroots of the party.
Additional reporting by PA
Register for free to continue reading
Registration is a free and easy way to support our truly independent journalism
By registering, you will also enjoy limited access to Premium articles, exclusive newsletters, commenting, and virtual events with our leading journalists
Already have an account? sign in
Join our new commenting forum
Join thought-provoking conversations, follow other Independent readers and see their replies