Iain Duncan Smith's resignation brings Tory civil war into sharp focus
Many Tory MPs now feel able to challenge the authority of Cameron-Osborne for the first time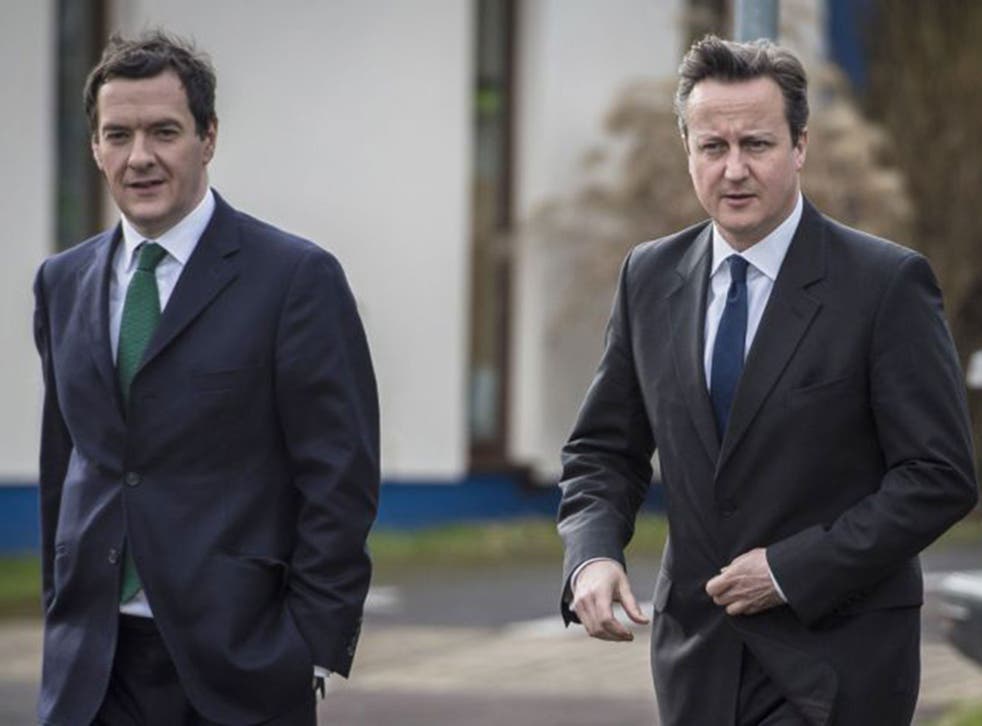 The shock resignation of Iain Duncan Smith has brought into the open a fight for the soul of the Conservative Party between David Cameron and George Osborne on the one hand and their critics on the other.
Although Europe is the fault line running through the party, the disputes now go wider as many Tory MPs now feel able to challenge the authority of Cameron-Osborne for the first time. There are two camps and they are armed. Some senior figures, like Michael Gove, are trying to straddle both factions and appeal for unity. They worry that the party could lose the 2020 election unless it comes together after the EU referendum.
Boris Johnson was on a skiing break at the weekend and keeping his head down – politically, at least. But some in the Brexit camp now regard him as their best hope of ending the Cameron-Osborne leadership. There is even talk of forcing a vote of confidence in Mr Cameron as Tory leader if he wins the referendum. The party's rules require 15 per cent of its MPs to call for a contest –50 at present. Such talk might evaporate if the In camp wins well. But a narrow victory could fail to settle the issue and result in a leadership challenge.
The Cameron-Osborne In crowd
Sajid Javid
Son of a bus driver who became youngest vice-president of Chase Manhattan Bank at 25. Seen as brightest star of 2010 intake of Tory MPs. The Business Secretary has angered fellow Eurosceptics by backing the In campaign in the referendum.
Matt Hancock
Was George Osborne's chief of staff before becoming an MP in 2010. Still one of his closest allies. Promoted to Paymaster General last year and now attends Cabinet.
Oliver Letwin
Early backer of David Cameron's 2005 Tory leadership. Backroom policy chief who kept Coalition show on the road from 2010-15. Loyalty to Cameron persuaded him to back In vote in referendum.
Michael Fallon
A veteran but evergreen who first became an MP in 1992, the Minister for Sticky Wickets (aka the Defence Secretary) was sent in to bat in media interviews after Iain Duncan Smith's resignation.
Amber Rudd
One of several former parliamentary aides to George Osborne who have risen up the ministerial ladder. Entered Cabinet as Energy Secretary last year. The loyalist attacked Duncan Smith's "high moral tone" when defending Cameron-Osborne at the weekend.
Stephen Crabb
The former Welsh Secretary was promoted to the job he most wanted – Work and Pensions Secretary—after Duncan Smith walked out of it. Not part of Team Osborne. Raised by single mum on a council estate. Tipped as a future Tory leader. But disappointed Eurosceptics by backing In vote in referendum.
UK news in pictures

Show all 50
The Brexit brigade
Boris Johnson
The outgoing Mayor of London has kept his head down so far since Iain Duncan Smith's spectacular resignation but stands to benefit most from it. Increasingly popular among Tory MPs after breaking with Cameron to back Brexit. Strong favourite to succeed him. May now claim the mantle of Compassionate Conservatism following Duncan Smith's parting shot.
Priti Patel
The Employment Minister is a rising star tipped as a future Tory leader. Enhanced her prospects by advocating an Out vote in referendum. Sprang to Duncan Smith's defence at the weekend in defiance of Cameron. Eurosceptic who formerly worked for Sir James Goldsmith's Referendum Party.
Chris Grayling
The Leader of the Commons has twice been demoted by Cameron and had no doubts about coming out for an Out vote. Days in Cabinet numbered if public vote In but could prosper under Eurosceptic leader.
David Davis
Beaten to the Tory leadership by Cameron in 2005 and has remained a prominent critic since. Former shadow Home Secretary is a Eurosceptic. Was quick to point out that Osborne's leadership chances had been damaged by the Budget fall-out.
Liam Fox
Former Defence Secretary who had to resign in 2011. Ran for the Tory leadership in 2005 and could be a right-wing standard-bearer next time. Early out of the traps as an Outer before Cameron concluded his EU deal. Sketching out wider policy agenda.
Bernard Jenkin
Close ally of Duncan Smith and thorn in Cameron's side as prominent Eurosceptic. The chair of Commons Public Administration Committee has called on Cameron to stop acting like a "dictator" and for a return to cabinet government.
Register for free to continue reading
Registration is a free and easy way to support our truly independent journalism
By registering, you will also enjoy limited access to Premium articles, exclusive newsletters, commenting, and virtual events with our leading journalists
Already have an account? sign in
Register for free to continue reading
Registration is a free and easy way to support our truly independent journalism
By registering, you will also enjoy limited access to Premium articles, exclusive newsletters, commenting, and virtual events with our leading journalists
Already have an account? sign in
Join our new commenting forum
Join thought-provoking conversations, follow other Independent readers and see their replies