Iain Duncan Smith says people without a disability are 'normal'
The comments were branded 'shocking' by fellow MPs
Jon Stone
,
Siobhan Fenton
Tuesday 08 September 2015 10:12 Comments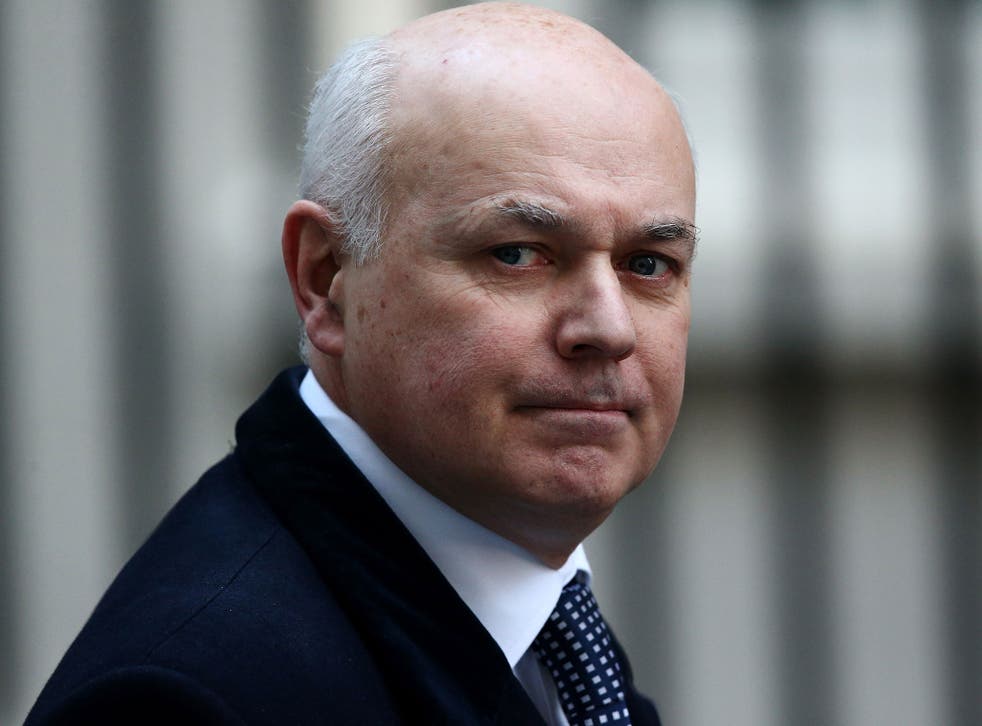 Iain Duncan Smith has been criticised for referring to people without disabilities as "normal", in contrast to the disabled.
The Work and Pensions Secretary appeared to suggest that people with disabilities were abnormal in a discussion about employment rates with other MPs.
SNP MP Eilidh Whiteford described the turn of phrase as a "shocking insight" into Mr Duncan Smith's mentality.
The minister used the term "normal, non-disabled people" whilst addressing the House of Commons on Monday afternoon. The words were recorded in Parliament's official record, Hansard.
"We have made huge strides in getting more people with disabilities back into work ... but the most important point is that we are looking to get that up to the level of normal, non-disabled people who are back in work," he told MPs.
The minister was criticised by disability rights campaigners last month after it was revealed that 2,380 people have died within six weeks of being declared 'fit for work' by the government between 2011 and 2014.
The Department for Work and Pensions battled for months against campaigners in order to not to release the numbers, with Mr Duncan Smith at one point telling Parliament they did not exist.
However, the Information Commissioner ruled that the government had no justifiable reason to withhold the figures.
Last week, a disability rights charity said that it was contacted by the UN Committee on the Rights of Persons with Disabilities as part of an investigation into human rights abuses against disabled people in the UK.
What does five more years of the Tories mean for Britain?

Show all 8
Other policies push by Mr Duncan Smith with regard to disabled people include the closure of Remploy factories, scrapping of the Independent Living Fund, cuts to payments on the disability Access To Work scheme and cuts to some groups on the Employment and Support Allowance benefit.
The Government's fitness to work tests have also been criticised, as has the disproportionate impact of the so-called 'bedroom tax' on disabled people.
Register for free to continue reading
Registration is a free and easy way to support our truly independent journalism
By registering, you will also enjoy limited access to Premium articles, exclusive newsletters, commenting, and virtual events with our leading journalists
Already have an account? sign in
Join our new commenting forum
Join thought-provoking conversations, follow other Independent readers and see their replies