George Osborne said pre-election Budget would only help 'stupid, affluent and lazy people', claims former minister
The Chancellor also reportedly said it could 'fudge' the figures a bit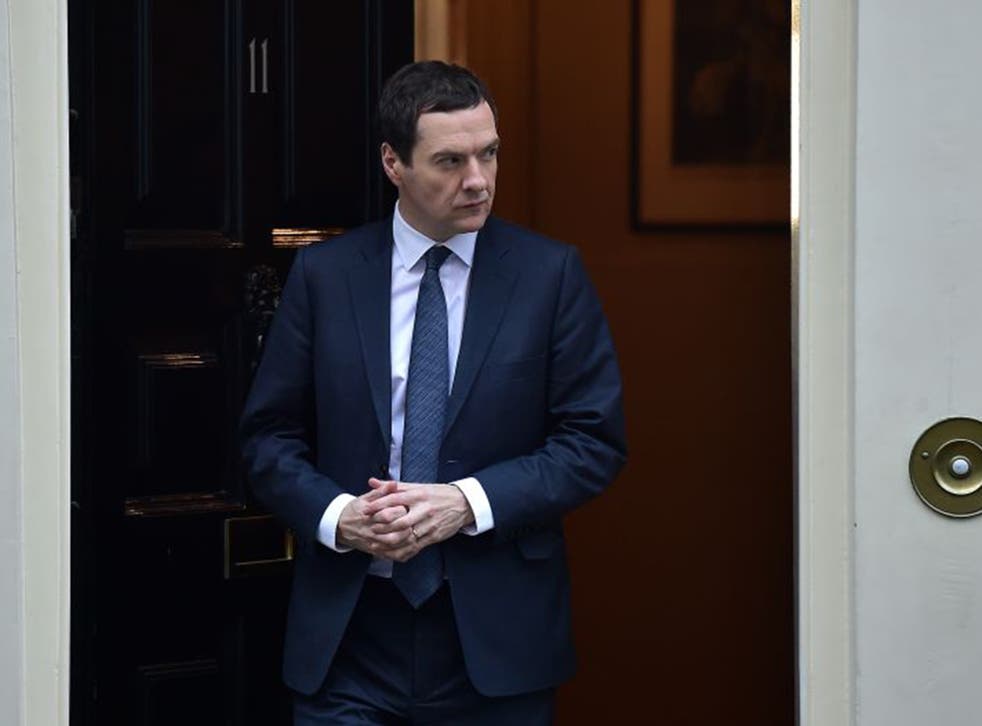 George Osborne is said to have stated his Budget ahead of last year's general election would only really help "stupid, affluent and lazy people", according to a memoir by a minister of the Coalition Government.
In a book by the former Schools minister David Laws, serialised by the Daily Mail, David Cameron's apparent views of his Tory colleagues are revealed as well as a series of startling admissions by senior members of the Government.
Mr Cameron apparently describes Michael Gove as "nuts" and a "Maoist"; he is also "petrified" of Boris Johnson who he says is after his job.
The Prime Minister apparently also stated that "mad" right-wing Tory MPs and the rise of Ukip had foisted the EU referendum on him.
And Mr Laws also claims that the Chancellor made an admission about his own Budget a couple of months before the general election in 2015.
He writes: "At the same lunch when Nick said meeting the Chancellor's financial targets meant £33 billion more of fiscal tightening, not £25 billion as Osborne claimed, the Chancellor's extraordinary response was: '£25 billion and £33 billion are pretty similar. We can just fudge that a bit.'
"Osborne admitted it wasn't well targeted. 'It will only really be of help to stupid, affluent and lazy people, who can't be bothered to put their savings away into tax-efficient vehicles! But it will still be very popular – we have polled it."
What has the EU ever done for us?

Show all 7
When writing the book, Mr Laws was allegedly allowed open access to the private papers, notes and diaries of his close ally Nick Clegg.
In addition to exposing the rift between the Prime Minister and Eurosceptic rebels within the Tory party, The Explosive Inside Story of the Coalition also reports that Mr Clegg said Osborne and Cameron were "desperate for power" and would "sell their mothers to stay in Downing Street."
The book claims that in a later conversation, Mr Cameron admitted to Mr Clegg that he felt Boris Johnson was "clearly after [his] job". It asserts that the apparent comments came at a time when the Mayor of London was making headlines, being interviewed for a Mail on Sunday story entitled "I'll crush the strikers': Boris Johnson steals Cameron's thunder with plan to beat union militants".
In that interview, Mr Johnson dismissed claims he was trying to unseat Mr Cameron as "twaddle". But if Mr Laws' memoir is to be believed, the PM did not feel the same way.
Mr Cameron also crossed paths with Justice Secretary Michael Gove. Following a string of well-publicised spats, he reportedly told Mr Clegg: "Michael does seem to have gone a bit nuts recently... I am being driven around the bend by Michael right now. We know he isn't very popular in the country."
"He is a Maoist," Mr Cameron said of Mr Gove in a separate conversation. "He believes that the world makes process through a process of creative destruction."
These alleged comments came before the current rift over Britain's EU membership divided the Tory party, setting further-right Tory MPs on a collision course with the PM. Mr Cameron reportedly described the referendum as a "party management issue," adding: "What else can I do? My backbenchers are unbelievably Eurosceptic and are breathing down my neck."
Register for free to continue reading
Registration is a free and easy way to support our truly independent journalism
By registering, you will also enjoy limited access to Premium articles, exclusive newsletters, commenting, and virtual events with our leading journalists
Already have an account? sign in
Register for free to continue reading
Registration is a free and easy way to support our truly independent journalism
By registering, you will also enjoy limited access to Premium articles, exclusive newsletters, commenting, and virtual events with our leading journalists
Already have an account? sign in
Join our new commenting forum
Join thought-provoking conversations, follow other Independent readers and see their replies