Insults and spin: the election battle starts
Tories and Labour trade blows in war of words over tax policies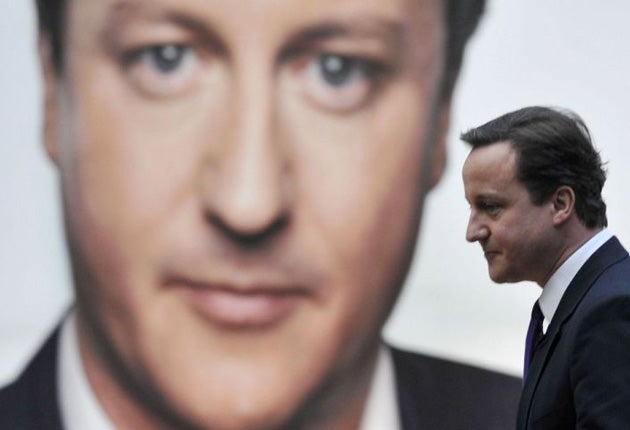 The Conservatives accused Labour of telling "lies" about David Cameron's policies yesterday during bitter skirmishes at the start of a marathon four-month general election campaign.
On a long day of claim and counter-claim, pre-buttals and rebuttals, spin and counter-spin, the two main parties traded insults amid a feverish atmosphere at Westminster. With Britain's public finances in a mess, it was clear that tax and spending would dominate the campaign and clear differences opened up between the parties.
Mr Cameron allowed Labour to emerge with a draw following yesterday's salvos when, in a BBC interview, he sowed confusion over whether his plans to reward marriage in the tax system were a solid promise or merely an aspiration. After downgrading it, he later upgraded it to a firm commitment.
Labour said it had drawn first blood: Mr Cameron had suggested the plan might not be affordable in the first four- or five-year parliament. But fearing a backlash from Tory traditionalists, he quickly retreated, saying: "It's something we will definitely do in the next parliament." He provided no detail or costings, however. The episode gave Labour some heart that the Tories' programme might not stand up to the rigorous scrutiny of an election campaign.
The Tory leader dismissed Labour's allegations that he would spend £16bn on reversing the new 50p tax rate on earnings above £150,000; on overturning Labour's decision to lower tax relief on pension contributions by high earners; on cutting taxes for married couples; and on scrapping stamp duty on shares. These four commitments were listed in a 148-page Labour dossier of Tory tax and spending pledges launched by the Chancellor, Alistair Darling.
Although condemned as a "dodgy dossier" by the Tories, it claimed the Conservatives had a £34bn "credibility gap" after making different promises to different audiences without saying how they would pay for them.
According to Labour, the Tories have pledged £21bn of tax cuts; promised to reverse 10 Labour tax rises at a cost of £13.3bn; and announced 30 new spending plans costing £11.1bn. That £45bn shopping list would be reduced by 31 spending cuts totalling £6.6bn and five new taxes raising £5.1bn, leaving the Tories with a £33.8bn gap in their plans.
Mr Darling told a press conference: "The Tories have made over £45bn of promises, but can barely explain how they can pay for a quarter of this. You can't fight an election on a nod and a wink, sometimes claiming you are committed to these promises and when challenged claiming you are not."
However, the Chancellor was repeatedly challenged by journalists to spell out where Labour would cut spending. He admitted "cuts" would be needed to halve the public deficit in four years but argued that the economic outlook was too uncertain to carry out a government-wide spending review. He refused to confirm or deny estimates that other Whitehall departments would see their budgets reduced by 17 per cent to protect spending on education, health and the police, as he promised in last month's pre-Budget report. The hostile questions showed that Mr Darling will come under pressure to spell out more of "Labour's cuts" in his pre-election Budget, expected in March.
Some ministers believe that Gordon Brown has retreated to his "comfort zone" of contrasting Labour investment with "Tory cuts". They blame the influence of Ed Balls, the Schools Secretary and Mr Brown's closest ally, who has long championed "investment versus cuts" as the key dividing line between the two main parties. These ministers want more emphasis put on Labour's pledge to halve the deficit through tax rises and spending cuts.
Mr Cameron unveiled the first draft of his party's election manifesto – the section on the NHS. The Tory leader admitted the rise in the health budget would be small when compared with recent years. Mr Cameron was speaking in front of a giant poster of himself to be displayed at 1,000 sites around the country. It says: "We can't go on like this. I'll cut the deficit, not the NHS." His personal ratings are better than those of his party and the poster makes clear the Tories will run a presidential-style campaign in the hope of making "Brown versus Cameron" the key choice.
In an attempt to answer Labour charges that a Tory government would favour the better-off, Mr Cameron announced his party would bring in a "health premium" to channel NHS resources on a payment-by-results basis to areas with the greatest health problems. He also promised mothers "a real choice" over where to have their baby.
But some of his intentions were called into question last night after a draft manifesto appeared to downgrade on several key promises. It included a change to an earlier pledge of 45,000 single rooms within five years. The draft document did not repeat specifics, instead guaranteeing to "increase the single rooms in hospitals, as resources allow". A Tory spokesman dubbed it a "change of language".
The draft Conservative manifesto will be rolled out in the next few weeks and the public given a chance to suggest ideas before it is finalised. Mr Cameron insisted he was not shying away from "difficult choices" about spending cuts and dismissed Labour's dossier as "complete junk from start to finish".
George Osborne, the shadow Chancellor, accused Mr Darling of scoring a "hat-trick of own goals" – refusing to rule out a VAT rise under Labour or a 17 per cent cut in non-protected departments, and making "wild exaggerations" of the Tories' policies, including commitments they had never made.
Vince Cable, the Liberal Democrats' Treasury spokesman, said: "The Tory sums simply do not stack up. It is irresponsible and highly misleading for George Osborne to continue to pretend that they do."
The most likely polling day is 6 May.
Join our commenting forum
Join thought-provoking conversations, follow other Independent readers and see their replies