'Invisible' minister Lord Green who ran HSBC dodges questions over scandal
Lord Green urged to explain how much he knew about shamed bank's money laundering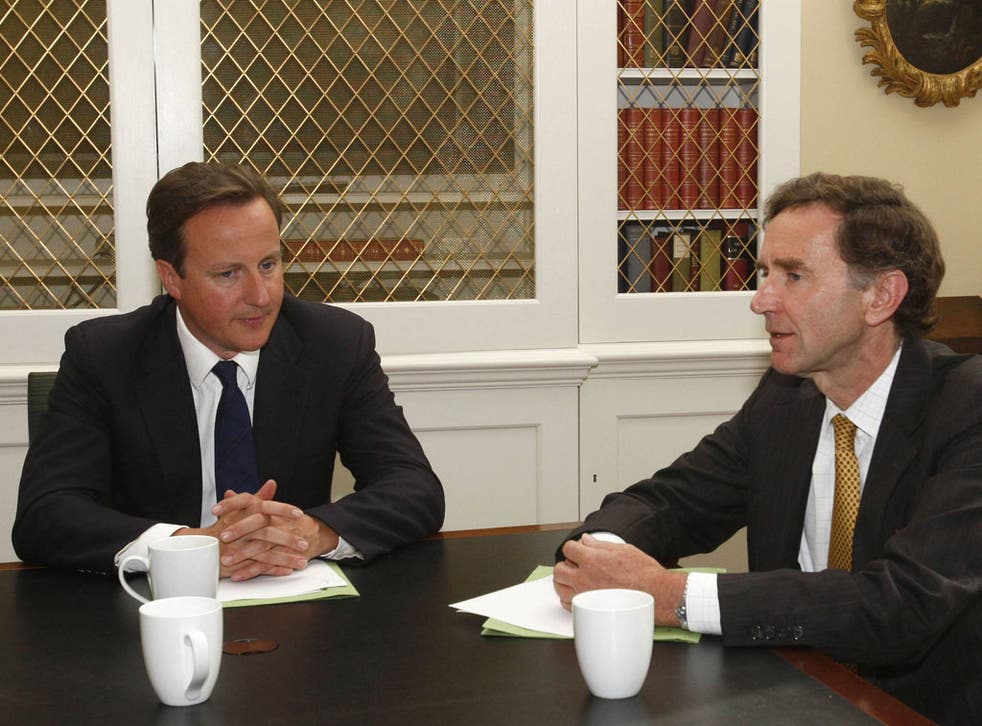 Britain's Trade Minister, Lord Green, is under mounting pressure to reveal what he knew about the money laundering scandal at HSBC when he was the bank's chief executive and chairman.
Lord Green was branded "the invisible man" yesterday as the bank was also implicated in the interest rate fixing scandal which has rocked the City of London. Labour said Lord Green should make an urgent statement in the House of Lords after evidence emerged in a US Senate inquiry that he was told in 2005 about the money laundering affair.
Labour seized on an email sent to Lord Green by David Bagley, HSBC's chief compliance officer, who resigned this week over allegations that the bank inadvertently allowed the laundering of drug and terrorist money.
Ed Miliband, the Labour leader, said people were appalled by the "shocking" allegations. "I think the very least he needs to do is come and answer questions about it," he said.
HSBC and Lord Green's problems were compounded after it emerged that the bank is one of four under scrutiny as watchdogs probe a ring of traders who conspired to fix Euribor interest rates, based on what eurozone banks are paying to borrow from each other.
Yesterday Philippe Moryoussef was named as the trader at the centre of a ring while working for Barclays which involved four other banks, including HSBC. They are said to have conspired to fix Euribor rates to boost their trading books, though these allegations have not been substantiated. The other banks were Deutsche Bank, Crédit Agricole and Société Gé*érale, but the final two claim that no wrongdoing has been found at their banks – piling more pressure on HSBC.
A former trader at Crédit Agricole was suspended from trading by his current employer, Lombard Odier, pending investigation into Euribor allegations, the Swiss bank said.
News that HSBC has been implicated in that affair will raise more questions about the tenure of Lord Green, who had overseen HSBC investment bank, as the head of the business. Although the Commons is in recess, the Lords is sitting until Wednesday and Labour argues that the Trade Minister has a duty to appear before then.
"He is the invisible man," a Labour source said. "His submarine strategy of staying below the surface won't work." Last night Lord Green was spotted in the House of Lords, where he is believed to have met with Lord Strathclyde, the Tory Leader of the House.
Mr Bagley told Lord Green, then HBSC chief executive, in January 2005 that "senior persons within the compliance function fabricated records of certain anti-money laundering meetings".
In 2008, as the bank's executive chairman, he was warned that the Mexican authorities had unearthed evidence of money laundering that "may imply criminal responsibility of HSBC".
The Senate report makes no allegation of wrongdoing by Lord Green.
The minister is set to play a key role in the drive to use the Olympics to seal lucrative trade contracts for Britain.
Profile: The banker who balances God and Mammon
Lord Green is not your everyday banker. He couldn't be further from the profession's image of immoral, bonus-fuelled money-grubbers.
Unfailingly courteous, cerebral and deeply religious, the tall and bone-thin peer sometimes seemed like one of the better sorts of civil servant when he was running the world's local bank. Which is what he was for a number of years (at the Ministry of Overseas Development) having first spent a year working in a hostel for alcoholics where he met his wife, Joy. From there, he joined McKinsey, the management consultancy, where he spent five years and earned a passport into the fast track of finance. He joined HSBC in 1982 and was on the board within 16 years with responsibility for investment banking. He became chief executive in 2003, and, three years later, executive chairman.
Yet the contradictions presented by his faith – he is an ordained minister – and his career never left him. He found the time to pen two books – Serving God, Serving Mammon, reconciling his career with this faith, and Good Value: Choosing a Better Life in Business. Perhaps some of his colleagues should have read them, then the bank's issues may not have arisen.
James Moore
Join our new commenting forum
Join thought-provoking conversations, follow other Independent readers and see their replies