IoS exclusive: Revealed - how Coulson called Cameron's bluff
New book exposes desperation of the Tory leader to woo Murdoch
Jane Merrick
,
Matthew Bell Comments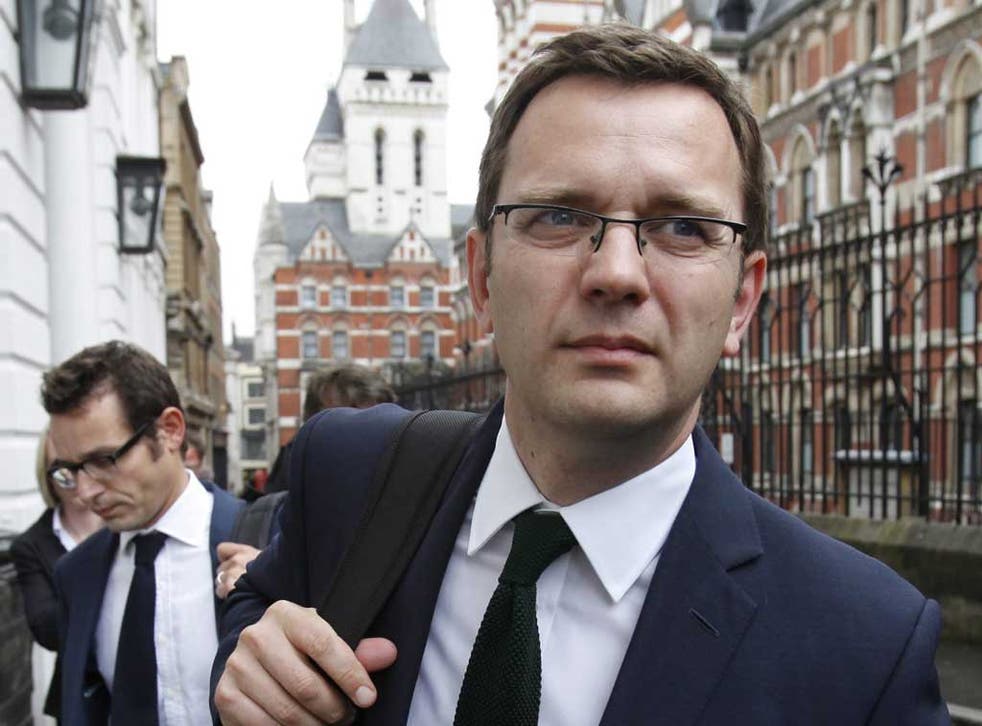 David Cameron was so anxious to secure the services of Andy Coulson as his director of communications that the Tory leader backed down on one of his key demands, it is revealed today.
In a sign of how Mr Coulson was in the driving seat over his controversial appointment, the former News of the World editor called the bluff of the Tory leader and George Osborne by refusing to sign a confidentiality clause as part of his appointment.
The move reveals for the first time the desperation of Mr Cameron, then Leader of the Opposition, and Mr Osborne, to win over the Murdoch empire as they manoeuvred to secure a general election victory.
As the Leveson inquiry prepares to hear more evidence this week about the relations between News International and the Tories, The Independent on Sunday has learnt that Rebekah Brooks and her husband spent a weekend at Dorneywood, the Chancellor's official residence, during a key period in the bid by News Corp to take over BSkyB.
The previously undisclosed "pyjama party", in 2010, which also featured Mr Coulson and his wife, Eloise, will add fuel to demands for the Chancellor to be called to give evidence to Leveson in person.
Mr Osborne is among eight cabinet ministers to be granted "core participant" status, allowing them privileged access to documents put before the inquiry, but he is the only minister of the group not scheduled to give evidence. Last night an aide to Mr Osborne said that the Chancellor had listed on the Treasury website a "social" engagement with Mrs Brooks in September 2010, even though full details of the Dorneywood weekend were not given. The aide said that Mr Osborne had been "absolutely transparent" in his dealings with News International figures.
A new edition of a biography of David Cameron, Practically a Conservative, reveals that in 2007, at the time of Mr Coulson's appointment, the Tory leader was concerned that the ex-NOTW editor would write a memoir about working for him.
The book, by James Hanning, deputy editor of The Independent on Sunday, and Francis Elliott of The Times, reveals that "Cameron wanted a clause inserted in Coulson's contract guaranteeing that he would not write a memoir, but Coulson refused. Tellingly, Osborne, tasked with brokering the hire, didn't feel they could insist and backed down."
The authors write that there was a "cursory check" into whether there were any outstanding court cases or industrial tribunals that might throw up further details. "We wanted to be sure there were no outstanding legal cases," said one of those involved.
Last week Mr Coulson told the inquiry that he was asked only once by Mr Cameron about phone-hacking, which triggered his resignation from the Murdoch-owned newspaper. But, according to Practically a Conservative, to be serialised in The Independent on Sunday next week, Mr Cameron's concern at hiring Mr Coulson was less to do with the circumstances of his resignation earlier that year than the result of his wariness of journalists as a breed.
Mr Cameron was worried that Mr Coulson might follow the behaviour of Amanda Platell, another former editor turned press secretary who worked for William Hague. She went home each night during the 2001 election campaign to record a video diary, later seen on national television.
But Mr Cameron and Mr Osborne, in particular, were desperate to emulate Tony Blair and acquire for the Tories their "own Alastair Campbell". When Mr Coulson refused to sign a confidentiality clause, Mr Osborne backed down. The revelation also sheds further light on the central role played by the then Shadow Chancellor in pursuing the Blair strategy. Mr Coulson's appointment is expected to come under scrutiny at Leveson tomorrow when the former cabinet secretary, Lord O'Donnell, gives evidence. Lord O'Donnell oversaw the vetting process for civil servants, including advisers such as Mr Coulson, who was subjected to a lower level of security clearance when he became director of communications at Downing Street in May 2010.
Uncertainty remains over aspects of Mrs Brooks's evidence to the inquiry on Friday. In July last year, The IoS revealed that Mrs Brooks and Mr Cameron met at a drinks party in an Oxfordshire manor on Boxing Day 2010. A week later, sources close to the Prime Minister confirmed that they had met at that party at the house of Mrs Brooks's sister-in-law, Annabel Brooks. It came only three days after Mr Cameron and Mrs Brooks had dinner with James Murdoch on 23 December. On Friday, when Mrs Brooks was asked whether she had met the Prime Minister on Boxing Day, and whether she had had a conversation with him, she said she might have seen him across the room, but that "No, I don't think there was a conversation". However, a fellow guest at the party has confirmed to The IoS that the two definitely spoke to each other on at least two occasions that evening.
The position of the Culture Secretary, Jeremy Hunt, remained in the balance last night after an email revealed by Mrs Brooks on Friday suggested he had asked for News International to guide No 10 and his own department about phone hacking.
Yesterday the Labour leader, Ed Miliband, stepped up pressure on Mr Hunt to resign. In a speech to the Progress Conference, he said: "One of the reasons so many people hate politics so much right now is that they think politicians stand up for the wrong people, not the right people. This is a clear example of that – Jeremy Hunt was standing up for Rupert Murdoch, not for the public interest. Out of touch with the many. Too close to the few. Jeremy Hunt should go."
Register for free to continue reading
Registration is a free and easy way to support our truly independent journalism
By registering, you will also enjoy limited access to Premium articles, exclusive newsletters, commenting, and virtual events with our leading journalists
Already have an account? sign in
Join our new commenting forum
Join thought-provoking conversations, follow other Independent readers and see their replies