Iran crisis: Boris Johnson gives strongest backing yet to Trump over US killing of Soleimani
Jeremy Corbyn says assassination of Qassem Soleimani appears to be illegal under international law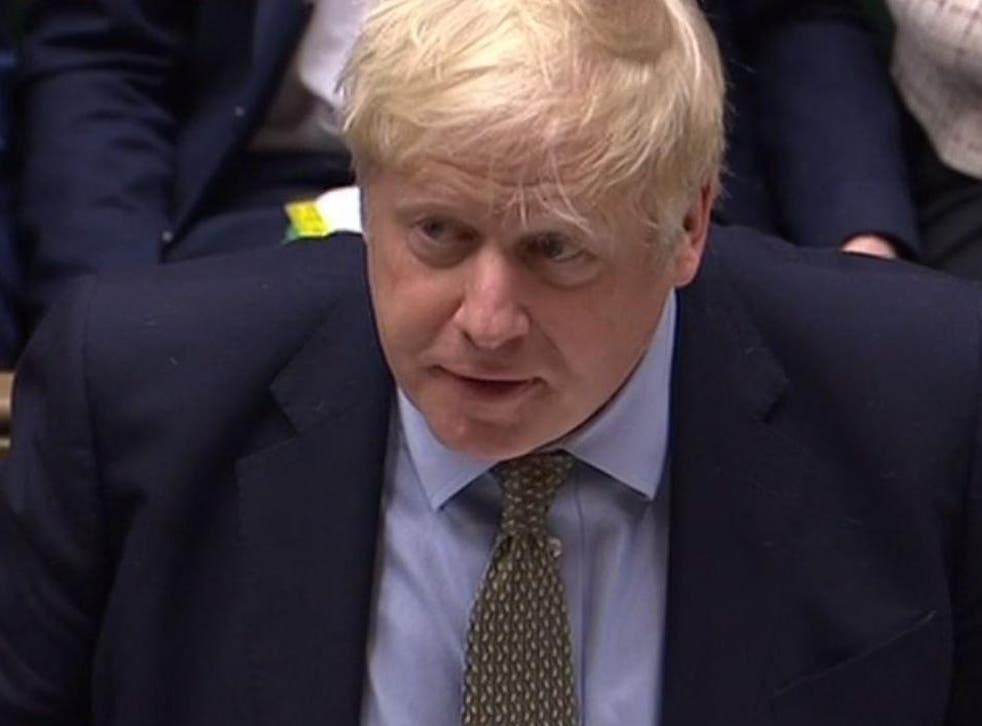 Boris Johnson has given the strongest British backing yet for the US killing of Iranian general Qassem Soleimani, telling the House of Commons that "most reasonable people would accept that the United States has the right to protect its bases and its personnel".
In his first public appearance since the targeted killing threw the Middle East into crisis on 3 January, Mr Johnson said the leader of the feared Quds Force "had the blood of British troops on his hands".
But Labour leader Jeremy Corbyn said the attack on Soleimani – which he branded an "assassination" – was almost certainly illegal.
He accused Mr Johnson of prioritising a trade deal with the US over standing up to president Donald Trump.
The bitter clash came at the first session of Prime Minister's Questions since the election, just hours after Iran fired 22 missiles at US targets in Iraq in retaliation for Soleimani's death.
Qassem Soleimani: Mourners fill Iran streets for funeral

Show all 24
Mr Johnson condemned the Iranian strike, telling MPs: "Iran should not repeat these reckless and dangerous attacks but must instead pursue urgent de-escalation."
The prime minister assured the Commons: "As far as we can tell, there were no casualties last night sustained by the US and no British personnel were injured in the attacks.
"We are doing everything we can to protect UK interests in the region, with HMS Defender and HMS Montrose operating in an enhanced state of readiness to protect shipping in the Gulf."
Mr Corbyn told the Commons that the drone strike on Soleimani had created "real risk of going into a full-scale war" and demanded to know what evidence the UK government had seen to support Washington's claims that it was taking action to avert an imminent attack on its interests.
"If we stand by international law – as I am sure the government does and would want to – then surely killing somebody in a foreign territory is an illegal act and should be condemned as such," said the Labour leader.
Mr Johnson responded: "Clearly the strict issue of legality is not for the UK to determine since it was not our operation.
"But I think most reasonable people would accept that the United States has the right to protect its bases and its personnel."
The prime minister said he was "surprised" that Mr Corbyn had not condemned the "baleful" role played in the region by Soleimani who as commander of the Iranian Revolutionary Guards' Quds Force over many years had supplied missiles used against innocent civilians by Houthi rebels in Yemen, propped up the Assad regime in Syria and produced roadside bombs that killed and maimed UK troops in Iraq.
But Mr Corbyn said: "US actions have undoubtedly escalated the risk of a serious conflict putting civilians, UK troops and nationals at risk and leaving the Iran nuclear deal in danger of being dead in the water.
"This government's response is not putting this country's interests first, but seems more interested in prioritising the prime minister's relationship with President Trump over the security of the region and this country.
"Isn't the truth that this prime minister is unable to stand up to President Trump because he has hitched his wagon to a trade deal with the United States and that prioritises everything else that he ought to be considering?"
Mr Johnson replied: "This is absolute fiction. But what I will say is that the UK will continue to work for de-escalation in the region.
"But he should be in absolutely no doubt, and this is of course a leader of the Opposition who famously received £10,000 from the Iranian Press TV, he should be in absolutely no doubt that we are determined to guarantee with everything that we can the safety and the security of the people of Iraq – whereas he, of course, would disband Nato."
A senior Labour spokesperson later said the £10,000 figure was "incorrect", and that Mr Corbyn had stopped appearing on Press TV "when he believed that he was no longer able to speak entirely freely about whatever he wanted".
The spokesperson also said that it was "hard to see" how Soleimani's assassination could be justified as a legal action.
"Since the assassination of senior officials, generals or ministers of internationally recognised governments is, on the face of it, entirely illegal in international law, that defence – the defence of an imminent threat – has to be made public for there to be any question of there being legality around it," the spokesperson told a Westminster briefing.
"No such evidence has been forthcoming and, on the face of it, it's hard to see how that would be the case. But, of course, if that was produced by the US government then that would have to be taken seriously."
Register for free to continue reading
Registration is a free and easy way to support our truly independent journalism
By registering, you will also enjoy limited access to Premium articles, exclusive newsletters, commenting, and virtual events with our leading journalists
Already have an account? sign in
Register for free to continue reading
Registration is a free and easy way to support our truly independent journalism
By registering, you will also enjoy limited access to Premium articles, exclusive newsletters, commenting, and virtual events with our leading journalists
Already have an account? sign in
Join our new commenting forum
Join thought-provoking conversations, follow other Independent readers and see their replies