Theresa May tells Benjamin Netanyahu of UK concern at shooting of protestors in Gaza
Meeting comes after deaths of 100 Palestinians
Benjamin Kentish
Political Correspondent
,
David Hughes
Wednesday 06 June 2018 18:45 Comments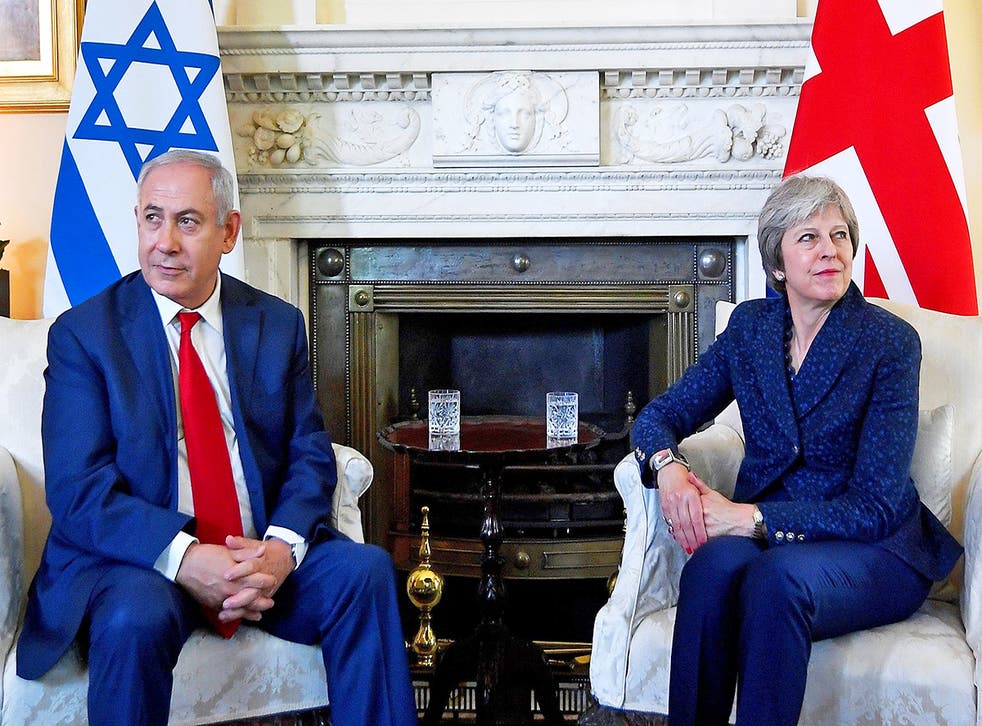 Theresa May has told the Israeli prime minister of the UK's concern at the shooting of Palestinian protestors in Gaza.
The prime minister used a Downing Street meeting with Benjamin Netanyahu to ask the him to try to resolve the situation following a series of violent clashes.
Mr Netanyahu said the violence was a result of protests by militant group Hamas and that Israel was doing its best to minimise casualties.
The pair also disagreed on the matter of the Iran nuclear deal, which the UK supports but Israel opposes.
Rival groups of protesters gathered outside Downing Street waving Palestinian and Israeli flags ahead of Mr Netanyahu's arrival.
Ms May told him the UK was "concerned about the loss of Palestinian lives" in the recent Gaza protests.
She said the UK "absolutely recognises" the right that Israel has for self-defence against the activities of "extremists and terrorists".
"But with 100 Palestinian lives lost and a deteriorating situation in Gaza I hope we can talk about how we can alleviate that situation and how we can ensure that we can get back to a position where we are able to find a way through to talk about a two-state solution."
Mr Netanyahu insisted protesters were being "paid for and pushed by Hamas" to try to break through the border and kill Israelis.
"This is not a non-violent protest, quite the contrary," he said.
"We are doing everything we can to both minimise casualties and at the same time protect Israeli lives."
Gazans protest as US embassy moves to Jerusalem – in pictures

Show all 37
Mr Netanyahu has lobbied for European leaders to follow Mr Trump's example and pull out of the Iran deal.
But Ms May said: "Along with France and Germany the UK continues to believe that is the best route to preventing Iran from getting a nuclear weapon.
"We will remain committed to it as long as Iran meets its obligations.
"But we do recognise that there are other issues that need to be addressed in relation to Iran – its destabilising regional activity in countries like Syria and Yemen and also the the proliferation of ballistic missiles."
Mr Netanyahu told Ms May he was focused on making sure Iran did not get a nuclear weapon and "how to roll back Iran's aggression in the region".
"I think we can find ways to work together to achieve both goals," he said.
Additional reporting by PA
Register for free to continue reading
Registration is a free and easy way to support our truly independent journalism
By registering, you will also enjoy limited access to Premium articles, exclusive newsletters, commenting, and virtual events with our leading journalists
Already have an account? sign in
Register for free to continue reading
Registration is a free and easy way to support our truly independent journalism
By registering, you will also enjoy limited access to Premium articles, exclusive newsletters, commenting, and virtual events with our leading journalists
Already have an account? sign in
Join our new commenting forum
Join thought-provoking conversations, follow other Independent readers and see their replies