Israel-Gaza conflict: Lib Dems turn on David Cameron over Government's stance on Gaza
Clegg, Cable and Ashdown lead mounting revolt as pressure grows for a total ban on British arms sales to Israel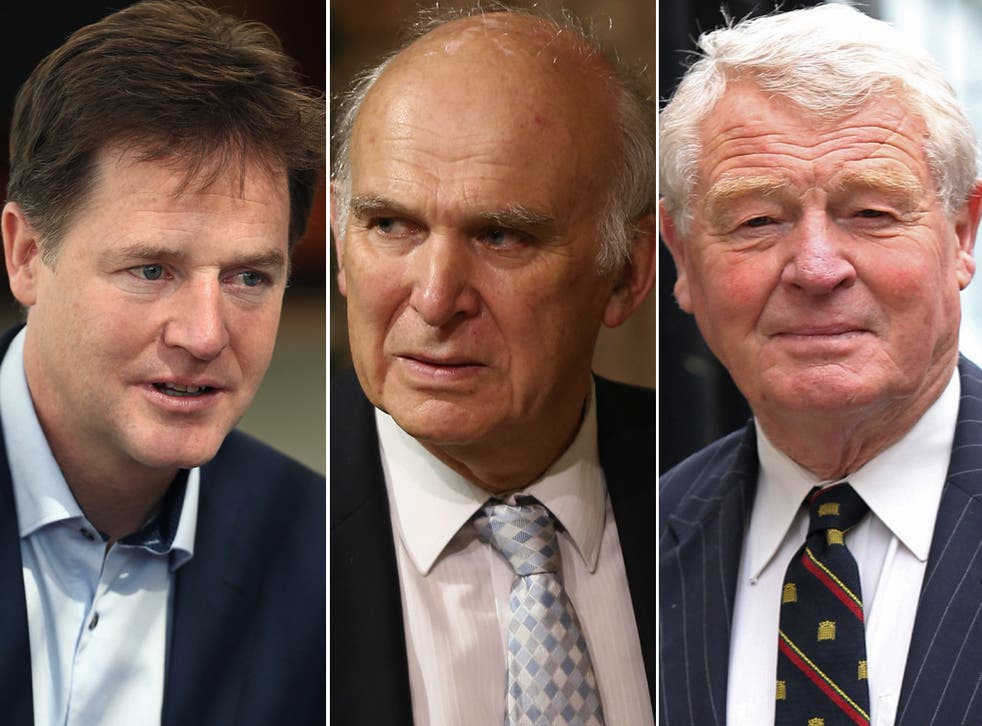 Senior Liberal Democrats have rounded on the Government's failure to confront Israel, as a Coalition rift over Gaza left David Cameron looking increasingly isolated.
The Prime Minister and Philip Hammond, the Foreign Secretary, are under pressure to announce a total ban on arms sales to Israel following the deaths of more than 1,800 Palestinians. Nick Clegg told The Independent that the Tories' failure to condemn Israeli action more forcefully could jeopardise Britain's influence in the region.
The Government has been rocked by Baroness Warsi's resignation in protest over her fellow Tories' "morally indefensible" stance on Gaza.
She has received heavyweight backing from a series of influential Liberal Democrat figures including Sir Menzies Campbell, Lord Ashdown and foreign affairs spokeswoman Baroness Falkner, as well as the former Conservative Cabinet minister Andrew Mitchell.
Tonight Channel 4 News claimed a second Tory frontbencher, Foreign Office minister Huge Swire, had also discussed quitting over the issue – although he denied planning to resign.
Mr Clegg said: "While Israel has every right to defend itself against the reprehensible use of rockets by Hamas to terrorise Israeli civilians, it is also in the long-term interests of Israel to replace sporadic military incursions into Gaza with a negotiated breakthrough between Israel and the Palestinian leadership.
"I have always believed the real act of political leadership is not the expression of military superiority, but the courage to reach out to sworn enemies in the name of lasting peace. Throughout this Coalition Government, the Conservatives have adopted a less forthright approach to the Middle East conflict, in a way which I believe risks decreasing British influence in the region."
Vince Cable, the Liberal Democrat Business Secretary, who is responsible for administering arms exports licences, has called for them to be suspended to Israel after The Independent published evidence last weekend that weapons containing UK-made components are being used in the bombardment of Gaza.
But he has run into resistance from Downing Street and the Foreign Office. Mr Cable said: "We... have not yet been able to get agreement for this position. I hope and expect that to change shortly."
A Liberal Democrat source said: "It is frustrating. The ball is in their court.
"They have got to get their act together or be on the wrong side of public opinion."
Mr Mitchell, the former International Development Secretary, told the BBC: "I would have thought there is a strong case for trying to ensure that weapons getting into this conflict are minimised as much as possible. I think it's right an embargo should be considered."
Former Liberal Democrat leader Sir Menzies Campbell said Lady Warsi's resignation reflected the "unease and anxiety in parliament and in the country about the UK Government's present position".
He added: "She is right to say the United Kingdom must stand firm and uphold the rule of law and international justice. Liberal Democrats strongly support this view and that's why Nick Clegg and I have not shied away from criticising Israel's apparent disproportionate actions which result in the collective suffering of Palestinians in Gaza."
In a letter to Lady Warsi, another former leader, Lord Ashdown, said: "Like you, I believe the UK must stand firm on upholding international law. The UK's international reputation suffers if we do not."
Julian Huppert, the Liberal Democrat MP for Cambridge, said he had written to Mr Cameron and Mr Hammond urging them to "take a much tougher stance and to come out clearly condemning the Israeli Defence Force". He said: "Rhetoric about Israel's 'right to defend itself', which only masks the real horror being inflicted on Palestinian people, needs to end."
Baroness Falkner, a Liberal Democrat foreign affairs spokeswoman, said she "despaired" of Mr Cameron's position on Gaza. "I'm appalled by the fact that the Conservative Party has not been able to see the disproportionality of their response to the situation in Israel and Palestine," she said. "One really wonders where the Conservative Party is headed. I do despair of where the party is going in their inability to recognise the rights of Palestinians."
In pictures: Israel-Gaza conflict

Show all 124
The Liberal Democrat peer Baroness Hussein-Ece accused the Government of being "incredibly weak" on Gaza and said she fully supported Lady Warsi's stance. She said: "This is a humanitarian issue. It's been going on for almost a month now. The vast majority of the British public can see that and it seems extraordinary that the Prime Minister can't see what all of us can see."
On Saturday The Independent revealed that arms export licences worth £42m have been granted to 130 British defence manufacturers since 2010 to sell military equipment to Israel. These range from weapon-control and targeting systems to drones and armoured vehicles.
A Number 10 spokesman said: "A cross-Government review of export licences to Israel is under way following the sustained barrage of rocket attacks from Gaza into Israel which prompted Israel to launch Operation Protective Edge. Since then no new licences have been issued for use by the Israeli military.
"Suspending export licences is not a decision we take lightly and it is right that we examine the facts fully. This is the approach being taken by the vast majority of countries."
In their own words: Liberal Democrat reaction
"With the reshuffle and William Hague leaving the Foreign Office, there was a noticeable rebalance to be less critical of Israel."
Simon Hughes; Justice minister
"I believe the UK must stand firm on upholding international law. The UK's international reputation suffers if we do not."
Lord Ashdown; Former Lib Dem party leader
"Baroness Warsi's resignation reflects the unease and anxiety in parliament and in the country about the UK Government's present position."
Sir Menzies Campbell former Lib Dem party leader
"One really wonders where the Conservative Party is headed… I do despair of where the party is going in their inability to recognise the rights of Palestinians."
Baroness Falkner; Foreign affairs spokeswoman
"I have thought for some time that the tendency of the United States – and of our own Government when we simply follow that – is to become partisan to one side of the community in the Middle East and to find it very difficult to really help our Israeli government colleagues understand when they go what is acceptable."
Baron Alderdice; Liberal Democrat peer
Register for free to continue reading
Registration is a free and easy way to support our truly independent journalism
By registering, you will also enjoy limited access to Premium articles, exclusive newsletters, commenting, and virtual events with our leading journalists
Already have an account? sign in
Register for free to continue reading
Registration is a free and easy way to support our truly independent journalism
By registering, you will also enjoy limited access to Premium articles, exclusive newsletters, commenting, and virtual events with our leading journalists
Already have an account? sign in