MPs urged to pass domestic and sexual violence legislation hailed as 'gold standard'
Exclusive: UN Women's Goodwill Ambassador Emma Watson has signed an open letter published in The Independent calling on the British Government to ratify the Istanbul Convention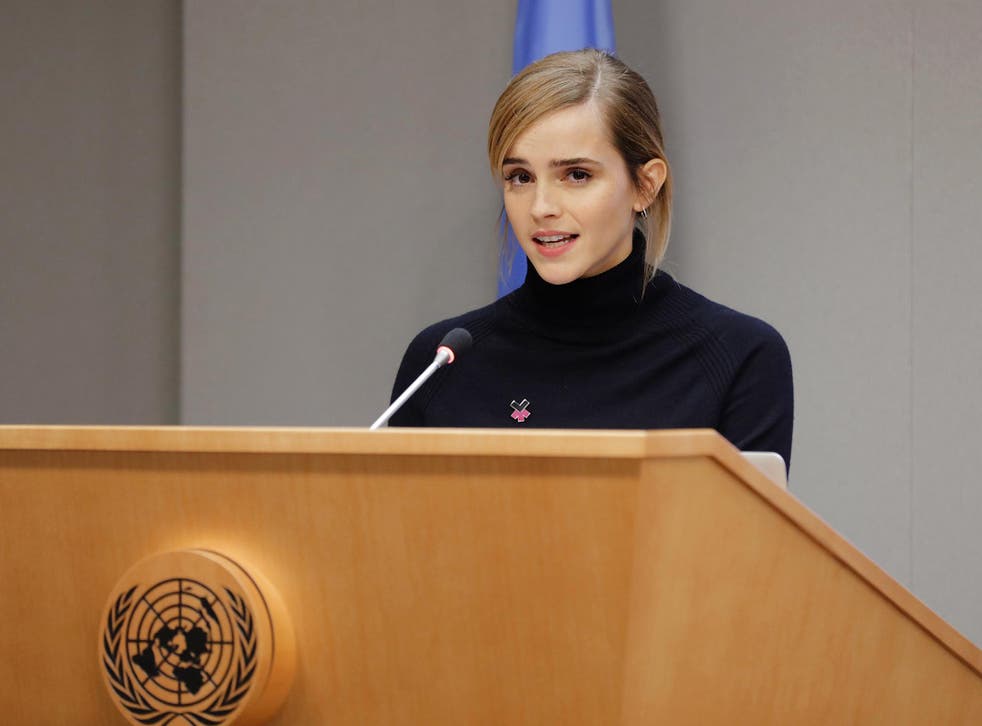 The UK Government has been urged to "take violence against women seriously" after failing to ratify a major international treaty on domestic violence four years after it pledged to do so.
In an open letter published by The Independent, UN Women's Goodwill Ambassador Emma Watson, campaigners, human rights lawyers and senior political figures including Labour leader Jeremy Corbyn and Liberal Democrat leader Tim Farron have called on Theresa May to take the opportunity to "recognise that women's rights are human rights" by ratifying the Istanbul Convention.
The letter is being published in advance of a major vote tomorrow in Parliament when MPs will have the opportunity to back a private members bill to enshrine a leading international treaty on domestic violence in British law. The bill is at its second reading, meaning MPs will vote on whether it should pass on to the next step of being considered by a committee.
It is likely to pass in the parliamentary vote tomorrow, as Labour, the SNP, the Green Party and the Lib Dems all support it. However, for it to pass into law it would need the support of the Conservative Party as the largest party.
The call to ratify the convention comes after a four-year period has elapsed in which the Government has failed to ratify domestic violence provisions, despite pledging to do so in 2012.
Human rights lawyer Lisa Gormley has said the convention will act as a "catalyst for real change" that will force the UK Government to take comprehensive action to improve the lives of those who are victims of rape, stalking and harassment.
The Istanbul convention has been described as the "gold standard" of legislation on gender-based violence and addresses FGM, domestic violence, sexual abuse and child marriage.
Countries that incorporate the treaty commit to ensuring survivors of domestic violence can have access to specialist support services and refuges, monitoring data about gender-based violence and having age appropriate education at schools about domestic abuse.
Although many forms of domestic and sexual abuse are already illegal in the UK, some of the legislation commits to general principles of victims' "welfare and wellbeing" which can be subject to interpretation by different courts and local councils, resulting in varying access to welfare and other provisions.
The convention has already been signed by 22 countries including Italy, France, the Netherlands, Sweden, Finland and Spain.
Emma Watson's new short film highlights hurdles in fight for women's equality
The Government agreed to sign the convention in 2012 but the refusal to commit further through full ratification has incensed campaigners.
The Government has defended the delay saying in 2015 that it remains committed: "We have already cemented our standing as a world leader in this important area, hosting major international summits to tackle female genital mutilation and forced marriage. We already comply with the vast majority of the Convention's articles."
However, some critics cited concerns the delay was due to a further implication that some aspects of austerity and local government cuts could become illegal under the convention – the bedroom tax, for example, could impact on properties specially adapted for domestic violence victims with panic rooms and alarms.
Dubravka Šimonović, the UN's special rapporteur on violence against women, is a leading ambassadorial voice on gender-based violence internationally. She has also signed the letter calling for ratification, telling The Independent: "If the Government is committed to preventing and eliminating violence against women and girls it should ratify this convention now and start working on its incorporation and implementation. The Istanbul Convention will provide a new impetus at the political, legal and social level to focus on combatting and preventing violence against women and to incorporate additional provisions of services that are usually inadequate, such as helplines and shelters."
UK news in pictures

Show all 50
Human rights lawyers backed the calls. Lisa Gormley, from the Centre for Women, Peace and Security at the London School of Economics, told The Independent: "The Istanbul Convention is a catalyst for real change - using best practice know-how. It is different from previous domestic violence laws because it is a comprehensive integrated plan across all forms of violence against women. This is important because some forms of violence affect the same women and girls in multiple ways – there needs to be a comprehensive approach."
Actress Emma Watson, the UN Women's Goodwill Ambassador, is also among signatories to the letter. An ambassador for the human rights body since 2014, she has campaigned for women and girls rights both in the UK and internationally.
SNP MP Dr Eilidh Whiteford, who is introducing the private members bill on which MPs will vote tomorrow, says it is imperative the convention is ratified because it will provide the legal apparatus to hold governments accountable for their progress.
"It is important that the Istanbul Convention is ratified because it is the most comprehensive framework that exists anywhere to tackle violence against women in its many forms and manifestations.
"Here in the UK some good progress has been made to address serious issues like forced marriage, stalking and so-called revenge porn, but thanks to the Government's austerity agenda – vital local services such as women's refuges and rape crisis helplines are at risk. Ratifying the Istanbul Convention will secure in law women's right to access these services. Tomorrow we have a real opportunity to make a difference to the lives of women here and abroad."
Gender-based violence can include female genital mutilation, forced marriage, as well as domestic or sexual abuse. It can involve physical, emotional or sexual violence or harm. It primarily affects women and girls but can also affect men, boys and non-binary people. On average, two women are killed by their current or former partner in England and Wales every week.
It is estimated that 7.7 per cent of all women and 4.4 per cent of all men suffer from domestic violence at some point in their lives.
A Government spokesperson told The Independent: "We remain committed to ratifying the Istanbul Convention as part of our strong commitment to tackling violence against women and girls. In most respects measures already in place to protect women and girls from violence comply with, or go further, than the Convention requires."
Full text: Letter to the British Government on the eve of the Private Member's Bill on the Istanbul Convention
"We are faced with a unique opportunity to #ChangeHerstory and help end gender-based violence in the UK.
The Istanbul Convention is a historic international treaty which makes governments legally bound to prevent gender-based violence. It recognises that women's rights are human rights and commits governments to take violence against women seriously.
The UK Government signed the Convention in 2012, yet in the four years since it has failed to ratify it. Until it is ratified, the convention remains just a piece of paper and fails to protect women and girls.
Every hour of every day, the police receive over 100 calls about domestic abuse. On average, two women are killed by their current or former partner every week in England and Wales. Women and girls in the UK need their Government to take this issue seriously and act now.
Ratifying the convention would mean:
- Survivors of domestic violence are entitled to specialist services and support such as refuges and shelters
- Survivors of abuse are entitled to psychological support
- 24 hour helplines are available for all forms of violence against women
- Robust data monitoring gender-based violence is collected
- Education is given in schools on issues such as gender equality and violence against women and girls
Gender-based violence can take many forms including FGM, so-called Honour Based Violence, child marriage, domestic abuse and sexual abuse, which are recognised by the Istanbul Convention. It primarily affects women but can also affect men and non-binary people.
On Friday 16 December, the Government has a unique opportunity to show its commitment to preventing gender-based violence. MPs can lend their power to ratification of the Istanbul Convention by supporting the second reading of the Preventing and Combating Violence Against Women and Domestic Violence Bill as it goes before parliament.
This Bill has cross-party support, and is backed by organisations across the women's sector, including Rape Crisis, Women's Aid, Scottish Women's Aid, Welsh Women's Aid, Women's Aid Federation Northern Ireland, Southall Black Sisters, FORWARD and Everyday Sexism.
We ask MPs to take this opportunity to show their commitment to a world without gender-based violence and to vote to ratify the Istanbul Convention.
Yours sincerely,
Emma Watson, UN Women Global Goodwill Ambassador
Dubravka Šimonović, UN Special Rapporteur on Violence Against Women
Jeremy Corbyn MP, Leader of the Labour Party
Tim Farron MP, Leader of the Liberal Democrats
Caroline Lucas MP, Leader of the Green Party
Nick Clegg MP, former Deputy Prime Minister
Lisa Gormley, Centre for Women, Peace and Security, London School of Economics
Dr Keina Yoshida, barrister Doughty Street Chambers and Advisory Board Member, Centre for Women, Peace and Security, London School of Economics
Dr Susan Atkins, Advisory Board, Centre for Women, Peace and Security, London School of Economics
Laura Bates, Everyday Sexism Project
Polly Neate, CEO, Women's Aid Federation of England
Marsha Scott, Scottish Women's Aid
Jan Melia, Women's Aid Federation Northern Ireland
Jane Connors, Director International Advocacy Programme, Amnesty International
Kate Allen, Director, Amnesty International UK
Alison Gordon, Executive Director, Sisters For Change
Nimco Ali, Daughters of Eve
Peter Grant, Co-director, Restored
Lucy-Ann Holmes, No More Page Three
Laura Bates, Everyday Sexism Project
Sarah Green, Co-director, End Violence Against Women Coalition
Pragna Patel, Director, Southall Black Sisters
Harriet Wistrich, Founder, Centre for Women's Justice
Jane Gordon, Founder, Sisters for Change
Andrea Coomber, Director of Justice
Professor Clare McGlynn, Durham Law School
Professor Anna Lawson, Director, Leeds University Centre for Disability Studies
Becca Bunce, IC Change
Rachel Nye, IC Change
Robyn Boosey, IC Change
Baroness Mary Goudie
Jess Phillips MP
Tim Brake MP
Alistair Carmichael MP
Norman Lamb MP
Greg Mulholland MP
John Pugh MP
Mark Williams MP
Sarah Olney, incoming MP
Dr Eilidh Whiteford MP
Angus Robertson MP, Leader of the SNP Westminster Group
Gavin Newlands MP
Mhairi Black MP
Angela Crawley MP
Tasmina Ahmed-Sheikh MP
Kirsten Oswald MP
Chris Law MP
Martyn Day MP
Drew Hendry MP
George Kerevan MP
Hannah Bardell MP
Alan Brown MP
Margaret Ferrier MP
Patrick Grady MP
John McNally MP
Owen Thompson MP
Carol Monaghan MP
Mike Weir MP
Callum McCaig MP
Tommy Sheppard MP
Stephen Gethins MP
Peter Grant MP
Patricia Gibson MP
Steven Paterson MP
John Nicolson MP
Pete Wishart MP
Deirdre Brock MP
Kirsty Blackman MP
Neil Gray MP
Ian Blackford MP
Marion Fellows MP
Anne McLaughlin MP
Philippa Whitford MP
Richard Arkless MP
Stuart McDonald MP
Stewart McDonald MP
Alison Thewliss MP
Lisa Cameron MP
Calum Kerr MP
Sophie Walker, leader of the Women's Equality Party
Register for free to continue reading
Registration is a free and easy way to support our truly independent journalism
By registering, you will also enjoy limited access to Premium articles, exclusive newsletters, commenting, and virtual events with our leading journalists
Already have an account? sign in
Register for free to continue reading
Registration is a free and easy way to support our truly independent journalism
By registering, you will also enjoy limited access to Premium articles, exclusive newsletters, commenting, and virtual events with our leading journalists
Already have an account? sign in
Join our new commenting forum
Join thought-provoking conversations, follow other Independent readers and see their replies