'It's war': Nigel Farage flatly rejects call from senior Tory for Ukip and Conservative EU pact at the general election
Farage dismissed Conservative party vice-chairman's suggestion that Ukip should not contest the election in return for a referendum on Britain's membership of the European Union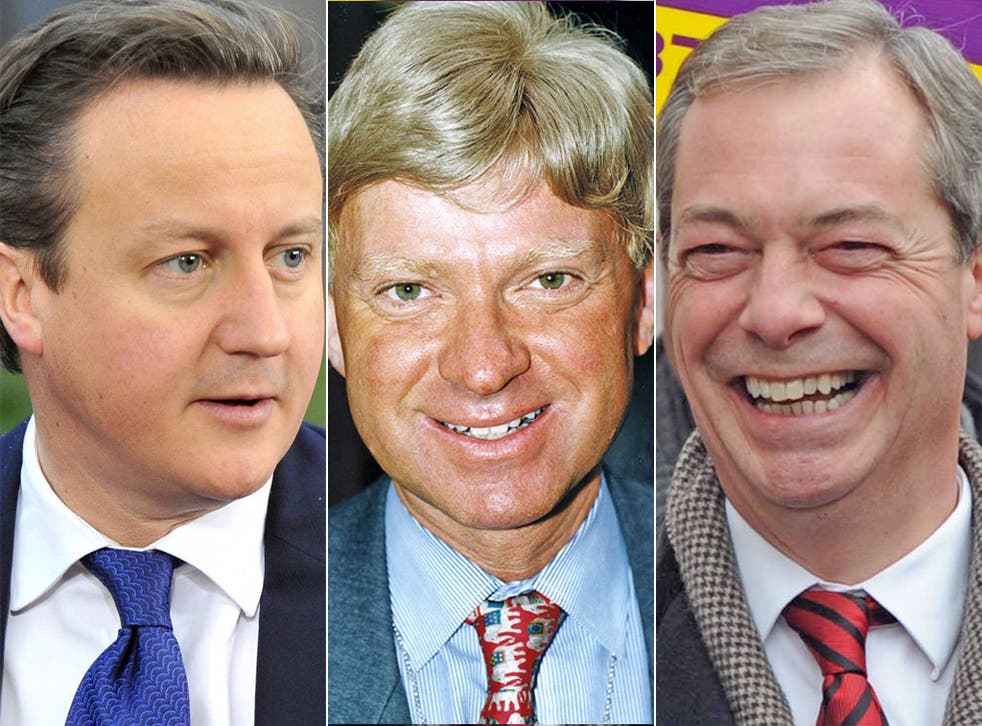 Nigel Farage, the leader of the UK Independence Party, today flatly rejected a call from a senior Conservative for an electoral pact with the Tories at the general election.
He dismissed the suggestion from Michael Fabricant, a Tory party vice-chairman, that Ukip should not contest the election – in return for a firm promise from David Cameron for a referendum on Britain's membership of the European Union.
The dramatic proposal – in a discussion paper by Mr Fabricant for the Prime Minister – was disclosed by The Independent today. The Tory vice-chairman even floated the idea of the Ukip leader being offered a post in a Conservative administration.
In his paper, Mr Fabricant wrote: "It is time to consider actively whether a rapprochement might be possible before the 2015 general election."
But in a blunt response, Mr Farage tweeted: "No pact with Tories: it's war."
He added: "Fabricant deal seems to be based on buying me off. UKIP is bigger than that".
He went on: "I'm in politics because of my beliefs not because I'm a career politician like so many these days."
Downing Street also reacted coolly to Mr Fabricant's idea. A source said: "He does not speak for the party on electoral strategy. We will be standing in every seat. There is no thinking about a pact."
Mr Fabricant told The Independent yesterday: "This pact could yield an additional 20 to 40 seats, perhaps more, in 2015 if Ukip cooperates. The alternative, which both David Cameron and Ukip will have to consider, might mean a more pro-European Union Labour Government."
Mr Fabricant also argued that the dramatic move would enable the Conservative party to heal the wounds over Europe that have bedevilled it since the 1980s.
His intervention carried extra weight as Mr Fabricant played a key role in the Tory by-election campaign this month in Corby, where Ukip came a strong third with more than 5,000 votes.
The party is also expected to poll strongly in this week's by-election in Rotherham after a blaze of publicity over its local council's decision to remove three children from foster parents because they were Ukip members.
Since stepping down as a government whip two months ago, Mr Fabricant has been responsible on behalf of Conservative headquarters for strategy for fighting by-elections and marginal seats at the next election.
His candid comments will dismay party chiefs who publicly attempt to play down the significance of the steady surge in support for Ukip, much of which comes from disillusioned former Tory voters.
The Prime Minister once claimed that Ukip members were mainly "fruitcakes, loonies and closet racists", but Mr Fabricant argued the two parties are now in tune with each other – and the voters – on the issue of Europe.
He says the Conservatives are now "constructively Eurosceptic" and points out that Mr Cameron enjoyed a surge in public popularity when he adopted a tough stance in negotiations last year in Brussels.
He added that the Ukip leader, Nigel Farage, is a "former Thatcherite who sounds like a Conservative, who looks like a Conservative and in other circumstances probably would be a Conservative".
Mr Fabricant even suggested the Ukip leader should even be given a job in a future Tory administration. He said: "If some sort of deal could be brokered, I think we would be mad not to use the undoubted talents of Nigel Farage in government."
Under his proposal, Mr Cameron would announce an in-out referendum on membership of the EU which would be binding if more than 50 per cent of voters took part – a threshold Mr Fabricant argues would be comfortably cleared given the potential interest in the issue.
"Such an offer would not be a sign of weakness by the Conservative party. It would be a pragmatic extension of existing philosophy from a party of Government. Moreover, this could mark the final rapprochement between warring brothers."
Mr Farage recently said he would not contemplate a pact with the Tories unless it was given an absolute promise "written in blood" to stage a "proper referendum" on Europe.
The size of the Ukip vote was bigger than the Labour or Liberal Democrat majority over the Tories in some 20 parliamentary seats at the last election. Although not all of its support would have been picked up from previous Tory voters, Mr Fabricant admits: "Ukip's threat lies in their being a major contributory factor in denying the Conservatives a win in marginal seats."
He said: "The polls demonstrate it is the Conservative party which takes the biggest hit by a Ukip surge rather than the Lib Dems of the Labour Party."
Mr Fabricant says the party had picked up an "anti-politics vote" as it became "more and more effective at its messaging, employing simple, effective explanations of their policies" and "tapping into frustration with career politicians".
Register for free to continue reading
Registration is a free and easy way to support our truly independent journalism
By registering, you will also enjoy limited access to Premium articles, exclusive newsletters, commenting, and virtual events with our leading journalists
Already have an account? sign in
Register for free to continue reading
Registration is a free and easy way to support our truly independent journalism
By registering, you will also enjoy limited access to Premium articles, exclusive newsletters, commenting, and virtual events with our leading journalists
Already have an account? sign in
Join our new commenting forum
Join thought-provoking conversations, follow other Independent readers and see their replies