Jacob Rees-Mogg attacks Theresa May and Philip Hammond as leadership speculation mounts
The Conservative backbencher said Ms May does not look like she is having 'fun' and ran a 'gloomy' election campaign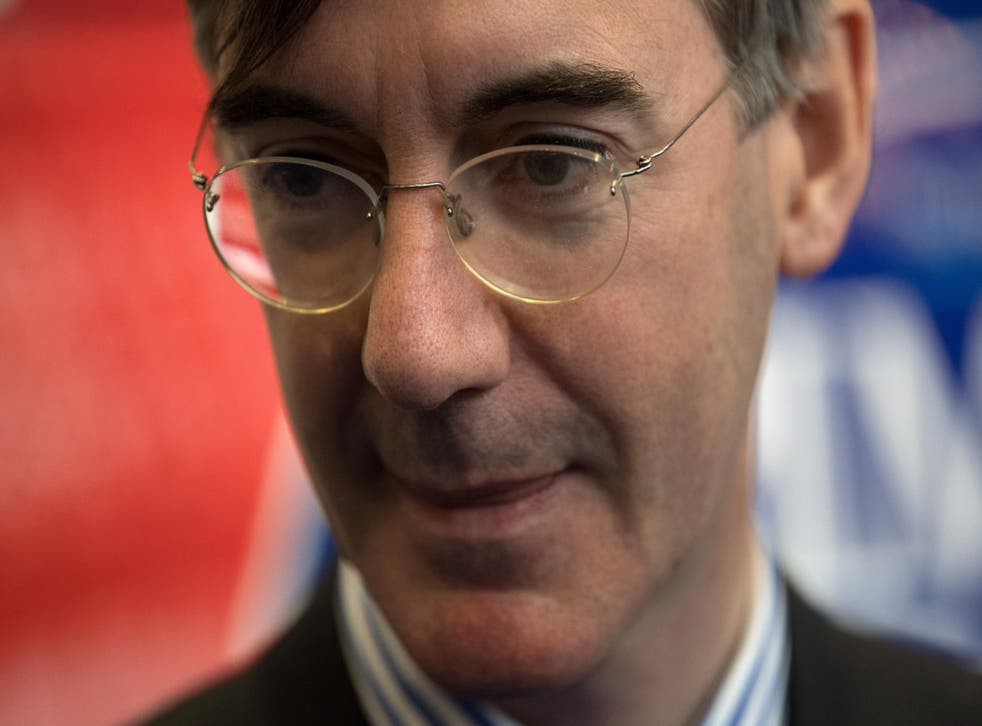 Conservative MP Jacob Rees-Mogg has sharply criticised Theresa May and Phillip Hammond, stoking speculation he is positioning himself as a leadership contender.
Mr Rees Mogg said the Prime Minister does not look like she is having "fun" in Downing Street and attacked her "gloomy" 2017 election campaign.
The Brexiteer also indicated Chancellor Mr Hammond should take responsibility for a row over disputed Treasury data that points to the UK being worse off outside the EU regardless of the its future relationship.
Despite Mr Rees Mogg recently being named favourite as next leader in a survey of grassroots Tory members, he said it would be "very difficult" for him as a father of six children to do the top job.
Asked at the Press Association about suggestions he wants to be Prime Minister, Mr Rees Mogg said: "I think 'want' is very much the wrong word.
"If you look at Mrs May, it seems to be quite clear she does it because it's her duty to do it, I don't get the impression that it's a lot of fun for her – it's hard work.
"I've got six children, it would be very, very difficult as a family man, so want is not the right word, I'm very happy as a backbencher and what I do want is Mrs May to stay Prime Minister."
Jacob Rees Mogg says May's Brexit 'red lines looking pink'
But Mr Rees-Mogg criticised her election campaign, which last June left the party without a Commons majority, saying: "We should have a more optimistic vision, what we had to say at the last election was so gloomy.
"It was that we will manage things better than the other side will, but it is going to be really nasty, we're going to make you sell your house if you're elderly and if you're young we're not going to talk to you at all.
"That doesn't work, it was a bad idea."
A Downing Street spokesman said the PM "enjoys her job enormously", but Mr Rees-Mogg called on Conservatives to be more like Jeremy Corbyn who he said had shown "a vision for what he believes in".
The Tory North East Somerset MP has headed the Brexiteer push-back against leaked Treasury papers showing the UK would be worse off outside the EU than in any scenario tested, including if it had a free trade agreement with Europe.
A row around the documents has seen Conservative MPs accuse civil servants of twisting official data to suit an anti-Brexit agenda, with Minister Steve Baker even forced to apologise in the Commons after apparently stoking the accusations.
The biggest issues facing UK on leaving EU

Show all 8
Mr Rees-Mogg, who chairs the influential European Research Group of backbench Tory Leavers, stood by his claims that Treasury officials had been "fiddling the figures", but stressed "the blame must always be with ministers", an apparent veiled swipe at Mr Hammond.
An ally of the Chancellor said: "It's obvious who's fiddling the facts here - and it's not Fiscal Phil. The Chancellor, alongside his Cabinet colleagues, is getting on with the job."
While he has long been talked of as a leftfield leadership contender, people in the party are now taking him seriously.
A senior Tory frontbencher told The Independent that he is the "new Boris", that despite his uncommon appearance and manner, people are taken by his "authenticity" – something which many believe led to Mr Corbyn's unexpected victory in two Labour leadership contests.
Jacob Rees-Mogg claims civil servants are 'fiddling figures' on Brexit
"He is not the joke some people think he is. He is very clever and he has strong beliefs," the minister said.
"Jacob is far more popular than anybody else in my constituency association, and that's including Boris.
"While I don't agree with everything he says, he is saying something and saying it well and clearly and the Conservatives need people to do that."
Mr Rees-Mogg received the highest amount of support – 21 per cent – when 1,300 people were asked by the Conservative Home website about who should lead the party after Ms May.
Michael Gove, who is winning support in his new role as Environment Secretary, came in second place with 16 per cent, followed by Boris Johnson on 14 per cent.
Join our new commenting forum
Join thought-provoking conversations, follow other Independent readers and see their replies