Jeremy Corbyn fuels speculation that Ed Miliband could join Shadow Cabinet
'Ed is not a great loser, Ed is a great asset'
Ashley Cowburn Comments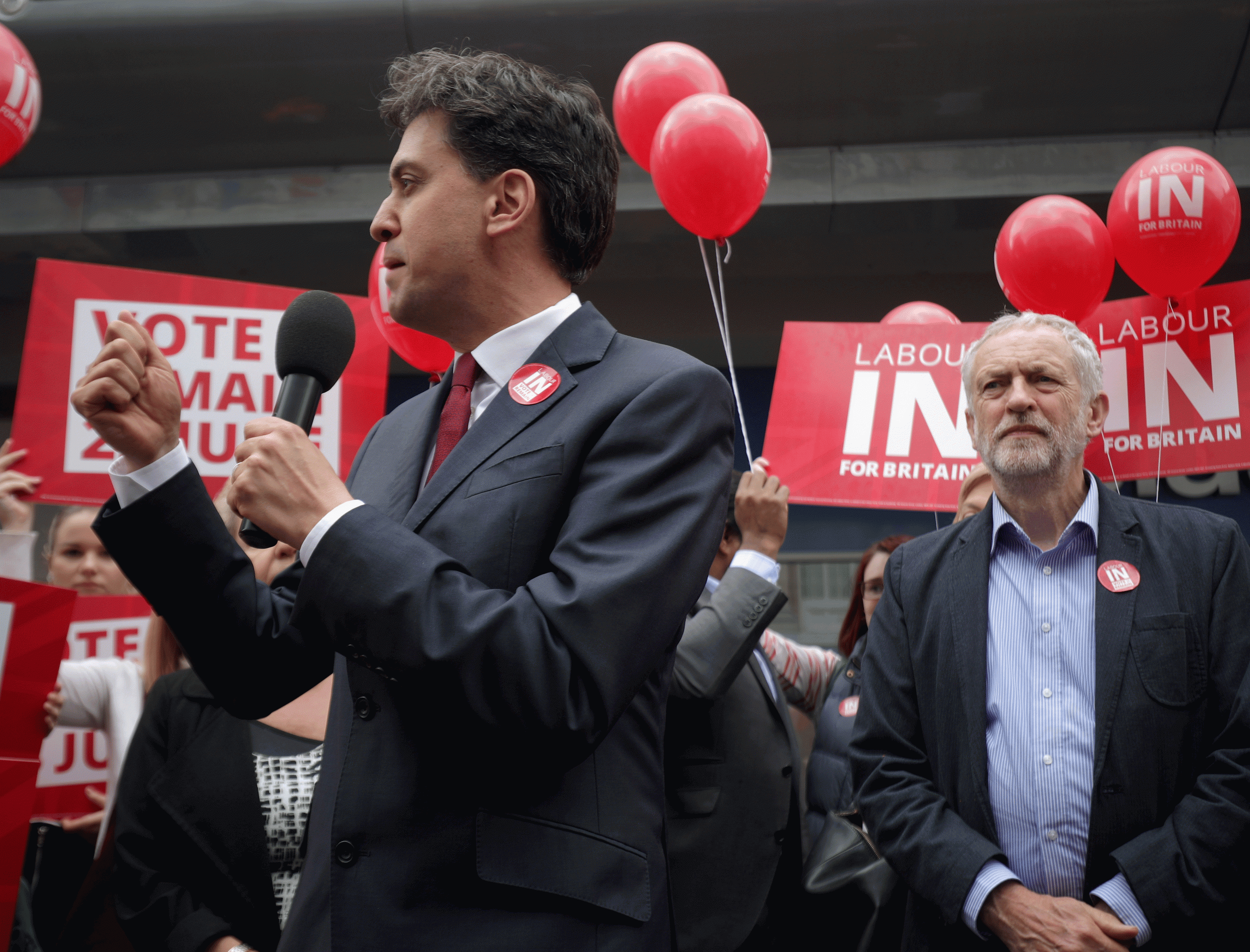 Jeremy Corbyn has added to mounting speculation that he is seeking to persuade his predecessor Ed Miliband to join his Shadow Cabinet.
During an interview on Pienaar's Politics on BBC Radio 5 Live, the Labour leader spoke highly of his "great friend" while on the EU referendum campaign trail. Asked if he wants Mr Miliband back in the Shadow Cabinet, Mr Corbyn refused to rule out the possibility and replied: "That is all for the future."
He added: "He is a great friend, he has worked very hard as Labour leader in the past, he was a great environment secretary and I am delighted to be with him here today in his constituency."
Defending Mr Miliband over the party's election defeat, Mr Corbyn added: "Ed is not a great loser, Ed is a great asset.
"Yes he led the party, yes we did not win the general election – we all know that. But Ed fought a strong campaign – he raised the issue of justice at work over zero hour's contracts and issues like that, and I have a lot of respect and a lot of time for Ed."
In an interview with Buzzfeed News Mr Miliband did not deny suggestions he could return to Labour's frontbench. He said: "I always said I didn't like people speculating on my reshuffles so I'm not going to speculate on someone else's.
"My position is I'm a backbencher, I'm doing my project, Jeremy has to make his own decisions and I think he's got an excellent shadow cabinet."
Former Home Secretary Alan Johnson has also spoken of his support for Mr Miliband and how he hopes he will return to the frontbench. "Ed is hugely talented, I sat with him in the cabinet when he was the environment secretary - he is a young up-and-coming person," Mr Johnson told the Press Association.
"He should be welcomed back on the front bench."
Asked if he thinks Mr Miliband's return to frontline politics will happen, he said: "I think so, I hope so."
On Friday, Mr Miliband and Mr Corbyn joined forces to warn that Britain's membership of the European Union is vital in the fight against climate change. In their first major appearance together since the Labour leader took over the party eight months ago, Mr Miliband and Mr Corbyn shared a platform together at Raventhorpe solar farm to emphasise the central role the pair believe the EU has had in tackling climate change.
Mr Miliband, who was previously Energy and Climate Change Secretary during Gordon Brown's premiership, turned down an offer to rejoin the frontbench shortly after Mr Corbyn's victory in the Labour leadership race. The former Labour leader, according to The Times, is also coaching Mr Corbyn and offering "counsel and advice" on how to handle a hostile media.
Register for free to continue reading
Registration is a free and easy way to support our truly independent journalism
By registering, you will also enjoy limited access to Premium articles, exclusive newsletters, commenting, and virtual events with our leading journalists
Already have an account? sign in
Join our new commenting forum
Join thought-provoking conversations, follow other Independent readers and see their replies