Jeremy Corbyn allies accuse Chris Leslie of deliberately misrepresenting Labour frontrunner's economic policies
A row erupted after Mr Leslie, in an interview in the Independent, warned that 'Corbynomics' would harm the poor and vulnerable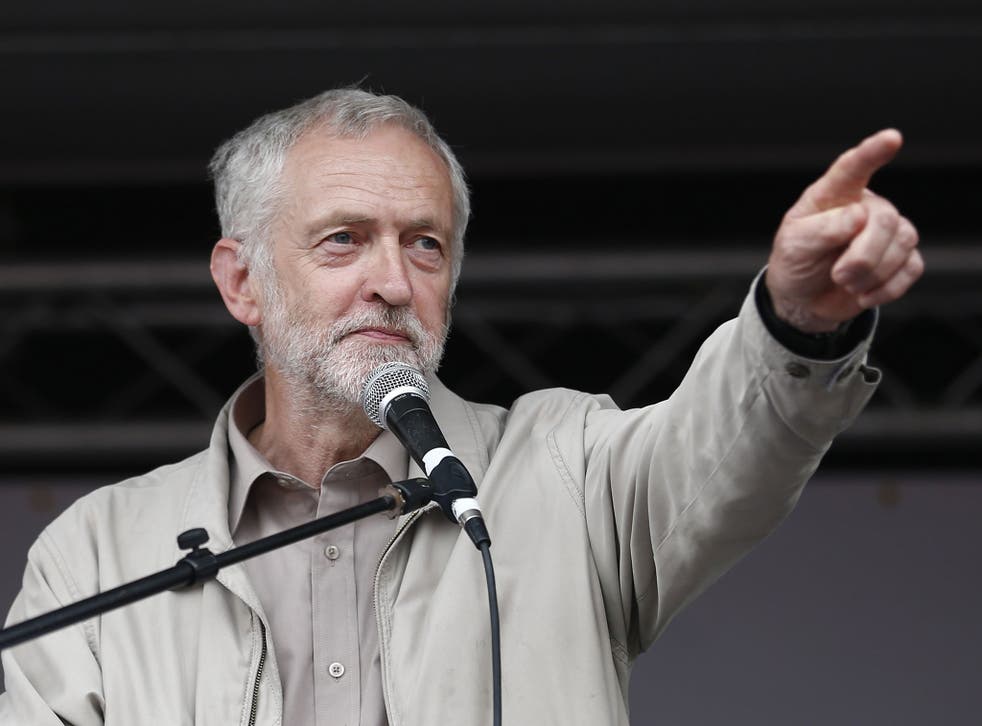 Allies of Jeremy Corbyn accused the shadow Chancellor Chris Leslie of deliberately misrepresenting his economic policies as they moved to the heart of the debate in the Labour leadership contest.
A row erupted after Mr Leslie, in an interview in the Independent, warned that "Corbynomics" would harm the poor and vulnerable and appealed to Labour members to reject what he called a "starry-eyed, hard left" strategy.
Richard Murphy, director of Tax Research UK and architect of some of Mr Corbyn's economic policies, described Mr Leslie's analysis as "absurd", "naïve" and "misrepresenting the truth."
Mr Leslie had argued that "quantitative easing [printing money] for people instead of banks" would result in inflation, higher interest rates and a rise in the cost of living. But Mr Murphy replied that there was "no chance whatsoever" that the proposal would cause inflation. He said the shadow Chancellor was also wrong to claim it would mean ending Bank of England independence.
Mr Murphy, an economist and chartered accountant who advises campaigns for tax justice, said: "Printing money is not inflationary when there is a shortage of money in the economy….when there is too little money we risk getting deflation [falling prices]." Insisting there was "no chance" the plan would push up interest rates, he added: "To suggest that it will prevent spending on hospitals and schools, when that is exactly how it will be used, is either naïve or deliberately disingenuous."
He said: "If I am charitable, it is very clear that Chris Leslie has never bothered to acquaint himself with what people's quantitative easing is about. If I am more candid, I think he is wholly misrepresenting the truth on the issue."
Mr Murphy added: "The real question for Chris Leslie is 'why did you support £375bn for the banks?' when actually very much less would create jobs in every constituency throughout the UK, which is precisely what Jeremy Corbyn is offering by adopting this programme."
Mr Murphy also defended Mr Corbyn's plan to crack down on tax avoidance and evasion, saying: "It would be scandalous for the Labour Party to ignore that chance."
Richard Burgon, MP for Leeds East and a Corbyn supporter, said: "Neoliberal economics has ruled the roost, regardless of which party has been in power, since about 1979. And who really thinks that's worked in the interests of ordinary people? So I think it's strange that anyone who questions the consensus, the economic consensus that has failed ordinary people, is viewed as being slightly not sensible."
Ken Livingstone, the former Mayor of London, said Mr Corbyn had "electrified" the Labour contest and offered the party the best chance of returning to power in 2020. "We will not win in Scotland, or with doubtful Labour voters who switched to Ukip, if we do not have clear values," he said.
Mr Leslie stuck to his guns on August 3, telling BBC Radio 4 that economic credibility "wasn't just about winning elections", but "making sure you can say where the money is coming from for those better public services".
The shadow Chancellor, who is backing Yvette Cooper in the election, said Labour would "not be the party I joined" if Mr Corbyn won the leadership next month, adding that it needed a "credible" alternative prime minister. He confirmed that "on principle" he would not serve in Mr Corbyn's Shadow Cabinet if he became leader, but said he would remain in the party.
John Woodcock, a Labour MP who is backing Liz Kendall, said Mr Corbyn's economic policies would be "catastrophic" and Mr Leslie was right to speak out. "Literally printing money to get through our problems would be a recipe for economic disaster and would be not simply about political economic credibility," said Mr Woodcock. "It is also that these things would not have their intended aim and therefore would actually end up hurting the very people the Labour Party was formed to represent."
Mr Corbyn will stick to his anti-austerity message as he unveils his "Vision for Britain 2020" this week. He will argue that the "sound economics of public investment" can end the "variations of austerity" offered by the main political parties.
Bookmakers said the intense economic debate had dented Mr Corbyn's prospects of winning the leadership. Paddy Power installed Andy Burnham as the favourite in place of the left-wing backbencher. It said: "Some people have refused to take stormin' Corbyn seriously and with doubts over Corbynomics it may not be a surprise to many to see Burnham regain favouritism."
Kenneth Clarke, the Conservative former Cabinet minister, said Mr Corbyn could win a general election. He told the Huffington Post: "Don't underestimate Jeremy Corbyn. He's a nice guy. It's not certain he will lose an election. Michael Foot, who stood on a much more left wing platform in 1983, was miles ahead before the election. If you have another recession or if the Conservative Government becomes very unpopular, he could win. He will be difficult to campaign against."
Bypassing the banks
What is 'People's QE' and is it a good idea?
It's certainly a rather odd idea. It dates back to 2011 when the Bank of England was buying UK government bonds in the wake of the global financial crisis in order to stimulate the economy and avert a deflationary spiral. There were questions about how effective this was as a form of stimulus. Adam Posen, an external member of the Bank's rate-setting Monetary Policy Committee, suggested the cash would be better deployed in buying corporate bonds and even the securitised debt packages of small firms. That way, he argued, the money would get into the real economy faster and be used more productively. Yet the Bank is no longer engaging in QE because the economy is now growing and it doesn't see a risk of entrenched deflation. Nevertheless, Jeremy Corbyn wants to reactivate the Bank's electronic printing presses and to use the cash to invest in, among other things, social housing, energy and transport. It is perfectly legitimate to argue that Britain is under-investing in those areas. What's less clear is why Corbyn doesn't simply advocate the state borrowing the cash from financial markets (by issuing bonds) and investing the money in these worthwhile projects directly. There don't seem to be any advantages of using the Bank of England as an agent. And there are significant potential drawbacks.
Would 'People's QE' cause runaway inflation?
It might. If the Bank was perceived to have effectively lost its independence and to be creating money at the behest of politicians the public might fear an explosion in prices, creating a self-fulfilling inflationary spiral. It's true the Government could indemnify the Bank for any losses on its QE investments, reducing the risk of losing control of prices. But this would simply turn QE money into government spending by another means. Again: why not just spend the money directly?
And shouldn't governments aim to run a budget surplus?
That's a separate issue. Chris Leslie, Labour's shadow Chancellor, rebukes "Corbynomics" by suggesting that "there is nothing left-wing about running a deficit in perpetuity" and suggests the state needs to "live within its means". He thus seems to have bought into George Osborne's idea that governments should aim to run budget surpluses. But there's no economic logic for this kind of balanced budget rule. And if such surplus rules discourage governments from borrowing to fund productivity-enhancing public infrastructure investments, they are positively harmful. A sensible fiscal policy would aim to stabilise and reduce the national debt as a share of GDP. Providing the economy is growing relatively strongly this is perfectly compatible with running modest annual budget deficits.
What about cutting 'corporate welfare'?
Jeremy Corbyn says he will "strip out" £93bn of "corporate tax relief and subsidies" and use the proceeds for public investment. The problem here is that Corbyn does not acknowledge that some of this cost would be met by the public rather than firms. For instance, ending the VAT tax relief on airline fuel might be a good idea but it would also probably mean a hike in plane fares. And some of those corporate reliefs are economically beneficial. For instance, assuming that state "export credit guarantees" for companies are effective, cutting them would harm exports, which wouldn't be good for either the economy or jobs.
Ben Chu
Register for free to continue reading
Registration is a free and easy way to support our truly independent journalism
By registering, you will also enjoy limited access to Premium articles, exclusive newsletters, commenting, and virtual events with our leading journalists
Already have an account? sign in
Register for free to continue reading
Registration is a free and easy way to support our truly independent journalism
By registering, you will also enjoy limited access to Premium articles, exclusive newsletters, commenting, and virtual events with our leading journalists
Already have an account? sign in
Join our new commenting forum
Join thought-provoking conversations, follow other Independent readers and see their replies