Jeremy Corbyn allies call for second reshuffle ahead of Labour party conference
Some Labour MPs are calling for the sacking of Hilary Benn
Mark Leftly
,
Chris Green
Saturday 19 March 2016 23:14 Comments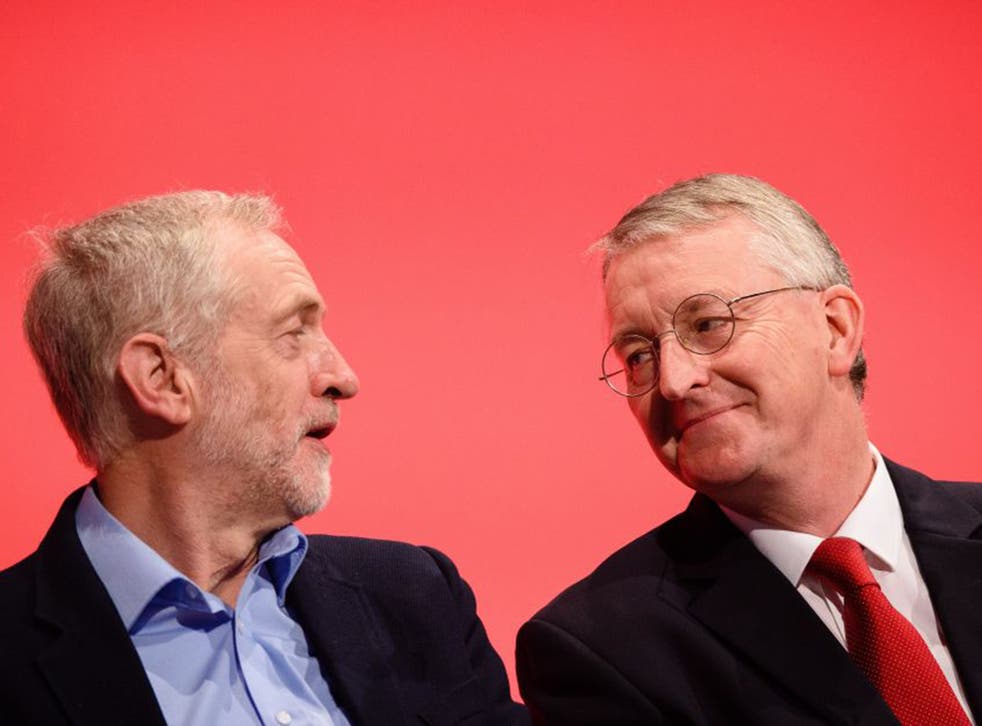 Senior allies of Jeremy Corbyn want the embattled Labour leader to carry out a second reshuffle before September's party conference, despite the botched attempt to change its top team only two months ago. Corbynistas were frustrated that their leader failed to oust his Foreign Secretary, Hilary Benn, who backed the Government over Syrian air strikes. Mr Corbyn is fiercely against the bombing, but Mr Benn overshadowed his arguments with one of the most celebrated parliamentary speeches of recent years.
Instead, Mr Corbyn's only major moves were to sack Michael Dugher, who had been campaign manager for rival Andy Burnham during the leadership election last year, and replace him at Culture, Media and Sport with Maria Eagle. Ms Eagle was demoted from Defence, where she clashed with Mr Corbyn because she supports the renewal of Britain's nuclear deterrent. Mr Corbyn is vice-president of the Campaign for Nuclear Disarmament.
One ally, who is a senior MP, said Mr Corbyn must be more decisive in a second reshuffle and sack Mr Benn. Others said they have heard gossip about such a move in Parliament's tearooms. The source added: "You can't have a foreign secretary who disagrees with the leader over Syria. Hilary Benn is our issue. This reshuffle could take place at the end of August or the start of September."
However, there is little appetite for this in the leader's office, which was so badly bruised by January's debacle, dubbed "the longest reshuffle in history". The reshuffle had been briefed to the media for weeks, yet still took several days to complete when it finally got under way.
Some supporters also want Mr Corbyn to reduce the size of his Shadow Cabinet, which they think is unwieldy at 31 members. There are 22 members of David Cameron's top team, although another eight are eligible to attend Cabinet.
Mr Corbyn's mandate among Labour members is arguably the biggest of any major party leader in history, taking 59.5 per cent of the vote. A left-wing backbencher for more than 30 years, Mr Corbyn scored an unexpected victory, with Mr Burnham a distant second with 19 per cent.
But his leadership is deeply unpopular in the Parliamentary Labour Party – few MPs voted for him and they believe he is taking the party too far left to be capable of winning the 2020 general election. There have been reports that MPs would like to mount a coup later this year before party rules are changed to make it more difficult to oust Mr Corbyn.
UK news in pictures

Show all 50
The plotters are struggling to find a candidate, although Dan Jarvis, a former soldier, recently made a speech on the economy that was considered an effort to mark out his political philosophy and build momentum for an eventual tilt.
Many MPs believe Mr Corbyn could be replaced only by a member of the "soft left", which has led to speculation that Lisa Nandy, the trade unionist shadow Environment and Climate Change Secretary, is a possible contender.
But another figure who fits the "soft left" bill, shadow Work and Pensions Secretary Owen Smith, is thought to be on manoeuvres. Labour sources said he is networking the 2015 intake of MPs, while the Pontypridd MP is also popular among his colleagues in Wales.
Mr Smith has previously admitted to having leadership ambitions, but insisted Mr Corbyn will remain in the post until the 2020 election.
Separately, former home secretary Alan Johnson told the Scottish Labour Party conference in Glasgow that Boris Johnson, Michael Gove and Chris Grayling are responsible for producing a "tide of drivel" about the UK's relationship with the EU.
Mr Johnson, who is leading Labour's campaign to keep Britain in the EU, also attacked the SNP for "arguing about process" rather than "getting out and campaigning" for a Remain vote. He does not understand how Nicola Sturgeon's party can argue for breaking up the Union through Scottish independence while also being in favour of the UK remaining in Europe.
"The irony of the SNP's belief … in the benefit of working with others for the greater good – as long as it's the EU and not the UK," he said to applause.
"Nicola Sturgeon is arguing to leave a Union that is vital for trade and jobs, while campaigning to stay in the European Union because it's vital for trade and jobs. I find that slightly paradoxical."
Register for free to continue reading
Registration is a free and easy way to support our truly independent journalism
By registering, you will also enjoy limited access to Premium articles, exclusive newsletters, commenting, and virtual events with our leading journalists
Already have an account? sign in
Join our new commenting forum
Join thought-provoking conversations, follow other Independent readers and see their replies