Brexit: Jeremy Corbyn to meet top EU negotiator and say Labour is ready to lead talks
EU officials have increased engagement with the Labour leader in case he comes to power during Brexit talks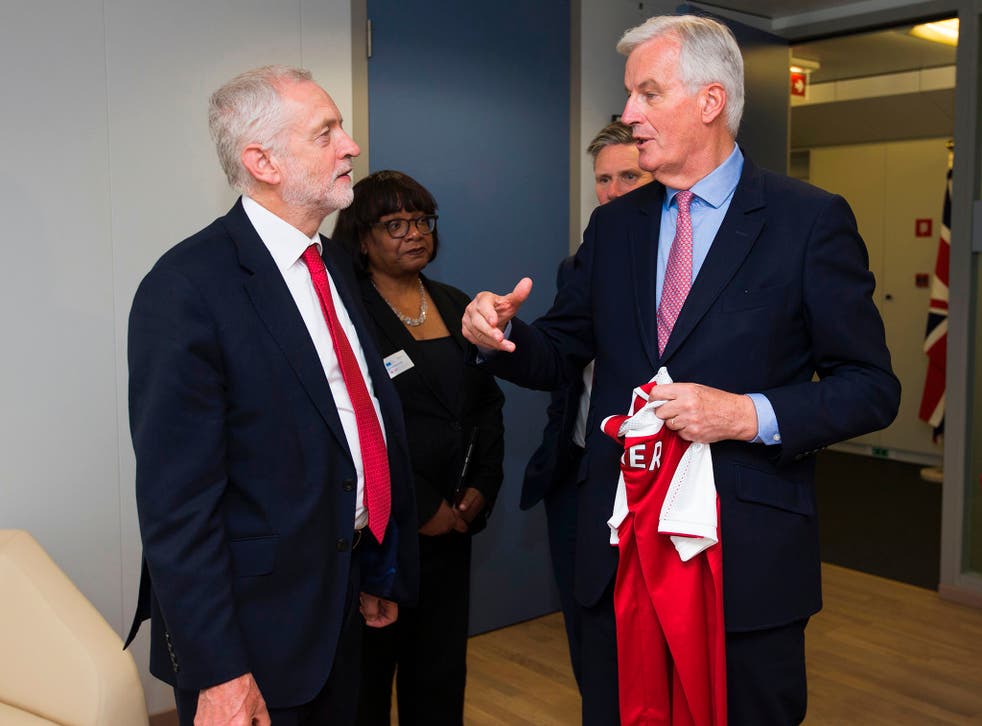 Jeremy Corbyn will meet the top EU Brexit negotiator and other key European politicians in Brussels on Thursday and say Labour is ready to lead talks.
His meetings with chief Brussels negotiator Michel Barnier and European Parliament President Antonio Tajani come as Theresa May heads to a meeting of EU nation state leaders in a bid to kick-start stalled Brexit talks.
The Labour leader will also see some European prime ministers, in meetings which he hopes will help move Brexit talks forward.
It follows increasing engagement between the EU and Mr Corbyn and his team, with Brussels officials now taking seriously the possibility that the Labour leader could at some point win an election and take charge of the UK's negotiations.
Mr Corbyn said: "As the Government's splits and Brexit bungling become ever more damaging, Labour stands ready to take up responsibility for the Brexit negotiations.
"A no-deal Brexit would be a bad deal for Britain, threatening jobs and living standards. It would also harm our European neighbours. That's why it's in all our interests to increase the pressure for real progress in the current talks and move on to negotiations about our future trading relationship."
Mr Corbyn is also set to hold bilateral meetings with the Italian, Swedish and Portuguese Prime Ministers.
Brexit: the deciders

Show all 8
The Labour leader and shadow Brexit Secretary Keir Starmer, who will also travel along with Shadow International Trade Secretary Barry Gardiner, have already held meetings with Mr Barnier and Frans Timmermans, first vice president of the European Commission.
EU leaders have increased contact with Mr Corbyn in search of assurances that he will honour commitments set out by the Conservatives if he wins power.
Ahead of the trip, Mr Corbyn attacked the Government's approach to the talks and said his party would conduct negotiations in a spirit of "cooperation and mutual respect".
He added: "We are clear in our priorities: a jobs-first Brexit which maintains tariff-free access to the Single Market to protect trade and living standards.
Reverse Brexit with second referendum to save your economy, OECD tells UK
"Labour will guarantee the rights of EU citizens living in the UK, and seek reciprocal arrangements for British citizens living in mainland Europe."
EU leaders are due to meet at a summit on Thursday and Friday, during which the UK's Brexit proposals will be discussed.
Theresa May is due to outline developments in her Brexit plans, and is expected to argue that sufficient progress has been made in talks for them to continue to the next stage.
After she leaves on Friday, the 27 leaders will then hold a separate meeting on the UK's withdrawal plans at which Ms May will not be present.
Register for free to continue reading
Registration is a free and easy way to support our truly independent journalism
By registering, you will also enjoy limited access to Premium articles, exclusive newsletters, commenting, and virtual events with our leading journalists
Already have an account? sign in
Join our new commenting forum
Join thought-provoking conversations, follow other Independent readers and see their replies